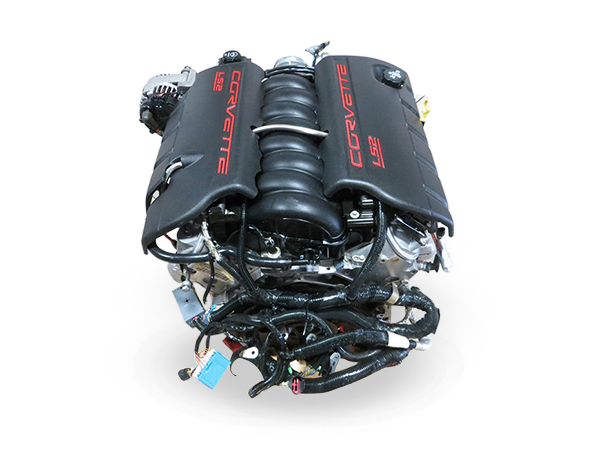 The LS engine is a series of engines produced by General Motors (GM). The design of the engines was intended to be the on V-8 engines used on their line of rear wheel drive vehicles. The original design of the LS engine was done completely from scratch and did not borrow any existing parts from other GM engines. Its layout did borrow from some of the same concepts of the original small block design by Ed Cole. The most famous vehicle that the LS engine is used in is the Chevrolet Corvette.

Displacement and Power Output
The LS2 engine is part of the Generation IV series of engines from General Motors. It was introduced in 2005 and features much higher displacement ranges at up to 7,011cc. The LS2 is also known to have a higher power output at up to 638 burst header packet (bhp), the unit for measuring power.
Another introduction with the LS2 engine was the Displacement on Demand technology. This means that alternating cylinders that are in the firing sequence can be deactivated. It is a part of the Active Fuel Management system, previously called the Displacement on Demand or DoD system. Essentially this technology allows for the best of both worlds. It allows for high power when needed and improved fuel economy when high power is not needed. According to EPA tests, this new technology has been shown to improve fuel economy by 5.5 to 7.5 percent.
The LS2 can also accommodate variable valve timing. This is the process of altering the timing of a valve's lift. The result is an improved level of performance, fuel economy, and a reduction in engine emissions. Again, this technology adds to increased overall performance without sacrificing any horsepower when needed.

The General Motors LS2 Data Sheet
As with any engine, the GM LS2 engine can be tweaked beyond its base output. With that said, it is still helpful to understand the base powerplant that is in the Gen IV engine from General Motors. There is a simple breakdown of the base specifications for the GM LS2 engines.

Specifications

400 bhp at 6000 rpm

Torque

400 pounds per foot at 4400 rpm

Displacement

5,967cc

Casting heads

Same as the LS6 "243" casting heads

Compression ratio

10.9:1

There are also some factory modifications available for the GM LS2 engine. The three most common factory modifications are E-series HSV in Australia that produces 412 bhp and 412 pound per foot. Then there is the LS2s in the Chevrolet Trailblazer SS with 395 bhp and 400 lb per foot of torque, and the Saab 9-7X Aero with 395 bhp and 400 pound per foot of torque.
As an aside, the LS2 engine is also modified and used in the trucks that race in the NASCAR's Camping World Series. This of course is not available on the open market for purchase because it is heavily modified. There are many current vehicles and models that use the GM LS2 engine, dependent upon the production years that they were in use.

Year(s)

Series

2005 to 2006

Vauxhall Monaro VXR
Chevrolet SSR
Pontiac GTO
Holden Special Vehicles:
Clubsport: Series Z
Senator: Series Z
SV6000: Series Z
Maloo: Series Z
Coupé GTO: Series Z

2005 to 2008

Holden Special Vehicles
Clubsport R8: Series Z and E
Grange: Series Z and E
Maloo R8: Series Z and E

2006 to 2009

2008 to 2009

2006 to 2007

Stock and Aftermarket Components
Stock components for any engine are designed to produce an exact performance level at a maximum cost advantage. This line of thinking makes perfect sense since the automobile manufacturers are in the business of maximizing profit. That also means that it should not be surprising that there are many opportunities to improve overall power and performance with aftermarket components.
The first place to start is with the intake. In the factory, GM just uses the LS6 intake for its LS2 model engine. The LS2 can actually support a larger throttle body, meaning a larger intake. The larger intake means more horsepower. As long as the specs for the intake state that it is either for a LS6 or a LS2 engine then it will be compatible.
Adding aftermarket headers can also greatly improve overall performance of your vehicle. Of course for even more power just add the headers with nitrous oxide or forced induction. This usually requires the aftermarket header as well as an aftermarket kit. Adding nitrous oxide to the LS2 is done by attaching a nitrous kit such as the NOS nitrous kit.
Blowers and turbos can also be added to the GM LS2 engines. In fact, the LS2 engines respond very well to aftermarket blowers and turbos. These can be installed on top of the engine manifold to supercharge the engine by forcing compressed air into it for more horsepower during combustion.
So how much additional horsepower is there to be gained with aftermarket components? Well there are a lot of factors that go into this. Not only are the different components important but the materials used to construct the components are also important. Weight, strength, and heat dissipation are the three characteristics that can either gain or rob horsepower. Some LS2 modifications have produced as much as 1,000 horsepower. On average though, most enthusiasts boost their horsepower to somewhere in the range of 500 to 800 horsepower.

Finding LS2 Engines and Components on eBay
For the most part, the components used for the GM LS2 engine are all specifically made for that engine. There are some components that were borrowed from the LS6 engine though. When searching for different components on eBay, it might be wise to search for both LS2 and LS6 engine components, as many of them are actually interchangeable.
Take the time to read the specifications for each engine component though because there is no guarantee that every LS6 component will work with the LS2 engine. Most specifications will state the models the components are made for. If this information is not there, then be sure to ask the seller a question about it first just to make sure. If the seller does not know for sure, then at least get the part number for the component, and then check with the component manufacturer to see if it will indeed work or not.
Finally, do not forget about the shipping. Just about all major engine components are going to be heavy. Find out exactly how much the shipping will cost. It might even be worth it to perform a search for your LS2 engine components based on geographic region. If the item is being shipped at a closer distance, the cost will certainly be less for shipping. This is a very popular engine so it should not be too difficult to find components for the engine closer to your area. You may even be able to organize to pick up your items from the seller to save costs on shipping. For parts that are heavier, free shipping options make it much more affordable so consider sellers that offer shipping deals.

Conclusion
One of the biggest reasons for the popularity of the GM LS2 engines is the ability for owners to customize their engine and tune it to their own performance goals. Base configurations are always going to leave room for improvement, and the LS2 certainly leaves a lot of additional room for improvement.
Horsepower is not the only area where the LS2 engine can be improved either. Its design allows for improved fuel economy. There are even aftermarket options for improving the fuel economy even more. Overall, the GM LS2 engine gives owners the best of both worlds. LS2 engine owners can customize for horsepower and customize for fuel savings.