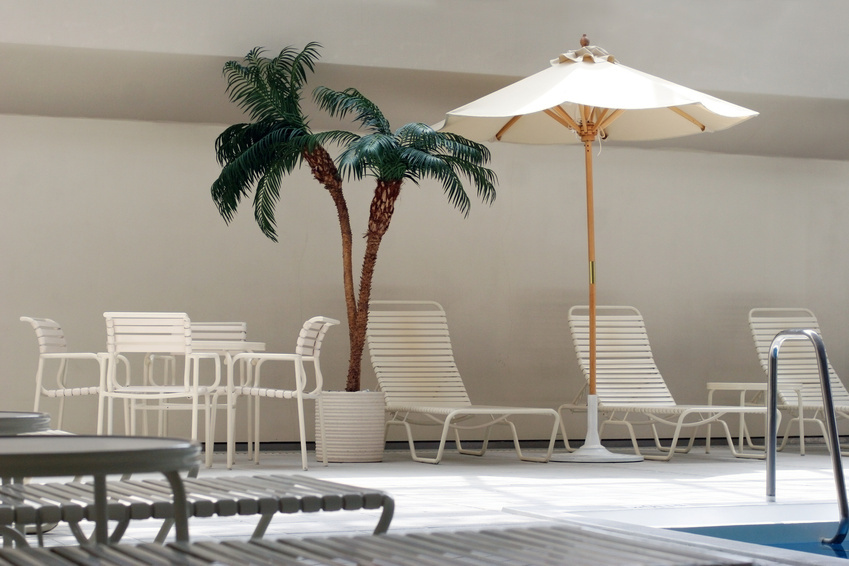 A fabric patio umbrella looks so nice on a sunny day and adds a touch of color to outdoor decor. It looks great, but taking it down and covering it every time it rains is a pain in the neck. However, leaving it out in the rain is not a solution either, as closing a soaking wet patio umbrella causes a moldy smell. The best thing to do for a fabric patio umbrella, market umbrella, and even fabric patio cushions is to waterproof them. Waterproofing keeps umbrellas and chair cushions dry, so no one sits in a wet seat and the umbrellas never develop that icky smell.
Waterproof and More
Waterproofing fabric spray is the best choice for waterproofing a patio umbrella. The sprays, such as Thompson's fabric seal, Ray and Rain, and other outdoor solutions, do more than keep water from penetrating fabric. Most of these fabric sealers repel dirt and water, as well as protect fabric from fading in the sun.
Creating a beautiful outdoor patio environment is expensive. Without a fabric sealer, cushions and umbrellas fade, and the colors become washed out and old looking quickly. Protecting these items with a waterproofing spray keeps them looking new year after year. Once the sealer is on, cleaning is a breeze; just wipe off with a damp rag and the dirt is gone.
Preparing to Waterproof
Before waterproofing any fabric, make sure the items are colorfast. Colorfast means the color will not bleed, run, or fade when sprayed. This is important because some dyes are not colorfast and a waterproofing spray could fade the colors. Most outdoor items are colorfast, but if you are not sure, spray a small area of the umbrella where it will not be noticeable to test whether it fades. If nothing happens, the umbrella is safe to waterproof.
In addition, make sure the umbrella is clean before spraying. If it has dirt on it when sprayed, the dirt will stain. Clean the umbrella with mild soap and water and let it dry completely before spraying, as the spray only works on dry items.
When to Waterproof
The best time to waterproof a patio umbrella is when it is new. Waterproofing right away before you set it up in the sun and weather keeps the new umbrella bright, clean, and fresh. If the umbrella is a few years old, waterproofing is still a good idea. Spraying an older umbrella keeps it from fading more and protects it from further stains and water damage.
Some waterproofing sprays last longer than others, but it is always good to apply a fresh coat at the beginning of each season. The protective quality of fabric spray can wane over time and exposure to the elements. Spraying at the beginning of each season does not hurt the fabric; it only ensures the protection continues.
How to Waterproof
Before setting up the umbrella, spread a drop cloth on the ground to catch any overspray. Set up the cloth in an area away from trees, shrubs, flowers, a pool, or a garden; overspray is not good for plants or water. Make sure the drop cloth is big enough; when you place the open umbrella on it, it should be large enough to surround the entire umbrella.
Open the umbrella and lay it down in the middle of the drop cloth. Begin spraying an even, light coat over the entire surface of the fabric. Spray the top and the underside of the fabric and let it dry completely. Once it is dry, spray a second coat, evenly and lightly, covering the entire umbrella. Let the spray dry completely before closing it. Now the umbrella is waterproof, fade resistant, and stain resistant.
How to Buy a Fabric Patio Umbrella and Waterproofing Supplies on eBay
Sellers on eBay offer a large selection of fabric patio umbrellas and waterproofing supplies. Many sellers specialize in patio items and are very knowledgeable about the products they sell. Use the search tools to find exactly what you are looking for, and be sure to read the seller descriptions for item details and shipping information.
Learning how to waterproof fabric patio items is the best way to protect those expensive investments. Waterproofing keeps the colors of the patio umbrella looking bright and new longer. With some effort, that backyard oasis can remain inviting for years to come.