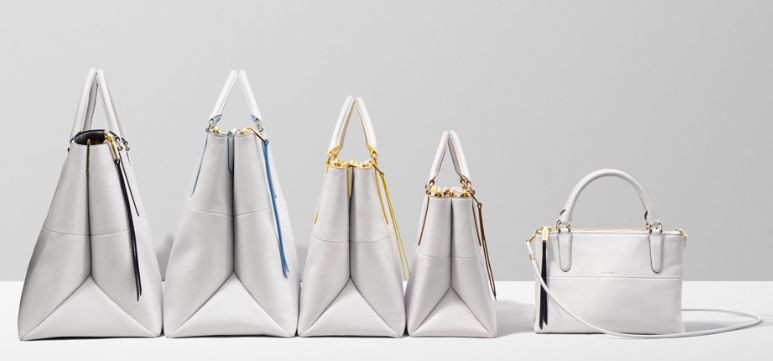 Is your Coach bag a fake?
Many people avoid shopping online for high-end designer bags, in fear that they'll end up with a $300 knockoff instead of a truly authentic name-brand purse. Fortunately, there are ways to tell a fake from the real deal, even if you're not able to hold the Coach handbag directly in your hands.
Coach handbags are not simply priced high because of the brand-name, but actually, because of the durable quality. To tell whether your bag is a beautifully designed Coach bag or a poorly designed knockoff, be sure to inspect it thoroughly. The most common way to determine whether the bag is real or fake is to check the stitching. Loose stitching, crooked stitching, odd spacing, and overstitching are signs of a knockoff. Authentic Coach handbags are sewn very carefully and are almost perfectly straight all of the time.
Also, examine the fabric and the leather. It should be cut evenly, with no patterns cut off in any area of the bag. Signature bags will have "C" shapes in sets of two, no more, no less, and the patterns will always line up evenly. This
Gorgeous Black Authentic Coach 6091 Signature Hamptons Shoulder Bag
shows how the C shapes line up. However, sometimes, you may notice that mini "C" shapes
may
be slightly off in authentic bags, due to the very small size.
If you're still unsure, contact the seller and request photos that show the stitching up close. If the bag is truly authentic, the seller should have no problem providing the requested photographs.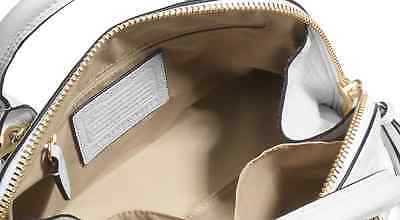 The tag on the inside of the bag should have a style number, a registration number, and should provide information relating to the origin
and
information on how it was crafted. With fake Coach bags, you'll often see a style number, but no registration number, or vice versa.
Wording on the inside tag will be perfectly spaced with no spelling errors. Any jumbled words or misspellings will tip you off to a fake Coach bag.
Be aware, however, that sometimes the smaller Coach pouches don't have a Coach creed. Some do, but in that case, the creed will not contain a style number or a registration number. Often times, this confuses those looking to
determine whether their Coach bag is a knockoff or the real thing
.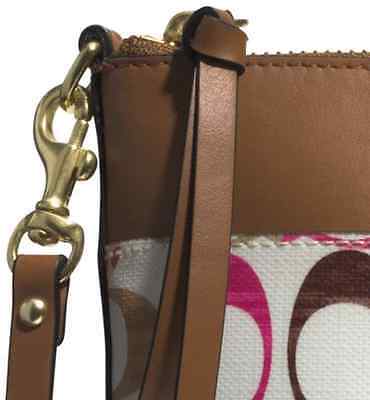 True Coach bags are made of high-quality materials, and the material on the bag should not peel, as with many fake materials.

You may also notice that the hardware on the bag appears to be authentic polished nickel, but this is unlikely the case on a knockoff Coach handbag. To determine whether it's a heavy-duty nickel or a cheaper material, tap on it with your fingernail. It's quite easy to feel the difference between a solid metal and a painted plastic.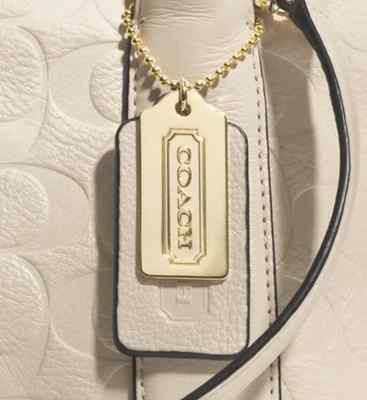 Enamel Hangtags and Zippers
All of the Coach enamel hangtags should have a smooth, finish. Often times, knockoff bags will have raised lettering, which is a dead giveaway that the bag is not authentic. However, on the leather tag (not the enamel tag), embossed lettering is typical.
Also, on authentic Coach bags, the difference is in the zipper. A true Coach purse will have a zipper with a "YKK" engraving, whereas a poor knockoff will not. If you're still unsure of the authenticity, check out how the purse zips. Real Coach handbags should zip smoothly and easily. Because the stitching is flawless, you should never find your zipper caught on a seam or a stitch.
This
Coach Fanny Pack, Signature Black Leather Waist Belt Bag + Hangtag and Key Chain
shows what
some
of the authentic hangtags look like.
Other Things to Lookout For
Above, you read a few ways to determine the real from the fake, but sometimes counterfeit bags are more deceiving than you'd think. Here are a few more things to remember when purchasing a Coach bag in order to avoid being ripped off.
Signature bags have the "C" pattern on the front of the bag, but never on the inside. However, sometimes, you'll see a "C" pattern on the inside, but it will not be on the outside. It's never both.

Finally, just because your bag says "Made in China" does not indicate that it's fake. In fact, most Coach bags are crafted in China. However, if it says "Made in China" and also shows signs that it may be a knockoff, it's better to avoid the purchase until you know for certain.


When in Doubt, Contact Coach
Coach is a business that works hard to prevent counterfeiting, and will do what they can to stop the counterfeit production. If you're in doubt about your Coach bag, contact Coach. By sending in a few photographs and providing them with the style number and serial number (if applicable), they will let you know whether or not you purchased a truly authentic Coach bag or a cheap knockoff.