Here's some info to help you spot if that item is a great deal or just a rip off. This is really just meant as a bit of basic help if you don't know the brand. In general if you're going to part with your hard earned cash a seller should be able to send you GOOD pictures of the labels in close up and if they don't look much like these below then hold onto your money.
There is much more fake Armani around for sale at the moment - read this guide and hopefully you will be able to find the real thing.
(I noticed e-bay automatically lists items next to this guide. They have no connection with me unless they are my items and there is no guarantee what's listed to the right of this is genuine - so look out.)
Basically, the people making the fakes design them to fool the people who don't know the brand. They make the fakes look how you'd expect an item to look if you didn't know the brand, most Armani fakes are really quite unlike the real thing. I get a lot of mail asking me about individual items and I can't really reply to these.
There are plenty of ebay sellers selling the genuine thing, and they will usually have good pictures and close ups of the details. I responsible seller will take time to answer your questions. These items won't be cheap but they are the real thing.
One thing to note that an item shipped from the USA may be charged duty and VAT as it comes into the UK Most reputable US sellers have to put the true value on the customs sticker for insurance and the UK customs may charge duty and VAY on this. The post office will then slap on a £15.00 'handling charge' to cap it all. So a £150 item can end up with an extra £50 on top. It's not always the case but be aware it could happen.
Giorgio Armani sells his designs under many different Armani labels - these are the main lines -
Giorgio Armani Black Label - the 'couture' line most expensive and usually more luxurious in terms of finish and choice of fabric.This is only available in Giorgio Armani Boutiques usually found in main cities or capital cities. The London store is in Sloane Street. (Tip - In the London store they always cut the sales tag off when you buy an item, so if someone claims its from the Sloane Street store and it's tagged, they might not be telling the full story.)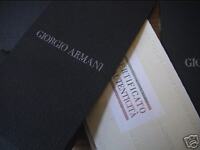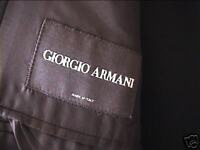 The logo on both the tag and the garment will be a white lettering on a black background. For a brief time a couple of years ago these also appeared as white labels with 'Giorgio Armani' on. Basically the same as the black label but a reverse. Weirdly this is still 'black label' even though it's white and not the same as 'Collezioni' (more later)

The older style of the garment label is a longer thinner label with less black around it. Also it will say 'A Milano - Borgonuovo 21' under this. If an item has this label it's probably from a collection before 1999/2000. Some of the really old labels are pretty small particularly on shirts or ties. The newer and current label has more black around it and is less of a 'letter box' shape - see above. Some newer style labels may have 'A Milano Borgonuovo 21' from around 2000 - 2001 but the most recent have a very small 'Made in Italy' at the bottom - as above. This has been the standard label for some time now.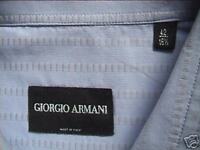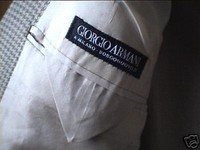 Above on this shirt is the current black label and next to it the older 'letterbox' label in a jacket.
Newer ties have a thin black label with just 'Giorgio Armani' on them. This will be in the middle back of the wide bit of the tie just under the loop or occasionally at the base of the back at 45 degrees. The many also have a 'Giorgio Armani' embroidered into the back in side lining. On older ties this area has repeated logoes. Some genuine ties will have a white 'Giorgio Armani' label.
So Golden Rule - If it's 'Black Label' there should be NO winged bird logo on the label - this is a logo of Emporio Armani and Armani Jeans only. If the jacket or shirt or whatever claims to be 'Giorgio Armani Black Label' and has a bird or eagle motif anyplace stay clear. It's a fake.

The only slight exception would be Black label Jeans from around 2000 - 2008 roughly, which would have the bird logo on the back pocket - same as Armani jeans. Now they usuall yhave a GA circular logo on the leather patch above the right back pocket.
Recently you may find a circular GA logo on Black Label buttons, linings and other parts of the clothing. Older items have GA motifs but not encapsulated by the circle design of the recent logo.
Also until recently there wasn't much fake Armani Black Label on Ebay and now there seems to be a lot of suits on sale from China that have - judging by the photos - quite good fake black labels and paper labels inside. However they still seem to have the old winged bird logo lurking on the waistband which is a dead give away. The black tags don't seem right either, and they are being sold in fake ARMANI Collezioni Suits Bags. Remember - beware the bird logo unless it's Emporio or Armani Jeans.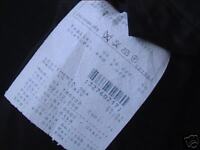 This is the older style paper label that would usually be in the pocket of a suit or a jacket. Some people cut them out. More recently a Black Label jacket or suit will have a small black shiny fabric label . It may be in a funny place on an unlined jacket. But look in the right hand pocket. This label will tell you or the vendor the actual size (Italian) 50, 52, 56, whatever it is, and also it will say to the left 'Statura' which will be 'reg' (regular) or 'lung' (long) ('short' isn't very common) Long is a longer cut jacket by about one and three quarter inches and has longer sleeves if it's new and unaltered. Sizes should be described as 'a 54L' for long or say a '56R' for regular. Of course Italian size '56' is around a 45 - 46 inch chest usually, so take of ten and you got the size in inches. If in doubt about sizes, get a jacket you already have that fits you well, and measure it. then get the vendor to get out his tape measure, and measure all the bits you want to check. Most vendors will be happy to as they don't want a return if they sell you an item that doesn't fit.)
I keep on about this but it's one of the best clues - there should be NO eagle or winged logo on a Black Label item and no 'GA' logo on the label although a 'GA' logo may be present on the item itself. Often items will have an additional black label elsewhere on the garment with 'Borgo21' on it. The size label on jackets is in the inside right pocket label. A suit jacket will usually have 'Made in Italy' on a small panel on the inside middle of the lining, just below the collar. If it doesn't have this, don't panic as they often fall off.
On jackets, mostly there will be no flaps over the front jacket pockets, and look for the detail of cuff buttons overlapping slightly. (This won't be the case if the jackets second hand and has been altered, but its another thing to look for.)
If tagged, the Black Label card tag should be around 105mm x 55mm and held on with black twisted thread. This will be either glossy black card (old style) or textured black card (new style) there is also a plastic seal which can't be re sealed - you have to cut the thread to remove the tag. Inside this is the Armani Authenticity Guarantee - an ivory logoed card -which comes on all GA products. (see pictures above for the genuine tag)
Giorgio Armani Classico - no longer made as such, but this was an extension of the couture line so is regarded as Black Label even though the label is dark blue. It should read 'Giorgio Armani Classico' in silver. A Classico Jacket will usually be a fuller cut . No eagles birds or wings here either. But be aware if it's Classico it's an older item.
There's also a Giorgio Armani GOLF line (genuine but now defunkt) and a Giorgio Armani NEVE ski wear line (also defunkt)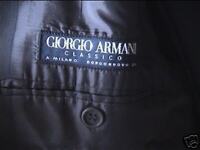 Giorgio Armani Collezioni - also refered to as 'White Label' Available from Armani Collezioni Stores and franchises based in department stores. This is, no suprise, is a white label with 'Armani Collezioni' in black.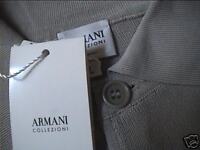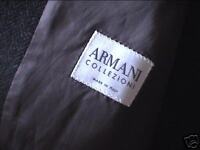 Older labels in this line have 'Giorgio Armani - Collezioni' on them. Again there should be no eagle or winged logo or 'GA' on the actual label for this line. The tags are white and are held on with white thread. New shirts should not have a gold paper band around them.
Very old items by Giorgio Armani will have just 'Giorgio Armani' in black on a small white label, without the 'Collezioni' bit. Newer coats and sweaters with zippers often have 'Armani' etched on the zipper pull.
Emporio Armani - usually only available from Emporio Armani stores although Emporio Armani Swimwear and Emporio Armani Underwear is available at other stores. The eagle or winged logo combined with the letters 'EA' or 'GA' is one of the logos of Emporio Armani and should appear on items such as zip pulls and stitched on shirt pockets etc. Some Emporio garment labels will be a cream colour but the newer ones are black with white lettering similar to the Black Label. Nwer jackets have additional small labels indicating the cutt such as 'matt' or 'Jude'
Armani Jeans - Look for a dark blue label with 'AJ' on the left side and 'Armani Jeans on the right. The tag will be dark blue too and held on with blue thread. (a plastic gun tie may mean it's been re-tagged, it doesn't mean its fake - but its not 'new tagged' ) Older items will have an ivory garment label with burgundy and blue writing on it and a small eagle logo. Older items will usually be Made in Italy, but most AJ is made in eastern Europe, Macau,or China now. The older items are better quality usually in terms of fabric and finish. These Armani Jeans item have been faked quite accurately so beware - ask for and get CLOSE UPS or the labels and if they don't look like this in terms of type and texture don't buy. Some older AJ clothes will be made in Italy. Newer items may be made in China, Romania, Hong kong, but this does not mean they're not genuine.

On jeans themselves, the winged eagle logo appears on the back pocket under the label and often as a rivet around the pockets. Often a pair of jeans will have the waist measurement in numbers on a small white tag inside the fly.
Also on AJ, look for the additional label reading 'Armani J.' on the outside of the item. This is a down wards written panel in black writing on a yellow gold or dark blue or brown background.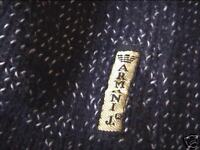 There is a range of Black Label Jeans too now and a range of Collezioni jeans so thse may appear on jeans up for auction. Black Label jeans have the Giorgio Armani Black Label in them and not just a black version of the AJ label above.

The sports line EA7 has been arounds for a few years now, and the best thing here is seek good close pictures of the labels in the garment. There are fakes out there as it's a sportswear line so look out.
Shoes and leather goods - Giorgio Armani shoes will often have 'Giorgio Armani' stamped into the leather of the sole just above the european size number. They will usually have 'Giorgio Armani' stamped in the heal area inside. Newer bags and belts have the circular 'GA' logo on them. 'Armani Collezioni' shoes are now available too.
Emporio Armani shoes are labelled 'Emporio Armani' inside.
On leather jackets - many are listed as being 'Armani - Reporter'. These aren't Armani jackets - Reporter is some brand with a similar logo and they're hoping you won't notice. Ask to see pictures of the labels in close up before you part with the cash. And if its £4.99 for a brand new jacket that should be over £1000 what do you think is going on?
Luggage Bags or briefcases from the 'Giorgio Armani' line may have a simple 'Giorgio Armani' stamped on them, but beware of eagle logos if it's not Emporio or Armani Jeans. Also ONLY AJ or Emporio wallets will have eagles on them.
Belts - genuine Giorgio Armani belts have the name discreetly on the buckle and on the reverse of the leather in the centre. Since its 'Giorgio Armani' don't expect any big bird wings or huge 'GA' buckles. Some also have a script written 'Giorgio Armani' on the very tip of the non buckle end.
Emporio belts are similar to 'Giorgio Armani' but with Emporio Armani on them and of course a winged logo is okay here.
In general beware of things with giant bird wings on them and big GA logos (unless its Emporio or Armani Jeans). Anything that says ' London - Rome -Geneva -Paris' or the like under the Armani label is fake. Anything 'Black Label' or Collezioni' with an eagle logo on the label is fake. Giorgio Armani don't sell shirt and tie sets. If someone's selling three new shirts with ties for £5.00 then either they're stupidly optomistic about how the bidding will go or they're selling a fake.
Also ....as I said at the start, e-bay automatically lists items alongside this review- to the right. Unless these are items listed by me I cannot guarantee they are genuine Although having item next to this review implies they may be genuine, and have some connection, they do not , unless they are actually my items.
Also I can't comment on individual items so please don't email me asking to look over items for sale. But always check my items as they are guaranteed the real thing.
Happy Bidding