THERE ARE SLIGHT VARIATIONS TO THE TAGS BELOW THAT ARE STILL KS AUTHENTIC. I CAN ONLY LIST 9 PICS PER GUIDE. SO I CHOSE TAGS THAT HAVE BEEN MORE POPULAR/CIRCULATED. EMAIL ME OR USE THE "DISCUSSION BOARDS" UNDER PURSES FOR MORE EXPERT ADVICE.
1) COUNTRY OF ORIGIN TAG: Any bag after 1996 should have a country of origin tag. SEE BELOW PHOTOS

MANY BAGS BETWEEN 1996-2002 WERE MADE IN THE USA. IF THE BAG WAS MADE IN THE USA, THE LABEL ABOVE IS THE CLASSIC EXAMPLE.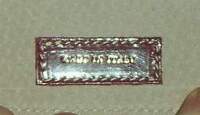 ALL OF KATE'S LEATHER, SUEDE AND CALF BAGS WERE MADE IN ITALY(SEE ABOVE FOR EXAMPLES)

BETWEEN 1997-1999 KATE'S NYLON BAGS WERE MADE IN TAIWAN. THE LABEL ABOVE IS AN EXAMPLE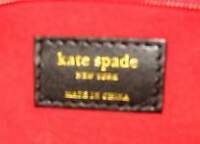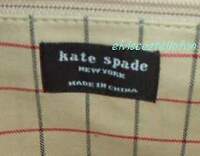 BAGS MADE IN CHINA SINCE 2002 MAY LOOK LIKE THE ABOVE EXAMPLES. THERE ARE VARIATIONS TO THESE
TAGS. EMAIL ME FOR MORE INFO.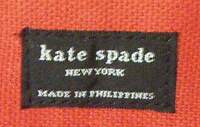 MANY STRAW AND WICKER BAGS WERE MADE IN THE PHILIPPINES BEFORE AND AFTER 2002. THE TAG MAY LOOK LIKE THE PHOTO ABOVE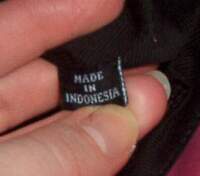 NEW SINCE 2004. KATE SPADE BAGS MADE IN INDONESIA SHOULD LOOK LIKE THE TAG PICTURED ABOVE
KATE SPADE HAS ALSO MANUFACTURED BAGS IN THE DOMINICAN REPUBLIC. I DO NOT HAVE A PHOTO OF THE TAG AT THIS TIME
THIS IS PART 1 OF A 4 PART GUIDE