I have recently become aware of many suspicious Kenneth Jay Lane Jewelry being sold online. I have been collecting, wearing and selling Kenneth Jay Lane Jewelry for many years. I am very passionate about designer costume jewelry, vintage and new and therefore would like to share some of my findings to help you when shopping online.
Check the Mark:
A mark is a signature designers use to identify their pieces. Marks are found in hidden parts of the jewelry which is usually on the back side. Kenneth Jay Lane started designing jewelry in 1963 and has always signed his jewelry with a mark so beware of "unsigned" Kenneth Jay Lane.
Kenneth Jay Lane's marks have only changed slightly throughout the years and these small variations can help you set them apart from each other. It is a little difficult to determine the age of Kenneth Jay Lane pieces and this is why many online sellers inaccurately claim their jewelry is vintage when it is not. Costume jewelry is generally considered vintage if it is 25+ years old, so make sure you study the mark on the piece before paying hundreds of dollars for something that is not vintage.
Another thing to watch for is fake Kenneth Jay Lane jewelry. If the mark is glued on you can be sure that it is not authentic. Kenneth Jay Lane marks are always soldered, engraved, or deeply embedded into the jewelry and never glued on.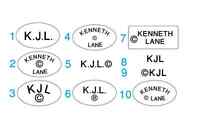 1. 1960's - K.J.L. with dots
2. 1960's - KENNETH © LANE, with a big ©
3. 1970's - KJL without dots
4. 1970's - KENNETH © LANE, with very small ©
5. 1980's - K.J.L.© with dots
6. 1980's - K.J.L.® with dots
7. 1980's - KENNETH©LANE, © is centered
8. KJL no dots. Avon by Kenneth Jay Lane produced after 2001.
9. ©KJL no dots. Kenneth Jay Lane for QVC, 1991-2000.
10. KENNETH©LANE with © on the same line as LANE. 1990 to now.