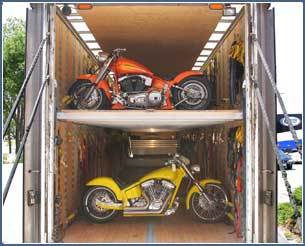 Ebay provides a robust marketplace for new, used and collectible motorcycles, and thousands of bikes have been happily bought and sold over the years through Ebay Motors. But when your auction is over and the high bidder now owns the bike of their dreams, how do you get it delivered safely and reliably? More importantly, how do you know which motorcycle transport company to choose?
Standard shipping companies like FedEx and UPS don't ship motorcycles. So you'll have to find a company that specializes in vehicle shipping. If you're the seller, you may be wondering how you can possibly package a bike for shipping.
Generally, the buyer has their choice of motorcycle shipping company. Ebay offers a number of reputable choices you can check out even before your transaction is complete. If your listing has a "get shipping quote now" link, the buyer has access to instant estimates from a number of companies. For the most accurate bid, however, you'll want to click the link for a custom quote to see if there are any additional fees or fuel surcharges not reflected in the initial estimate.
Price, however, is not always the best way to choose a motorcycle shipper, so it's worth the time to do a little extra research. First, does the company specialize in motorcycles? Some companies may ship your bike with furniture or livestock, which can up the risk of damage to your bike. Next, will the bike be shipped in an enclosed trailer or exposed to the elements? If you bike is traveling thousands of miles, exposure to hail, pollution and road debris can turn a prize into a major disappointment. Next, are you required to crate or palletize the bike for shipping? Do you really want to have to drain fluids, take a bike apart, and find a crate for it, and have the buyer reverse the process when it arrives in their driveway? Next, what kind of insurance is available? Your shipper should offer included insurance, and allow you to purchase additional insurance if needed.
HaulBikes provides door-to-door motorcycle shipping in enclosed trailers, delivering bikes ready-to-ride. All HaulBikes drivers are riders, too, so they know how to Baby Your Bike!