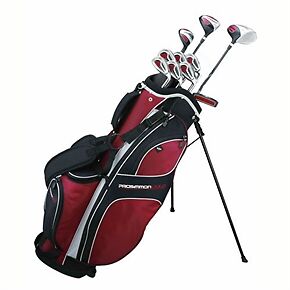 The shaft's main function is to allow the golfer to create centrifugal force in order to strike the ball squarely and forcefully. Though its importance has been long underrated, the shaft is possibly a golf club's most crucial component. The trajectory, speed, and accuracy of a shot are all significantly affected by how apt the shaft is to the player's swing. The right shaft depends largely on the speed and steadiness of the golfer's swing, so there are several factors to consider when choosing a shaft. Perhaps the primary specification is the flex of the shaft, or the degree to which it bends. Other important considerations include materials, torque, kick point, length, and weight. Golfers looking for a new shaft may find a club fitting particularly useful; others may wish to try out new gear at manufacturers' demo days. Reading expert reviews in golf magazines and on golf websites can help buyers understand the performance characteristics of different shafts. With careful consideration, golfers can find a golf shaft that best serves their style and level, and which will improve their performance on the fairway.
Specifications
There are several specifications to consider when selecting a golf shaft. Different factors affect the speed, distance, and accuracy of a golfer's hit. In general, specialists recommend that golfers choose a shaft with the lightest weight and softest flex that they can still control.
Material
In the latter part of the 20th century, golf shafts were primarily made of steel. Since the mid-1990s, however, most manufacturers have shifted to using graphite shafts for drivers. Steel remains a preference for irons, wedges, and putters, since it performs with more accuracy than graphite. Other more recent options include multi-material, titanium, and nanofuse shafts.
| Material | Description | Recommendations |
| --- | --- | --- |
| | Made from carbon or stainless steel; minimal torque, low flexibility; weighs around 120 grams; stepped steel shafts have same stiffness throughout shaft, rifle steel shafts can improve consistency and accuracy | Stronger, more durable, less expensive than graphite, but heavier and less flexible; best for accuracy on short shots and control on long-distance shots; for players with at least moderately fast swing |
| | Made from carbon-fiber composite; much lighter than steel, weighing around 50-85 grams; more flexible than steel, greater torque | Usually more expensive than steel and less durable; lighter weight allows for faster swing with more power, but with less control due to increased flex; good choice for players with slower swing speeds, but used by professionals as well |
| | Combination of steel shaft and graphite tip | Steel shaft gives greater control over shot, graphite tip gives better "whip" for distance and reduces vibrations felt in the grip |
| | Lighter than steel and stiffer than graphite | Lightweight for better speed; more control than with graphite; muffles vibration felt in hands and arms after inaccurate contact with ball |
| | Made from a nanocrystalline alloy fused with carbon fiber composite polymer sublayer; lightweight | Strength similar to steel shaft; good accuracy; increased distance and reduced vibrations, as with graphite |
The choice of shaft material may depend on the skill level of the golfer, the set it is intended for, and price range.
Flex
Flex is the flexibility of the shaft, or the degree to which it bends when forces are applied to it during the golf swing. It is considered the most crucial factor in a golf shaft's performance, since it affects both distance and direction.
There are five flex ratings for golf shafts: R (Regular), S (Stiff), X (Extra Stiff), A (Senior), and L (Ladies). Generally speaking, the faster the player's swing, the less flex he or she needs. One way to approximate what flex rating a golfer needs is to look at the distance they hit the driver. The following are basic flex rating recommendations for driver distance. Extra Stiff is recommended only for extremely powerful swings upwards of 120 mph; most players do not fall into this category, so it is not included in the chart.
| Distance | Recommended Flex Rating |
| --- | --- |
| Less than 200 yards | Ladies (L) |
| 200-230 yards | Senior (A) |
| 230-250 yards | Regular (R) |
| Over 250 yards | Stiff (S) |
Though players may be tempted to buy stiffer shafts, experts advise erring on the side of a softer, more flexible shaft. This helps prevent overswinging.
Flex and Frequency
Another way to measure a shaft's flex is through the frequency of the vibrations it produces upon impact with the ball. The degree of flex is inversely proportional to the vibration, which is measured in cycles per minute. Extra Stiff shafts have a frequency of 270 cycles per minute; Stiff shafts, 265 cycles per minute; Regular shafts, 255 cycles per minute; Senior, 245 cycles per minute; and Ladies, 240 cycles per minute.
Torque
Torque measures how much a shaft twists on impact with the ball. Torque can be between one and five degrees. Some shaft models like the UST Mamia Proforce VTS come in different torque ratings, so golfers can choose the right one for their game.
Stiff Tip Shafts
Manufacturers have begun making shafts with consistent flex throughout the shaft and a stiffer tip to reduce lateral torque. This was a solution to an earlier issue with low-torque shafts, which tended to have less flex throughout. Stiff-tip shafts like the Aldila RIP Phenom allow for a combination of speed and powerful launch.
Kick Point, or Flex Point
The kick point, or flex point, refers to the place on the shaft that bends. Shafts with higher kick points tend to have a low shot trajectory, whereas lower kick points add more whip and a high shot trajectory.
Length
Choosing a shaft with the proper length is as vital as finding the right flex. Shafts that are too short or too long can cause the club to strike the ball off-center, which affects carry distance. The length should be determined by measuring the distance between the ground and the crease where the hand and wrist meet. Shaft length is measured from the grip's tip to the base of the club's heel, flat on the ground.
| Distance: Wrist Crease to Ground | 5-Iron Length On Which Irons Are Based |
| --- | --- |
| 29-32 inches | 37 inches |
| 33-34 inches | 37.5 inches |
| 35-36 inches | 38 inches |
| 37-38 inches | 38.5 inches |
| 39-40 inches | 39 inches |
| 41 inches or over | 39.5 inches |
Although longer shafts allow shots of greater distance, choosing the proper length shaft for an individual increases the likelihood of striking the ball at the center, for a solid, consistent hit.
Weight
Shaft weight is measured in grams (g). Shafts are weighed raw and uncut, before installation. Lighter weight allows increased swing speed, and therefore the potential for greater distance.
How to Buy Golf Shafts
A club fitting with a golf professional is recommended if there is a question about which flex to purchase. Many professional golf shops offer club fittings; schools and professional teachers provide them as well. During the club fitting, the professional observes the player's swing, measures swing speed, and watches the flight of the ball. Based on these factors, the pro recommends the right shaft flex.
Golfers can take the opportunity to test a variety of shafts by attending one of the demo days held by golf club manufacturers. Sometimes they feature just one company's equipment, other times there are items from different makers. Golfers can try out a range of different shafts, ask questions, and receive advice and tips from on-site professionals. Manufacturers often list upcoming demo days on their websites.
Golf shafts are available at golf specialty stores, sporting good stores, through Internet merchants, and at online auction websites like eBay.
Buying Golf Shafts on eBay
eBay has a broad selection of preowned and new golf shafts for sale. To begin searching, you can enter descriptive words, such as "graphite golf shaft" into the search bar on eBay's home page. Alternatively, you can browse listings under the Sporting Goods category; you can also narrow your search by navigating to a sub-category.
When purchasing golf shafts on eBay, be sure to read the product description carefully, including all the shaft's specifications. Check to see whether a warranty is included, and what the seller's return policy is. Additionally, you may want to read feedback left for a seller by previous customers. Sellers with a lot of positive feedback are much more likely to provide prompt shipping, consistently good service, and high quality products than are sellers with a lot of poor feedback. Top-rated sellers are awarded a Top Rated Seller seal to commemorate their great customer service.
Conclusion
The importance of the right shaft in the game of golf should not be underestimated. Sometimes referred to as the engine of the golf club, the shaft can significantly affect the distance, accuracy, and trajectory of a shot. There are several factors to consider when choosing a golf shaft, including material, flex, torque, kick point, length, and weight. Steel and graphite, the two most common materials for shafts, have different properties that make one material preferable over the other, depending on the needs of the player. More recently, manufacturers have been producing shafts from a combination of steel and graphite, titanium, or nanofuse materials. Overall, flex is considered the most important specification of a golf shaft. Its flexibility of the shaft can affect swing speed and direction. Flex ratings come in six levels; players should choose the appropriate rating for the strength and speed of their swing. Torque, length, and weight can also affect the speed and accuracy of a hit. Many golfers find it useful to seek professional advice when assessing what kind of shaft best meets their needs. The right golf shaft can significantly enhance a golfer's enjoyment and performance.