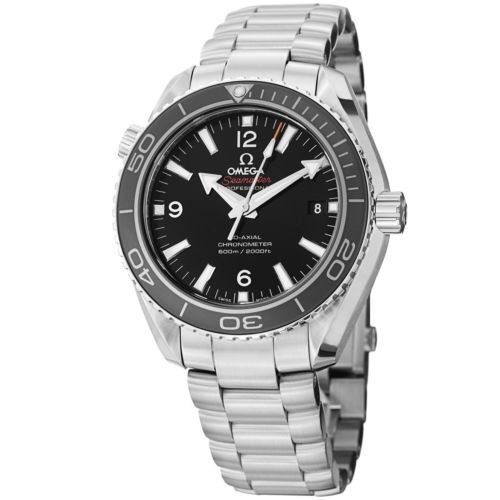 Omega has been making watches in Switzerland since 1848. Originally a one-man operation, Omega eventually became a family business and then a major corporation. Omega watches are high-quality timekeeping devices. Since 1932, Omega has handled the official timekeeping duties for the Olympic Games. As with other popular and expensive luxury items, Omega watches are subject to counterfeiting. Buyers interested in purchasing genuine Omega watches should learn as much as they can about the product before buying.

General Appearance
Before shopping for an Omega watch, go to the Omega website to become familiar with the styles offered by the company. Omega's website contains photos of newer models that are available as well as vintage watches. With this information, buyers can make an educated decision about whether a watch looks authentic right from the start. This is an especially important step when purchasing a watch online.

Luminosity
Omega watches have a luminous dial that helps the wearer tell time even in low lighting. Cheap replica watches often use a poor quality material that does not work as well as the authentic Omega version. To check a watch in person, hold the watch near a bright light, and then turn off the light. Authentic Omega luminosity is bright and lasts for several minutes. Fake Omegas will not glow brightly, and the luminosity fades quickly.

Words
Fake Omega watches do not have the same quality control standards as authentic Omega watches do. Because of this, there are flaws written areas of replicas that offer huge clues. Buyers should pay careful attention to all the writing on a potential purchase.
Misspelled Words
Misspelled words are a big clue that a watch may be a fake. Check for mistyped words as well as phrases that do not make sense. Something like "Made in Swiss" instead of "Made in Switzerland" is an indication that the watch is fake.
Hard to Read
Genuine Omega watches have clear, easy to read typography. There is no blurred lettering or fuzzy lines on the watch anywhere. Check the watch face carefully with a jeweler's loupe to see whether the lines are crisp and clear.

Serial Number
Omega watches have unique eight-digit serial numbers that identify the pieces in Omega's database. Vintage watches have the serial number engraved on the inside of the watch back. Modern watches have a serial number engraved on the exterior of the watch. It is also on the guarantee card that comes with the watch. Buyers should ask for the serial number, and contact Omega directly to confirm that the serial number is valid.

Omega Watch Models
Omega offers both men's and women's watches to customers. Men's watches are slightly larger than the women's models. Omega even offers collections called "Couple Watches" for customers who are interested in wearing matching watches.
Men's Watches
The men's collections include several collections. Each of these collections may also have subsets that indicate specialized watches. These collections include:
Constellation
Seamaster that includes Planet Ocean, Ploprof, Aqua Terra, Bullhead and Seamaster Bond
Speedmaster
Geneve
Women's Watches
Women's watches are similar in style to the men's watches. The styles produced are on a smaller scale, and they might have fewer features than the men's models.
Seamaster
Speedmaster
Deville

Famous Wearers of Omega Watches
Omega watches are wildly popular, especially among the rich and famous. Although many people who wear Omegas purchase them outright, Omega sponsors some famous people to wear and to publicize the watches.

| Person | Profession | Omega Watch |
| --- | --- | --- |
| Cindy Crawford | Model and actress | Unknown |
| Adam Savage | Host of television's "MythBusters" | Omega Seamaster Planet Ocean Chronograph |
| Elvis Presley | Singer and actor | Omega Constellation Calendar with a black face |
| Jack Hanna | Zookeeper | |
| Nicole Kidman | Actress | Unknown |
| Prince William | Duke of Cambridge | Omega Seamaster 300M Quartz |
| Buzz Aldrin | Astronaut | Omega Speedmaster Professional Chronograph |

Omega and Bulova each campaigned to be the official watches worn during NASA space missions. Omega won, and Omega watches are now the official watches for space missions. The Omega Speedmaster Professional Chronograph was the first watch worn on the Moon, courtesy of Buzz Aldrin.

How to Buy Authentic Omega Watches on eBay
Buyers looking for authentic Omega watches on eBay can find great deals on these iconic timepieces. From any eBay page, type "Omega watches" into the search bar. If you are looking for a specific style, add that to the search phrase. For example, finding an Omega Speedmaster Professional Chronograph or an Omega Seamaster is as simple as including those search terms. If you are not sure which model you prefer, perform a generic search for a "men's Omega watch" to see what might be available. To find vintage Omega watches, include a year or the words " vintage" or "antique" in your search.