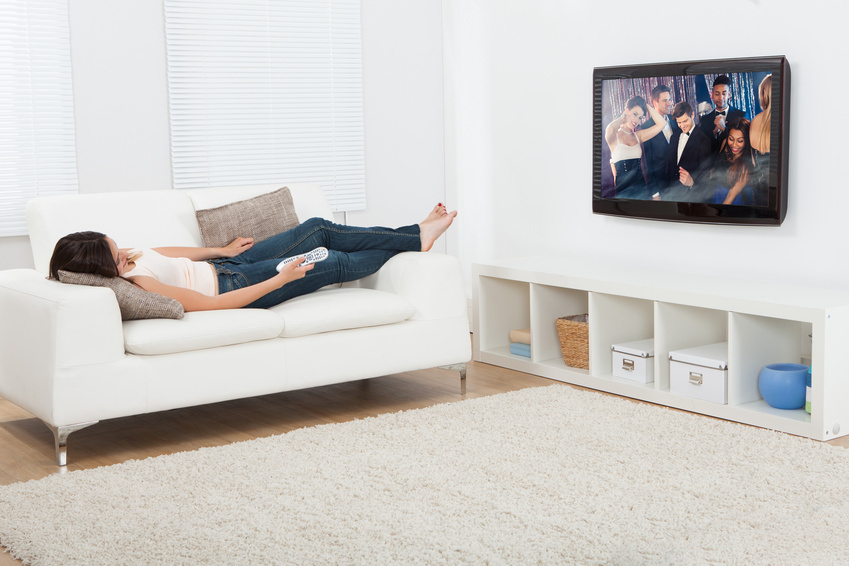 Converting a normal LCD TV into a smart TV lets the TV perform many of the functions of a computer. These functions include wireless syncing, connecting to the Internet, downloading music, playing games, and streaming media. You can convert a normal TV to a smart TV by using a dongle, which is the cheapest option. Other options include set-top boxes, laptops, video game consoles, and home theater PCs.
HDMI Dongle
An HDMI dongle is a memory stick that lets a normal TV function as a smart TV. This device plugs into an HDMI and USB port. The dongle lets the TV connect to the Internet and stream different types of media. Popular dongles include Chromecast and EZCast. The Chromecast dongle offers several different apps and the ability to watch live TV. Channels and applications on Chromecast include ESPN, Netflix, and Hulu Plus.
Set-Top Box
A set-top box is a device that has hardware, apps, and channels pre-installed. These boxes include Apple TV, Android TV boxes, Roku boxes, and certain Blu-ray players. Apple TV boxes have Hulu and Netflix already installed and also offer an Apple system known as AirPlay, which lets users mirror the screen of an Apple device. Blu-ray players that are manufactured by major brands, such as Sony and Samsung, provide smart TV capabilities such as Wi-Fi connectivity and Netflix.
Laptop or Tablet
Newer-model laptops and tablets typically have an HDMI port that connects the device to an LCD TV, but in some cases, you need a VGA cable to connect a laptop to a TV. This method of converting an LCD TV into a smart TV uses the device to control the functions on the screen of the TV. Using a laptop provides a connection to the TV that lets users play high-quality games or stream content in various formats.
Video Game Console
Using a video game console, such as the PS4 or Xbox One, offers simple smart TV capabilities by installing apps. Popular programs or apps include Netflix, Amazon Instant Video, Hulu Plus, YouTube, and Vudu. Other consoles that offer multimedia functionality include Xbox 360, Playstation 3, and Wii-U.
Home Theater PC
A home theater PC, or HTPC, is different from a normal PC. These computers have software designed specifically for a connection to a TV, and feature infrared ports to use a remote control and the ability to read various formats of media files. The home theater PC is available in a small case that fits discretely under the TV and comes with XMBC or Windows Media Center.
How to Buy Products to Convert a Normal LCD TV to a Smart TV on eBay
Purchasing products to convert a normal LCD TV to a smart TV on eBay is easy. The difficult part is identifying the most suitable method. Start by typing the specific product or component into the search bar at the top of the eBay page. Another method requires navigating to the Shop by Category tab next to the search bar, followed by the Electronics tab. Under this tab, find categories that include Video Game Consoles and Computers and Tablets. After making a selection, narrow results by using the filters for features, media input connectivity, condition, media streaming options, and price located on the left side of the page.