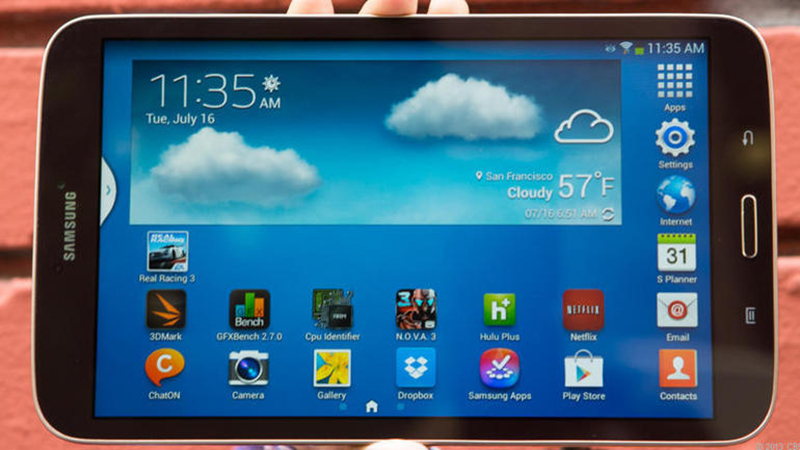 The devices in the Samsung Galaxy Tab series are a handy way to watch videos, use the Internet and listen to music on the go. Sometimes, you just want the big-screen experience while you binge on Netflix or other movie and TV streaming apps. There are a few ways to get your tablet to display on your television, depending on the type of TV you own. Once the screen displays on your TV, you can use your tablet as you normally would.
Connect a Samsung Adapter to the Galaxy Tab
You need a Samsung EPL-3PHPBEGXAR Galaxy Tab HDTV adapter. This might have come with your original device, but if not, you need to purchase one. This one is compatible with both the Galaxy 2 and Samsung Galaxy Tab 3.
Connect an HDMI Cable
Connect a male-to-male HDMI cable to your tablet. The length is important since you want to be able to sit on your couch while you watch TV. Typically, a cable at least 6 feet long is ideal. Connect the Samsung adapter and the HDMI cable to your HD TV. The HDMI plug is usually on the left or right hand side of the television. If you have more than one, use the top one first.
Change the Input Settings
With your TV remote (not your cable TV remote), click on Input Settings and change the settling to HDMI. Turn on your tablet. At this point, you should see the tablet's screen on the TV. If you do not, it's probably not on the right input setting. Try scrolling through the input settings until you want the correct one. Another common issue is that the cables are not connected properly. Double-check that all the connections to your television are correct and secure.
Use Screen Mirroring
Another way to connect your Samsung tablet with your television is via Samsung's SmartView. First you must download Samsung's SmartView App from the Google Play store on your device. You do need a Samsung HD TV that is compatible for this feature as well as wireless Internet. Turn on your HD TV and then tap the SmartView app on your tablet. The tablet should tell you that it is connecting. It might ask you if you want to connect via BlueTooth. If so, tap No. You should see the tablet's screen on your television within about 20 seconds.
Use Samsung Link
The Samsung Link option only works if you have a Samsung TV. Go to Samsung Link's homepage and register for free. Now you can register your tablet, television and Samsung smartphone so that they can share files. Again, this only works if all your devices are by Samsung.
How to Buy Tablet to TV Supplies on eBay
To buy any HDMI cables or Samsung tablets, TVs and phones on eBay, simply type your desired product in the search bar at the top of the page. Filter your options on the left-hand side of the screen. Once you find the right product, be sure to check out the seller's user ratings. Take a thorough look at the product image as well as the product description for more details about the item. Some sellers also have Buy It Now options, which can speed up the buying process.