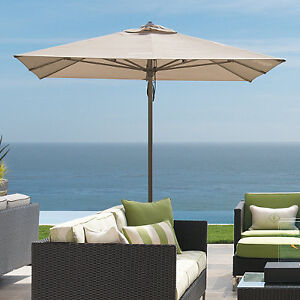 Summer is the time of year when people want to be outdoors enjoying the sunshine and warm weather. When it comes to relaxing or enjoying a meal outdoors, nobody wants the sun beating down on them. A patio umbrella is a great way to provide shade on a deck, patio, or yard. There are many different types of patio umbrellas, and there is more to choosing the right one than just picking the color or pattern that works well with the outdoor decor.
This guide aims to help buyers choose the right patio umbrella for their yards, based on the type of umbrella, frame, and the size of the umbrella. No matter what kind of patio umbrella a person is looking for, there are thousands to choose from on eBay.

Types of Patio Umbrellas
Not all patio umbrellas are the same, and determining the right type of patio umbrella for your yard, is an important first step. The term "patio umbrella" actually refers to any type of umbrella that is used for providing shade for leisurely activities. Patio umbrellas are available in several different designs, and their quality varies greatly depending on the materials used to make them as well as their intended purpose. The table below lists the common types of umbrellas as well as their descriptions.
| Umbrella Type | Description |
| --- | --- |
| Residential | Designed for use on home patios; fits through the hole on a patio table and is attached to a base; usually pop-up style |
| | Higher quality umbrella than typical residential umbrellas; usually has a vented top; used for residential and light commercial purposes; known for its octagonal shape and wooden frame |
| Logo | Umbrellas that are designed to promote a product or company; commonly seen in restaurants and outdoor events; can also be custom made for personal use |
| | Umbrellas with a heavy duty design; have a standard design with only a few style options to choose from; commonly used for restaurants or other outdoor events |
| | The pole is set at the side of the umbrella and secured to its own base; this umbrella hangs over the table or area without a pole in the middle to get in the way |
Many buyers who are looking for an umbrella for use with a patio table will often go for a lightweight residential umbrella as a cheaper option or the market umbrella as the more attractive option. Because of the design of the cantilever umbrella, it can be used to provide shade over a larger area, and it doesn't have to be used with a table. Logo and commercial umbrellas are mainly used for cafes and restaurants, but buyers who are looking for a heavy duty umbrella for their yard may choose one of these.

Frames for Patio Umbrellas
The three main types of materials used to construct frames for umbrellas are aluminum, fiberglass, and wood. Each material offers its own benefits, and the better option really comes down to personal preference and the environment in which the umbrella will be used.
Aluminum
Aluminum is the most common material used to make umbrella poles. This metal is lightweight, durable, and has a nice appearance. It is also economical, and patio umbrellas with aluminum frames are usually much cheaper than other types of umbrellas. Additionally, aluminum is resistant to corrosion, so it can stay outdoors during all types of weather. Aluminum umbrella frames usually come in a variety of configurations for opening, closing, and tilting.
Wood
Umbrellas with wooden frames are perhaps the most expensive type of umbrella available. The wood frame has a sophisticated appearance. Most wooden umbrellas have been treated to handle the weather outdoors, but they are not as durable as aluminium frames. Wooden frame won't be able to handle extended exposure to rain, sunlight, and cold temperatures. Additionally, because of the nature of wood, they can usually only be opened and tilted manually, and they do not rotate.
Fiberglass
Umbrellas with fiberglass frames and poles are perhaps the most durable. Fiberglass is lightweight, flexible, and resistant to wind and weather. Because the umbrella is flexible, it can bend slightly during heavy wind and so won't break. Also, because fiberglass is non-corrosive, it will last for a long time, making it a better investment in the long run.

The Right Umbrella Size
Choosing the right size umbrella is important when it comes to finding one that will provide an ample amount of shade. When an umbrella is used with a table it is important that it is not too small, otherwise people underneath won't get protection from the sun. Additionally, an umbrella that is too large for a table may easily fall over. The chart below shows the umbrella size that should be chosen for a specific table size.
| Table Size (diameter) | Umbrella Size (diameter) |
| --- | --- |
| 30-36 inches | 6-8.5 feet |
| 38-48 inches | 9-10.5 feet |
| 54-60 inches | 11 feet and up |
The standard patio umbrella is 8.5 feet. It is important that the umbrella extends well beyond the edge of the table, so that people will receive ample coverage. One thing to keep in mind when shopping for a patio umbrella is that as the size of the umbrella goes up, so does its price. Shoppers can save money on an umbrella by not buying more umbrella than they need.
Anchor Weight
Some umbrellas come with a base and with others buyers may need need to purchase bases separately. If the umbrella is being used in an area that does not receive a lot of wind, then a base may not be necessary. The purpose of the base is to hold the umbrella in position so that it does not fall over or blow away. The base will need to be weighed down in order to make this happen. The amount of counterweight needed to anchor the umbrella depends on its size. Umbrellas that have a diameter that is less than nine feet will need about 50 pounds of counterweight, while umbrellas that are larger than nine feet will need 75 pounds of counterweight, or more.

Tilt Methods
Shade from directly above is not always ideal. As the sun moves across the sky, different shading angles will be necessary. Not all umbrellas have the ability to tilt, but people who plan to spend several hours outdoors will want one that does. This ensures that they can make use of the umbrella no matter what time of day it is. When choosing a patio umbrella, buyers should look for an umbrella that tilts in a way that is convenient for them. The most common tilt methods are crank, push-button, and collar tilt.
Crank Tilt
Crank tiltumbrellas are incredibly easy to use. With these types of umbrellas, a crank is used to open the umbrella and tilt it. A person can simply stop cranking once they have opened the umbrella to the desired amount of shade. The umbrella will lock into place automatically. This makes it easier to block the sun at all angles without having to maneuver the umbrella or try to balance it.
Push-Button Tilt
A push-button tilt umbrella is a more affordable option, but it is also a bit harder to adjust. Like the crank tilt, many of these umbrellas are also equipped with a crank for opening and closing the umbrella. The crank does not control the tilt, instead the person has to press a button and adjust the tilt of the umbrella manually. Once the umbrella is at the desired angle, the button is released to lock it into place.
Collar Tilt
The collar tilt umbrella is another easy umbrella to use. Rather than having to deal with cranks or buttons, a person simply twist the collar on the frame to adjust the umbrella's angle. There is no need to get up to adjust the tilt, and it can easily be done while sitting at the table. Rotating the collar in the opposite direction will move the umbrella back to its original position.

Other Umbrella Options to Take Into Consideration
There are a few other things that buyers should take into consideration when shopping for a patio umbrella. Once the desired type, size, and adjustability options have been chosen, buyers can look for the type of fabric that appeals to them. Additionally, buyers should consider the method for opening and closing the umbrella.
Canopy Fabrics
When choosing a canopy fabric, buyers should take more than the color and the pattern into consideration. Many types of fabrics are used to block the sun from the people and objects underneath. Additionally, many are treated to withstand changes in weather. Not all are created equal though. Polyester and polyester blend fabrics are the most common options when it comes to fabrics for umbrella canopies. Unless the fabric has been treated, it will fade after long-term sun exposure. For this reason, people should look for umbrellas that offer UV protection.
Opening and Closing Methods
How the umbrella opens and closes is another important option to consider. Many umbrellas open with a crank which is simple for most people to operate. Cheaper umbrellas often have a pulley system that is used to open and close the umbrella. Some people choose to leave their umbrellas open for extended periods of time, so the opening and closing may not be as important. For those who wish to keep the umbrella closed while not in use, this issue will be more important.
The pulley system can be difficult to operate and a certain amount of strength is needed. With the crank system, the umbrella locks into place automatically. With the pulley system, people often need to secure the umbrella in position with a pin. This means they'll have to balance the umbrella with one hand while guiding the pin through the pole with the other.

Shopping for a Patio Umbrella
The spring and summer months are when you'll be able to find the biggest selection of patio umbrellas in stores. By the end of summer and early fall, you'll be able to score some great deals on clearance items, as the stores try to move the umbrellas out of their inventory for the fall and winter. Home and garden centers as well as department stores will offer several different types of umbrellas each year. Depending on where you live or what stores are available to you, the selection might be limited. You'll be able to find a greater inventory and more competitive prices by shopping online. eBay is an online marketplace where people can buy and sell new and used patio umbrellas of all types.
Finding a Patio Umbrella on eBay
To get started with your search for a patio umbrella on eBay, go to the Home and Garden section. From here navigate your way through Yard, Garden, and Outdoor Living to Patio and Garden Furniture to Umbrellas and Stands. You can start browsing through the listings, or you can refine the list to only show the patio umbrellas that are in the price range or condition that you're looking for. Additionally, you can use the search features to search all of eBay for the patio umbrella that you want.

Conclusion
A patio umbrella is meant to provide shade so that people can enjoy their time outside during the sunny summer months. While choosing an appealing color and pattern is part of the process, it isn't the only thing that should be taken into consideration. People should look for umbrellas that provide an ample amount of shade, are easy to use, and will last through all types of weather. By doing a bit of research beforehand, buyers will know what to look for when they're shopping. Learning about the different types, frame materials, sizes, and adjustability options before heading to the store will make the process a lot simpler and ensure that buyers will find the umbrellas that meet their needs.