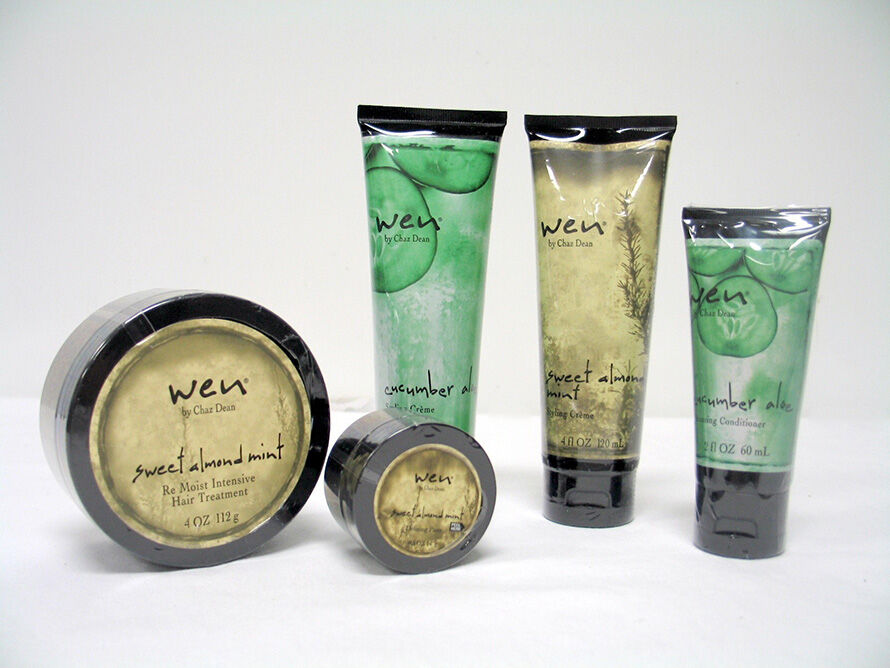 Without question, having shiny, well-managed hair is a key element of looking good. For that reason, many men and women seek out hair care products made from the best quality materials and without the harsh chemicals included in many common shampoos and conditioners. In addition, many who want to have the best hair possible realize the value of purchasing a complete kit of complementary hair care products from a reputable brand. One good option is purchasing a WEN Hair Care Ki<t , a revolutionary system that transforms frizzy, dull locks into healthy looking hair. WEN Hair Care Kits are available at a variety of online and brick and mortar retailers, including cosmetic and hair care specialty stores. However, to find a readily available selection of WEN Hair Care Kits available at any time, day or night, smart shoppers know to seek out deals on eBay..
Get to Know WEN
WEN hair and body care products are the brainchild of innovative celebrity hair stylist Chaz Dean. In 1993, Chaz Dean began conceptualizing the formulations for WEN,, with the goal of creating an all-natural shampoo to bring new life to dry, damaged hair. After over five years of research and testing, WEN made its debut and was well-received by Dean's celebrity clients, including Jennie Garth and Nicolette Sheridan. From those beginnings, the popularity of WEN has expanded to mass market scale.
What Makes WEN Unique
When creating his line of WEN products, Chaz Dean recognized that common shampoos and soaps contain damaging sulfates and detergents, which can do significant damage to hair when used over a period of time. As a result, he designed his WEN system using botanical materials to offer a line of products that contains no harsh chemicals. Consequently, the WEN Hair Care Kit gives users stronger, more healthy hair, with noticeable improvements after just one use.
Learn What is Included in a WEN Hair Care Kit
The standard kit includes all the components needed for healthy hair, including the Cleansing Conditioner and Anti-Frizz Styling Crème, plus two free bonus items, the WEN SIXTHIRTEEN Ultra Nourishing Cleansing Treatment and a Travel Kit. The Deluxe WEN Hair Care Kit includes all the same items as the basic kit plus two additional products: the Replenishing Treatment Mist and Straightening Smooth Gloss.
Product

Description

5-in-1 formula: shampoo, conditioner, deep conditioner, detangler, and leave-in conditioner

Creamy texture

Provides strength, manageability, and color retention

Lightweight formula

Reduces frizz

Protects against heat styling

Deep, rich cleansing treatment

Created to blend with Cleansing Conditioner

Provides extra hydration

Soothing botanicals for healthy scalp

Luscious lemon, rosemary, and vanilla bean fragrance

Travel-sized products for use while on the road

Convenient travel case

For use on hair, face, and body

Revives hair between cleansings

Can replace a leave-in conditioner

Helps tame flyaway hair

Gives hair a smooth finish
Products come in a variety of pleasant fragrances, including lavender, sweet almond mint, pomegranate, and summer mango coconut.
Review the Benefits of the WEN Hair Care Kit
WEN products clean without lathering and provide antibacterial and astringent properties. In addition, they stimulate the scalp, which promotes blood circulation and impedes hair loss. Thanks to the products' balanced selection of ingredients, the hair care system performs well on all hair types, including ethnic hair. Many users see improvements after just one use due to the WEN Hair Care Kit's emphasis on retaining moisture. By combining the action of five distinct products into one complete product, the WEN Cleansing Conditioner is both easy-to-use and saves time in users' daily beauty regimen.
Know How to Use a WEN Hair Care Kit
One of the great advantages of the WEN Hair Care Ki t is that it is designed to be used as a complete hair care system. However, instead of needing numerous cleansing, conditioning, and styling products, the WEN Hair Care Kit only includes two primary products for daily use. This allows a less cumbersome styling routine.
The company recommends applying the WEN Cleansing Conditioner to wet hair during a shower. After thorough rinsing, the next step is using a small amount of WEN Cleansing Conditioner as a leave-in conditioner. When styling, best results are achieved by using a quarter-sized amount of the WEN Anti-Frizz Styling Crème to hair, from mid shaft to ends. Whenever extra moisture is needed, adding the WEN SIXTHIRTEEN Ultra Nourishing Treatment to the Cleansing Conditioner is advised. The WEN SIXTHIRTEEN Ultra Nourishing Conditioner can also be used as a leave-in conditioner or a hair mask.
Understand Availability of Individual WEN Hair Care Products
After purchasing an initial WEN Hair Care Kit, many consumers find a need to replace components of the hair care line over time. Fortunately, individual products, such as the WEN Cleansing Conditioner, are widely available. Often these products have unique scents, so users can use different fragrances to suit every occasion and season of the year. In addition, shoppers can find other WEN products to supplement their WEN Hair Care Kit,, such as the Re Moist Intensive Hair Treatment , a hydrating mask to nourish hair and scalp, or the WEN Texture Balm,, which provides texture, hold, and shape for perfect hairstyles. In addition, shoppers can find individually packaged WEN travel kits, which provide a great way to try out WEN before investing in a complete WEN Hair Care Kit. Also, WEN sells instructional DVDs, combs, and both paddle and boar bristle hair brushes to complement its line of hair care offerings.
Find Out More About Other WEN Products
While WEN has earned status as a respected brand in hair care, the company sells products for body and the home as well. The company offers bath, body, and hair oils made of cold-pressed golden jojoba and top-quality essential oils. These oils include fig, cucumber, lavender mint, pomegranate rosemary, sweet almond peppermint, and tea tree eucalyptus. In addition, WEN has a body cleansing crème and nourishing body lotion. For the home, WEN offers soy candles in several scents, including cucumber, fig, lavender, and sweet almond mint.
How to Shop for WEN Hair Care Kits on eBay
If you are in the market for a WEN Hair Care Kit, you definitely want to check out the selection on eBay. Shopping on eBay is extremely simple. All you need to do to get started is visit any page on the eBay website and type in a few relevant search terms in the search bar. For example, you can search on "WEN Hair Care Kit&" to get the full list of available offerings from eBay's vast network of global sellers. As an alternative, you can refine your keywords to search on a specific WEN product, such as "WEN SIXTHIRTEEN Ultra Nourishing Cleansing Treatment.." If you want to save even more on your WEN hair care purchase, you can add the term "free shipping" to your search. For example, try "free shipping WEN Hair Care Kit" to return listings from sellers who are offering to waive shipping costs.
Conclusion
Dry, frizzy, lifeless hair can detract from anyone's appearance. In many cases, the products offered to clean and style hair contain sulfates, detergents, and other harsh chemicals that can actually degrade hair quality with sustained use. For people who take care to look good in all settings, investing in a top-quality line of hair care products made from natural materials is worthwhile. Many shoppers recognize the value of the WEN Hair Care Kit, a comprehensive set of products designed by high-profile, celebrity hair designer Chaz Dean. The basic WEN Hair Care Kit includes a multi-purpose cleansing conditioner and styling creme, plus bonus items; the deluxe kit features two additional products to keep hair looking its very best. To get a great deal on this popular hair care system, savvy shoppers know to turn to eBay,, which has authentic WEN Hair Care Kits available from sellers around the globe.