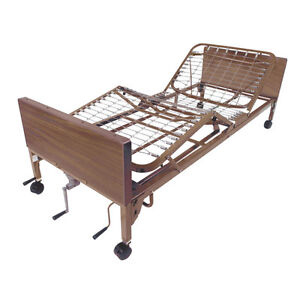 Hospital beds
are used in homes, hospitals, and nursing homes to allow sick, injured, or elderly bedridden individuals to rest comfortably. There is no one size fits all bed type and each person's situation needs a particular type of bed and some even require mattress customization as well. This guide examines the different types of hospital beds which are sold today, things to look for when deciding on a hospital bed, and how to buy a hospital bed with confidence.
Different Types of Hospital Beds
Hospital beds have been in use since the year 1815 and those first beds were flat and had no rails, adjustments, or special supports. Today, there are a variety of hospital beds which offer fully customizable positioning, wheels for moving, side rails for patient security, and elevation settings to accommodate medical personnel. The following chart gives an overview of each type of hospital bed in use in healthcare facilities today as well as the intended uses.
| Type of Hospital Bed | Description of Bed | Type of Adjustment |
| --- | --- | --- |
| Gatch | Traditional adjustable bed with side rails. | Manual |
| | Modern hospital bed with side rails. Head and foot can be adjusted. | Electric |
| | Flat gurney with side rails which is used to transport patients. | Manual |
| | Special air-filled cushion within the low air loss bed offers flexible support for burn victims or those with ulcers or broken skin. These air cushions make turning the patient easier. | Manual |
| Circo-Electric | Circo-electric beds are rotated with circular bars for patients in traction or with burns, skin injuries, or spinal injuries and must be turned every 2 to 5 hours. | Manual |
| Clinitron | Clinitron beds are similar to low air loss beds but instead of air channels, this special mattress is filled with sand. This type of bed offers support without applying too much pressure. | Manual |
All of these bed types are adjustable to a degree. Specialty mattresses such as the Clinitron and low air loss beds can be manually inflated or filled to be firmer depending on the needs of the patient. The circo-electric beds have to be manually adjusted with precise movements according to medical need instead of at the direction of the patient.
The stretcher, Gatch, and electric beds can be adjusted in a variety of ways in order to make patients without special movement restrictions as comfortable as possible when they are confined to bed. The head of the stretcher can be raised and lowered manually by the provider of the patient's care and can be laid completely flat for sleeping. The manual Gatch and the electric beds have multi directional support which allows for adjustment of the head and foot of the bed as well as the raising of the entire bed. The Gatch bed adjusts with a series of cranks which are operated by the person in charge of the care of the patient, and the the electric bed can be repositioned by either the caregiver or the patient with the use of the attached remote control.
After reviewing the many hospital bed options which are available, many bed shoppers choose to examine the different mattress choices which correspond with their preferred bed type as well.
Hospital Bed Options to Consider
In addition to the type of adjustments a hospital bed offers, one should also consider the type of mattress which will be used with the frame and also the proper mattress cover to use to conform to a particular healthcare situation. The following sections discuss the different types of mattresses and covers as well as their intended uses.
Hospital Bed Mattress Choices
Hospital beds such as the Clinitron and the low air loss beds need special mattresses in order for them to do their jobs correctly, and these mattresses cannot be replaced with any other type of mattress. The Clinitron is filled with a sand-like material to accommodate burn victims with skin grafts and patients who have or are susceptible to bed sores and pressure points. The low air loss bed works similarly to the Clinitron except that the mattress is filled with air instead of sand and it helps keep patients cool and dry and reduces pressure on the skin.
The other two types of mattresses which are used with hospital beds are foam and innerspring. Foam mattresses are made from neoprene and polyurethane and are the more versatile type of the two. Foam mattresses can easily conform to multiple adjustment positions without deforming the foam or causing warp. These mattresses are used with the circo-electric, stretcher, and electric type beds.
Innerspring mattresses offer full body support and are commonly used with Gatch beds. Since this bed type is adjustable with hand cranks, there is less dramatic adjustment at any one time and the innersprings have less of a chance to warp like they would if used with electric hospital beds or those like the stretcher which are constantly being adjusted to accommodate different patients.
Hospital Bed Mattress Covers
Hospital bed mattress covers are designed to fit closely around the mattress and are used under a sheet to protect it against debris, bodily fluids, or blood. The three materials which are commonly used are cotton, plastic, and rubber and these are listed in order of protection ability.
Cotton hospital bed mattress covers are used under a sheet to protect expensive mattresses against dirt transfer, body oil stains, and hard to remove odors. This type of cover is easily machine washable and retains its shape well thanks to the the elastic band which runs along the perimeter of the cover.
The type of mattress cover with the next strongest level of protection is the plastic cover. Made from a thin layer of plastic, this cover repels bodily fluid accidents and blood spills and allows them to roll off and not stain or ruin the mattress if the spill is caught in time. If the liquid is left on the plastic cover for an extended period of time, it will eventually permeate. Despite this, this cover offers more protection than cotton hospital bed mattress covers.
The type of mattress cover which offers the highest level of mattress saving protection is the rubber cover. This type of cover is commonly used in nursing homes and for patients with open sores so that the mattress will not become contaminated. An elastic band holds the rubber tightly around the mattress and it can be cleaned with a hose, antibacterial cleaner, and water.
Now that bed types, mattress choices, and mattress covers have been examined, it is time to shop for the type of bed which best fits the patient for which it is intended.
Buying Hospital Beds with Confidence
There are many places where a healthcare administrator, home health worker, or a person with a bedridden loved one is able to find a hospital bed for sale including medical equipment stores or catalogs, through a physician's office, and online at auctions sites such as eBay.
All of these retailers will have the beds one needs for the bedridden individual as well as for special cases such as burns, bedsores, and traction. When purchasing items face-to-face, there are limitations, however. The purchaser is limited to buying what that particular retailer has in stock at that particular time and there may not be the proper size of stretcher, circo-electric bed, or Gatch bed one is interested in purchasing in stock. In the interest in having a wider variety of items from which to choose, many hospital bed shoppers turn to online shopping through retailers such as eBay.
Оn eBay
eBay is a global marketplace and many sellers list all types of hospital beds in auctions every day. At any given time, there are hundreds of Invacare, Drive, Grahamfield, Joerns, and other top brands of beds offered up to the highest bidder. Because there are so many sellers and buyers competing for the winning bid, eBay is a great place to find a good deal as well as many sizes and styles that may be hard to find in traditional hospital bed shopping venues.
eBay offers both buyers and sellers a 100 percent buyer protection guarantee which ensures both parties are happy and satisfied with the purchase and the item was exactly as described. Packages are guaranteed to arrive and payment is guaranteed to be made or eBay will make the situation right. The best part about buying on eBay is the all day every day availability and secure payment through PayPal which allows buyers to purchase and sellers to accept money without exposing delicate financial information.
Conclusion
Whether one needs a Clinitron bed for a burn victim or a Gatch bed for home healthcare needs, there are many beds listed for sale every day on sites like eBay. Armed with the information contained in the guide as well as an analysis of a patient or loved one's needs, the correct hospital bed can be purchased and put into use immediately.