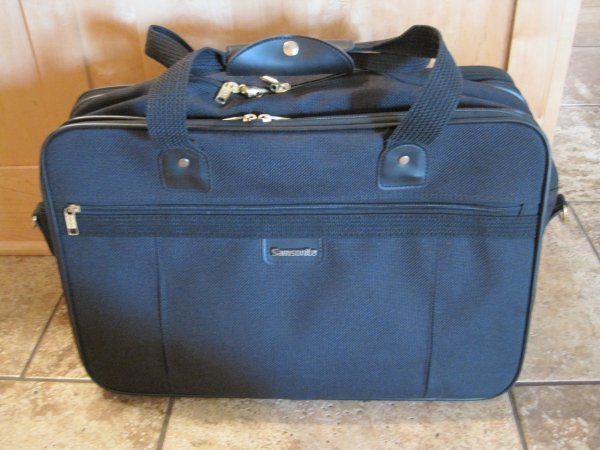 The luggage that travelers choose can be one of the most important investments they make. However, buying the best luggage doesn't have to break the bank. Many people go to eBay to sell their used luggage, which can be a major benefit to buyers in need of affordable luggage. Whether travelers need something light and portable, or durable luggage that can withstand long flights, they can be sure to find what they need.
What Type of Used Luggage Do You Need?
When a buyer is looking to purchase used luggage, the first thing to decide is what type of luggage he or she will need. Suitcases come in a variety of shapes, sizes, and styles, and there is a variety of materials available, all of which have their own particular benefits. In addition to suitcases, buyers might need to purchase additional items such as carry-on bags, garment bags, makeup bags, and duffel bags.
Buyers should have at least one large suitcase that can carry enough clothing for a weekend as well as any additional items that they may need. Ideally, he or she should find a suitcase with wheels and a retractable handle, which makes it easier to tote for long distances.
In addition to one main suitcase, buyers might decide to purchase additional smaller suitcases that can be used to carry shoes, accessories, or even souvenirs that they purchase during their travels. It is best that these suitcases belong to the same set, since the smaller piece of luggage can be kept inside the larger piece when they are empty, making for easier storage.
Every travelershould have a large carry-on bag that meets airline requirements. Both women and men may choose to purchase a toiletries or cosmetics bag. These should be waterproof, in order to prevent potential damage in the case of spillage or leakage. Other items include totes, weekend bags, and small zippered bags for storing smaller items. None of these are necessary, but might be useful for frequent travelers.
Luggage Materials
There are three main types of luggage available. Your type of travel and basic needs will dictate which luggage is best suited for your situation.
Soft-bodied, fabric luggage pieces do not offer items as much protection but are much more flexible and can be stored easily when not in use. In addition, fabric carry-on bags easily fit into overhead compartments, while fabric luggage can be easier to squeeze into tight spaces such as the trunk of your car.
Leather luggage is also available. Like fabric, it is flexible and easier to store, and, quality leather can help prevent ripping and tearing. Leather luggage pieces can be a good compromise for buyers who are looking for lighter, easier-to-store luggage, but who are not willing to compromise the safety of their items.
Hard-bodied luggage pieces are generally made of hard plastics. They offer items the most protection, and are the preferred type of luggage for frequent airline travelers. Hard-bodied luggage tends to be the heaviest of the luggage types, and can be difficult to fit into tight spaces.
| Luggage Item | Preferred Condition |
| --- | --- |
| | Free of rips and tears; wheels should be unbroken; handle undamaged; working zipper; visible marks and stains acceptable |
| Carry-on | Free of rips and tears; working buckles; undamaged straps; working zipper; damage to interior acceptable; visible marks and stains acceptable |
| | Free of rips and tears; free of visible marks and stains; working zipper; undamaged hanger; undamaged buckles and straps |
| | Free of rips and tears; free of visible marks and stains; damage to interior acceptable; working zipper; waterproof preferred |
Used Designer Luggage
Many people may choose to search used luggage on eBay in order to find quality designer pieces. Individuals who have always wanted a Louis Vuitton piece, Tumi luggage, or Samsonite can purchase pieces easily at affordable prices on eBay.
Whenever an individual searches for designer pieces, they should be certain that the pieces are real. Sellers should include photographs that detail the construction of the piece as well as the labeling in their listings. If a label is not clearly visible and the seller is claiming that it is a LouisVuitton bag, to use one example, the buyer should ask for proof. If the seller is unwilling to provide proof, the buyer may do better moving on to other designer pieces.
Another quick way to decide whether a piece is authentic is to look at the seller's ratings and reputation. Buyers may feel more confident buying a designer piece if they have seen proof that the seller is reliable and reputable in the eBay marketplace.
Vintage Used Luggage
In addition to ordinary used luggage pieces, buyers may also come across vintage luggage pieces. Vintage pieces can be anywhere from 20 to 100 years old. Many buyers choose vintage pieces because of their unique look and styling. However, it is important to note that vintage luggage might not be suitable for heavy travel. The age of some pieces can easily cause them to break or tear.
If a buyer is interested in a vintage piece, they may choose to ask the seller for more information regarding how they came to be in possession of it or whether they have any proof of its age. Buyers should remember that vintage pieces are only valuable if they are relatively free of wear and damage.
Finding and Choosing Used Luggage on eBay
The most important thing for buyers to keep in mind when buying used luggage pieces is that they do not have to skimp on quality in order to get a great price. The first step in determining the quality of the luggage is examining the photo the seller has placed on eBay. At a glance, the luggage should be free of any major rips or tears.
In the case of wheeled luggage, buyers should be certain that they are able to see the condition of the wheels clearly. These can break with wear or repeated use and can render larger pieces of luggage useless. If a photo is not available, the buyer should not hesitate to contact the seller and ask for one.
Buyers who are interested in used luggage can use the search refinements on eBay to find luggage pieces. All they need to do is click on "search refinements" at the left side of the page, navigate to the "condition" section, and click "pre-owned." This will bring up a wide range of items that can further be narrowed down by format. The "Buy It Now" option allows the buyer to purchase the item at a price that has been set by the seller.
Conclusion
Buying used luggage is easy on eBay. Virtually any item that a person might need can be found on this site, and both single items as well as full luggage sets are available. The most important thing to keep in mind when buying used luggage pieces is that it is important to determine whether or not it is damaged, and if any claims the buyer makes as to its brand or its age are accurate. With some skilled searching and persistence, buyers can get great deals on used luggage items.