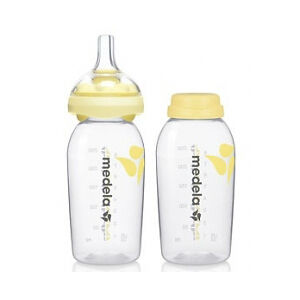 Before a new baby arrives in a home, there are many things that the parents must prepare for. Stocking up on baby items before that big day gets here is always a good idea. Babies have a way of bringing change our lives, and for both parents and the baby to adjust to this new life, having necessary items on hand helps to smooth that transition. Parents can expect that a newborn wakes up often during the day and night for feedings. Having feeding supplies such as baby bottles ready to go when needed can help make feeding time more enjoyable.
One of the best brands of baby bottles on the market are made by Medela. Medela knows that there is a not a one-size-fits-all solution when it comes to feeding babies. That is why this company has created a variety of baby bottles in order to fill that need. For some people it may seem difficult to choose between the various types of bottles, especially if they are new parents and have not had to buy baby bottles before. One of the first steps to getting the right bottles for a baby is to become familiar with the various types of bottles and how they are used. The second step is to buy these bottles on eBay.
Overview of Medela
Medela was founded by Olle Larsson in 1961 in the town of Zug, Switzerland and even now is still owned by the Larsson family. Melela has many global subsidiaries who distribute Medela products in more than 90 different countries. The United States subsidiary, Medela, Inc. has been meeting the needs for baby bottles and other baby products for more than 30 years. Although Medela is known for being an industry leader in the breastpump market, they are also just as well known for other products that are designed for mothers and babies.
When it comes to specialty feeding needs for a baby that involves breast milk storage, Medela has that corner of the market covered with their lines of innovative products that include baby bottles and other breast feeding supplies such as breast milk pumps. Medela bottles come with many ingenious features which are beneficial to a baby and convenient for the parents as well.
Features
Designed with the baby's health and feeding needs in mind, Medela is one name that stands out amongst the crowd. Medela creates baby bottles with features that allow a baby to take in more milk and less air. Reducing the air intake helps eliminate fussiness caused by gas build-up from the air swallowed. The bottles are BPA-free which is a comforting factor for many parents. The bottles have special flow valves that allow the milk to flow evenly only when the baby is feeding. Milk does not drip out of the bottle and comes with a one-size standard nipple that allows it the nipple to be used interchangeably with many other types of Medela baby bottles..
Medela baby bottles are designed with the child's safety in mind. They have easy to read markings which is especially useful when breast milk is pumped directly into the baby bottle. There is a large variety of styles and sizes to chose from that are created to fit Medela breast pumps, and there is even a handy stand available to place the bottles in. Medela makes baby bottles that are safe to use in the dishwasher and microwave and these bottles are also able to be boiled safely. For added convenience, Medela baby bottles are available in multi-pack quantities which makes an already great baby bottle value even more affordable.
Types of Medela Baby Bottles
Medela has various types of baby bottles that are specially designed to meet the needs of a baby and make feedings a safe and enjoyable one for those all those involved. With so many different varieties of new Medela baby bottles available, sometimes the choices can be confusing, especially to new parents. Often it is helpful to know what types of baby bottles are available and what the bottles offer. Listed below are some of the most popular types of baby bottles chosen by parents for their child.
Medela Calma Breastfeeding Set
One of the best values that Medela has to offer parents is the Medela Calma Breastfeeding Set.. A set such as this one typically comes with an all-stage nipple, a 5-ounce feeding bottle, a cap, and a few lids. One of the nice things about Medela breastfeeding bottles is that they are easy to take care of. They are dishwasher-, microwave-, and freezer-safe. Because these baby bottles are constructed from materials that are completely BPA-free, parents feel good about using them for feeding their children.
Medela Breastmilk Bottle Set
The Medela Breastmilk Bottle Set is also another popular item that is usually in high demand with parents who have a child that is nursing. This particular set generally comes with three 5-ounce bottles that are the most common size used for infants. Having multiple bottles is makes feeding time easy for the parent because there is always an extra bottle to go if the baby continues to be hungry after finishing the first one. Because this set also has slow flow nipple attachments, choking hazards are greatly reduced because only the proper amount of milk is released.
Medela Breastmilk Storage Bottles
When a mother chooses to breast her child, more than likely there are times when it is necessary to pump breast milk for later feedings. Not only does pumping the breasts of excess milk aid in relieving the pressure felt for the mother, storing breast milk is helpful during times when it is not practical for a mother to nurse her child. Medela breastmilk storage bottles are a great way to preserve breast milk for later feedings because they the bottles come in various sizes, which is also beneficial, because not all breast pumpings yield the same amount of milk. These breastmilk storage bottles are ideal for freezing and there are models available with or without bags to make storage even more convenient.
Medela Baby Bottles with Lids
Medela also offers baby bottles with lids which come in handy when multiple bottles need to be packed for a long journey. Because baby bottles with lids are of the screw on variety, they are often more secure than bottles that have only nipples so breast milk is less likely to drip. This is often what occurs when it comes to transporting bottles with wide nipples. Not only are these baby bottles with lids more secure, they are ideal for freezing breast milk for later use. They are also resistant to cracking, splintering, and even scratches. The bottle is constructed from polypropylene plastic which is not only hygienic and safe to use, but it also aids in preserving the nutritional value of the breast milk.
How to Find Medela Baby Bottles on eBay
Knowing what types of baby bottles are available can help a mother choose the right one to meet both her and the needs of her child. When it comes to buying a high quality baby bottle that is especially designed for mothers who choose to nurse their babies, many women turn to Medela baby bottles because of all the benefits this brand of bottles has to offer. Buying these bottles on eBay is another popular choice amongst many mothers because there are so many Medela products for sale, it is easy to find the right ones to fit the needs of the parents and the child.
To begin your quest for the Medela baby bottles that are right for you, all you need to do is to perform a quick search. For example, if you want to find used items, this can be accomplished by entering descriptive keywords such as " used Medela baby bottles&" directly into the search query box that is located on any eBay web page. Each baby bottle,is tagged with any of those keywords, are presented for you to browse. When buying used baby bottles, it is always a good idea to read the full item description before making the final purchase selection.
Conclusion
There are many things that parents need to obtain for a newborn baby and baby bottles are just one of those items. Often mothers who nurse their child require special bottles designed with that purpose in mind. Because there are so many varieties of baby bottles on the market today, choosing the right ones can be confusing, especially for new parents. That is why it is important to know more about the bottles that are chosen for this purpose, especially when it comes to finding bottles that are both safe and convenient to use.
For this reason, mothers who nurse enjoy using Medela baby bottles. These baby bottles have many features such as ones that control air intake while the baby is nursing. This not only helps to eliminate gassiness for the child, but is also helps to keep the breast milk safely inside the container. These bottles are easy to use and store, and make a great addition to any breast milk feeding regimen.