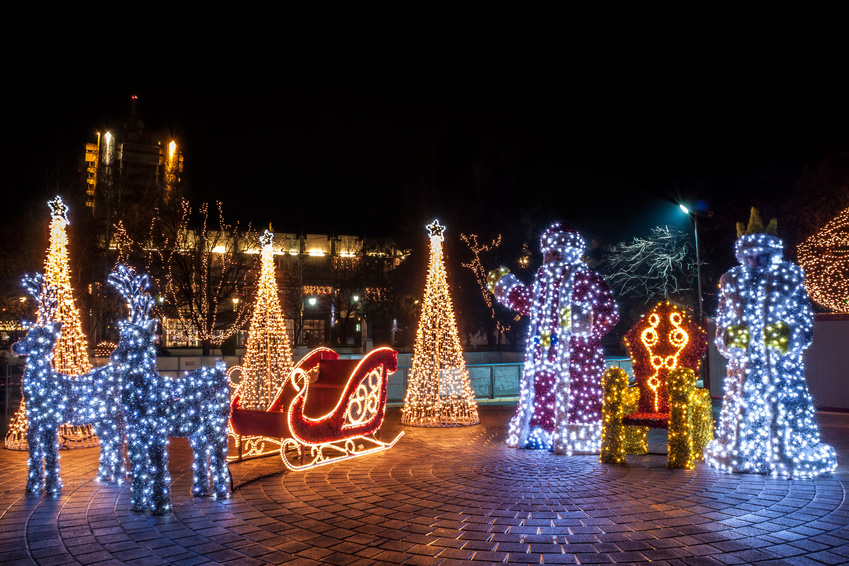 You've hung the lights and put up the wreath, but it's not enough. How about building your own life-size Santa sleigh? Santa riding across the Christmas Eve sky, bearing gifts for all the good children, is an image many think of during the holidays. The story of Santa is based on Dutch stories and Saint Nicholas of Myra, with early stories featuring the fine fellow wandering on a white horse. Then in 1812, an American author wrote a poem depicting Santa riding in a wagon - or sleigh - above the treetops.
This version of the Santa Claus story stuck, and has been passed through the generations ever since. Saint Nick and his sleigh have become more than a story and are now icons that go along with Christmas. The image of Santa riding in his sleigh is seen on rooftops and in storefronts, ushering in the excitement of children eagerly waiting for their gifts.
You can create your very own version of the magical sleigh to display in your yard during the holidays. Building your own rendition of the classic carriage takes a few tools, a bit of wood, and a free weekend. This version of the sleigh is a flat silhouette that stands in your front yard, or can be attached to any area of your home. You can draw your own pattern for a sleigh, or find options online that range from simple and straightforward to intricate and ornate.
Materials
two 4 x 8-foot sheets of 1/2-inch thick plywood
a four-foot 2" x 4" piece of wood
sleigh pattern
one quart white paint
one quart red paint
one quart of primer
3/4" wood screws
screwdriver
jig saw
carpenter pencil
hand sander
four 6" L brackets
paintbrush or roller
paint pan
Instructions
Give yourself ample space outside and lay your plywood sheet on the ground. Using your pattern. Lay it on one piece of plywood and trace around. If your pattern is larger than one piece of wood, put two pieces of plywood next to each other and lay the pattern across the two pieces. Draw around your pattern with a carpenter pencil.
Use your jig saw to cut out your shape. When you are cutting around curves, make sure to move your saw slowly.
Take your hand sander and sand around the edges until they are smooth.
Next, cut your 2" x 4" piece of wood in half, so it creates two pieces that are two feet long each.
Attach an L bracket to each side of the wood and screw the pieces of wood to the back of your sleigh. Make sure that you screw them to the bottom of the sleigh perpendicular to the edge.
Stand up your sleigh, leaning it against the wood brackets you installed. An alternative is to lean your sleigh against the porch, the side of the house, or against a tree.
Now you need to prepare the plywood for painting. Use primer to seal the plywood and give a solid finish. This finish gives your paint a good surface for adhesion. If you use oil-based paint, then use oil-based primer. If you use water-based paints such as latex or acrylic, you can use either water-based or oil-based primer. Using a paintbrush or roller, paint two layers of primer on both sides of your sleigh, allowing the first layer to dry completely before applying your second coat.
Lay your pattern back over your sleigh and trace out any decorative elements and the top and bottom of your sleigh. Paint the top half of the sleigh with your white paint and the bottom half with red.
For fun, you can add real leather straps for reins and sleigh bells to create a festive jingle. Using stencils, paint your family name or the name of each child in the family for a personal touch.
When the holiday season is over, you can unscrew the slats on the back of your sleigh to store it. The flat design makes it fit in a small area and does not take up a lot of room. By preparing your wood and using exterior paints, your sleigh will be equipped to handle the outside elements for years of use.