Buck Quality:
We all know that Buck has a long standing history of making high quality knives. What you may or may not know, is that Buck also manufactured several "BuckTools" for a period of time, but unfortunately the two knives that this guide focuses on, the BuckTool 355 and BuckTool 360, are no longer in production today. Much of the popularity of the BuckTools is due to the ingenuity of Splane Design, an industrial design and product development company. In order to avoid purchasing rights to use the patented designs of Leatherman, Buck contracted Splane Design to develop a "two axis hinge" multi-tool. The resulting product was a unique tool that opened by rotating the handles in opposite directions.
---
BuckTool 355:
The original BuckTool 355 features the following tools: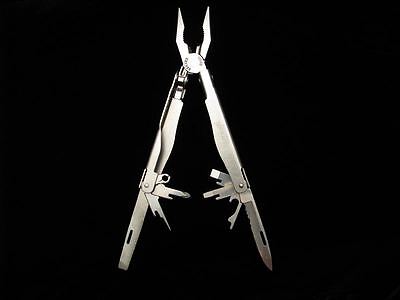 Needlenose Pliers
Serrated Combo Knife
Phillips Driver
Small, Medium, Large Flat Driver
Bottle & Can Openers
Wire Cutters
File
Awl
The BuckTool 355 is exemplary of high quality workmanship. The BuckTool has incredible attention to detail, and the handles open smoothly, albeit with 4 small notches in the action. The only down side is that these tools do not lock.
---
BuckTool 360:
The original BuckTool 360 features the following tools: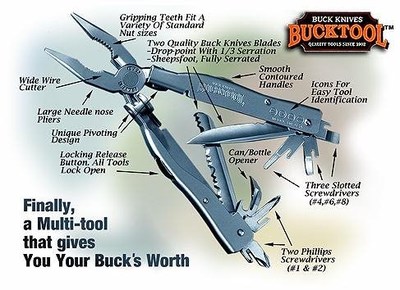 Needle nose pliers
Wire cutter
1/3 serrated drop-point blade
Serrated sheepsfoot blade
Two Phillips screwdrivers (#1 & #2)
Three slotted screwdrivers (#4, #6, #8)
Can and Bottle opener
The BuckTool 360 is an even further example of high quality workmanship. The attention to detail in the BuckTool 360 is incredible and as a bonus from the BuckTool 355 this tool features a spring retention and a secure locking mechanism. The overall fit and finish of both of these BuckTools is excellent and the contoured handles provide an ergonomic grip for both the pliers and the internal tools.
---
I just received a shipment of both of these multi-tools and was so impressed that I wanted to write a guide just giving a quick overview of both of them. Anyway, thank you so much for reading this guide. If you enjoyed this guide or found it helpful please don't forget to like this page! I wish you the best in your future endeavors and good luck finding the right multi-tool for your needs!
---