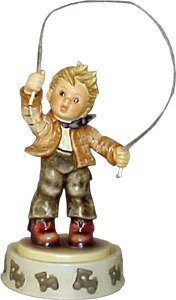 Goebel Hummel figurines are well-known collectibles, and a favorite among collectors worldwide. The earthenware figures, painted in warm colors, commonly feature children engaged in a variety of innocent, childish pleasures. Some figurines feature images of saints. Figures are often found at auctions and estate sales, yard sales, from other collectors, and via online auction sites, like eBay. Due to the vast range of figurines produced and sold, investing in an up-to-date collector ' s guide that reflects each item's current market value is crucial for new collectors. The market value for items may fluctuate a great deal from year to year, although truly rare examples tend to keep their value.
The History of Goebel Hummel Collectibles
In 1879 the W. Goebel Porzellanfabrik, or porcelain factory, started making porcelain in Oeslau (later known as Rödental), Germany. While their initial range was limited to dinnerware and figurines, they expanded their line in 1931 to include vases, lamps, ashtrays, bookends, and candleholders. In 1934, the company started looking for figurine designs that captured the sweetness and innocence of childhood. The managing director at that time, Franz Goebel, saw drawings by Sister Maria Innocentia (Berta) Hummel. He approached her with the proposition of turning her designs into three-dimensional figurines.
Sister Maria Innocentia Hummel
Sister Maria Innocentia Hummel was born Berta Hummel. At the age of 18, she attended The Academy of Applied Arts in Munich. Upon graduation in 1931, Berta Hummel entered the Franciscan Convent of Siessen, taking the name Maria Innocentia. The convent was focused on arts and training, and Maria Innocentia was given the opportunity to design postcards featuring children. These were included in art books, and it is in such a book that Franz Goebel saw her work.
After seeing Hummel's drawings, Goebel produced the first three clay models, namely "Puppy Love,," "Little Fiddler,," and "Bookworm.." These were completed and shown to Hummel in 1934. She agreed that her images could be used as designs for figurines, on the condition that she had final approval of each piece, and that each piece bear her signature. This tradition continues today. Each piece is marked with "M . I . Hummel,," printed on or incised in the underside, provided there is enough space to do so. Figurines must be approved by the Convent of Siessen before production.
World War II and Hummel Figurines
Goebel Hummel figurines were launched in March 1935, at the Leipzig Spring Fair. They were an immediate success. However, when the Second World War broke out, the German government allowed the Goebel factory to produce Hummel figurines only for export. The factory was commandeered to make dinnerware for the German military instead of its usual decorative items. During the wartime shortages of fuel and supplies, Sister Maria Innocentia's health took a turn for the worse. In 1946, at the age of 37, she died of respiratory complications. This was later found to be tuberculosis.
Hummel Collectibles After the Death of the Artist
Sister Maria Innocentia Hummel left behind an impressive collection of drawings, allowing the production of figurines to continue after her death. In post-war Germany, the figurines became popular decorative items once more. U.S. soldiers stationed in Germany sent them home as gifts, introducing them to American homes. Although the factory was modernized over the years, the focus remained on producing figurines that were handcrafted and hand painted. In 1971, the range was expanded to include collector plates,, and later bells and ornaments.. The Goebel Collector ' s Club was founded in 1977, and was the first of its kind. In 1989, the club grew to include fans all over the world, and the name was changed to the M . I . Hummel Club..
It is important to note that Goebel produces figurines that are not affiliated with Hummel. In other words, not all Goebels are Hummels, but all Hummels are Goebels. Goebel stopped manufacturing Hummel figurines in 2008. In 2009, Manufaktur Rodental GmbH acquired the brand rights and started producing figurines on a smaller scale.
Identifying Goebel Hummel Collectibles
As with most collectible porcelain, Goebel Hummel figurines show some variations in the maker's mark over the years. The table below lists the different characteristics of trademarks used in different eras. However, the artist's stamped or incised signature should be on each piece, regardless of the era.
Trademark Number and Name

Period in Use

Characteristics

1934 to 1955

In 1935, the "wide crown - WG" mark was added. This mark is known as the "crown mark," and was incised into the bottom of the very first pieces. Sometimes the mark was drawn as a "C" inside a circle, next to a "W" within a "G." A combination of the two is known as a "Double Crown&" mark. From 1946 to 1948, "Made in the US Zone Germany" was added.

1950 to 1955

This mark is often shortened to FB. In 1950, a bee was added as a tribute to Sister Hummel, as Hummel means "bumblebee" in German. There are 12 variations of the bee trademark, with significant changes in 1956, 1957, 1958, and 1959. However, these marks are all considered TMK-2.

1960 to 1979

This mark was introduced in 1960 and features a bee with angular wings, inside a "V," with the wings parallel to the top of the letter. The "sty - bee&'" mark has three basic forms, but the third is considered the Three Line Mark (TMK-4).

1960 to 1972

This mark ran concurrent with TMK-3. It features the Stylized Bee, with three lines to the right of the design:

© by Goebel

W.Goebel

W. Germany

1972 to 1979

This mark was used on occasion as early as 1970. It included the Goebel name under a stylized bee inside a "V." It is commonly found under the glaze between 1972 and 1976, and over the glaze from 1976 to 1979.

1979 to 1991

In 1979, the Hummel mark changed to the name Goebel, with W. Germany underneath. Neither the bee nor the V" was featured in the new design. During this period, Goebel started adding the date after the artist's mark.

1991 to 2000

The 1991 mark was used only on Hummel products. It featured the Goebel name with Germany below it, and the original crown added at the bottom. The "W" was deleted to signify the reunification of Germany.

The Modern Hummel Goebel Mark

2000 to 2008

The modern mark includes the words Goebel, Germany, with a large bumblebee above the name.
It is important to note that Goebel stopped producing Hummel products in 2008. Production was started once more by Manufaktur Rodental GmbH in 2009. Since then, Hummel products have been marked with a broken oval containing the words "Original M.I. Hummel, Germany," with a bumblebee.
Other Marks on Hummel Products
Most figurines are marked with a one- to four-digit Hummel Model Number (HUM), the year of release, and the size indicator number and, in some cases, the paint code numbers and/or painter's code. Decoration and paint code numbers include:
11 for matte finish in pastel colors;
83 for matte-finish shading on a bisque body;
H for brown matte used before 1955; and
W for white over-glaze.
Size Indicator Numbers
Size indicators are written as Roman numerals or Arabic numbers, and are only added when a figurine is made in more than one size.
| Indicator Number | Size |
| --- | --- |
| /V | Music Box |
| /IV | Biggest Size |
| /III | |
| /II | |
| /I | |
| /0 | Standard Size |
| 1/0 | |
| 2/0 | |
| 3/0 | |
| 4/0 | Smallest Size |
Sizing is relative to each figurine's original size. A size 4/0 figure in one design may differ in size from a 4/0 figure in another design.
Berta Hummel Figurines
While M.I. Hummel figurines are models of the drawings of Sister Maria Innocentia Hummel, Berta Hummel products and figurines are inspired by her artwork. These are not models of her drawings, but are authentic Goebel Hummel products. They were produced in the Far East until their discontinuation in 2007.
Collecting Goebel Hummel Products
No collector should be without a reliable guide to Goebel Hummel Collectibles. A good guide will give an indication of items' market value and demand amongst collectors, including limited editions.. Additionally, collectors should focus on items they love, rather than investments. Fluctuations in the collector's market could mean that items do not increase in value as much as predicted. Owning a piece that is special for reasons other than monetary value will mean that the item never loses value to the collector. Themes found in Hummel products include angels,, animals,, Christmas,, dolls,, family,, love,, music,, seasons,, and water..
When collecting porcelain, one should always carefully check each item for damage, including chips, cracks, blemishes, fading, or crazing. Crazing refers to the thin, spidery cracks in the glaze of a porcelain item. Additionally, doing adequate research will ensure a fair price, but some collectors prefer having items valued and authenticated by a professional. When buying items in the secondary market, it is advisable to ask the previous owner about the item's storage. Displaying an item in direct sunlight or under a spotlight, or keeping it in an area where it is exposed to extreme heat or cold, could bring crazing on faster. Keeping it wrapped in newspaper could stain the finish.
Taking Care of Your Hummel Collectibles
To clean Hummel figurines, place them on a flat surface and cover the air holes. Brush over each figurine with a soft brush, like a shaving or make up brush that has been dipped in lukewarm water and mild soap. Rinse the figurine carefully, using a soft cloth dipped in clean water to remove the soap. Allow each item to air dry. Items should be displayed without touching each other. They should be in an environment where they are not exposed to temperature extremes, and avoid direct sunlight or artificial light. Although fading may take a long time, it does happen. Items should not be handled too often.
Buying Goebel Hummel Collectibles on eBay
Goebel Hummel collectibles are listed in eBay's Collectibles section, in the Decorative Collectible Brands category. Remember to check the selection available from eBay stores.. If the item you are looking for is not listed, saving a search in My eBay will trigger an email notification if the item becomes available. Alternatively, creating a post in Want it Now will let sellers know what you are looking for.
Secure Shopping with eBay
eBay has various policies in place to ensure that buyers and sellers are kept safe. Moving a transaction off eBay means that these policies no longer apply. Additionally, eBay and PayPal work together to offer users a safe and convenient payment solution. Never pay a seller you don't know through MoneyGram or Western Union. Although it is highly unlikely, should your purchase arrive in a condition other than described or not at all, eBay Buyer Protection will refund your purchase price, and shipping and handling fees.
Get to Know the Seller
eBay gives members of the community the opportunity to leave feedback for each other after every transaction. Use this feedback to learn about the seller's products and level of service, taking into account the number of sales completed. Always check the seller's preferred payment method to make sure that the transaction will proceed smoothly. Also, don't forget to check the terms and conditions of sale. Some sellers offer free shipping, while others have a returns policy in place.
Before You Buy
Work out each item's total cost by adding the shipping and handling fees to the purchase price. Carefully check the description and photos, and use the "Ask a Question" link to ask the seller any questions you may have. Doing research before you buy will give you an idea of the item's market value. Additionally, you should consider making use of eBay ' s grading and authentication service when buying more expensive items. You can also ask the seller to insure such items before shipping.
Conclusion
Whether you collect Hummel products for their sweet, innocent designs or as an investment, it is a hobby that can become addictive. Both experienced and novice collectors should make use of a current collector's guide in determining the value of collectibles. eBay makes starting or adding to your collection simple and convenient, giving you the opportunity to browse the thousands of items listed.