by Joseph K. Levene
Joseph K Levene Fine Art Ltd

Blue-Chip fine art OR Fake eBay art?
Many art buyers mistakenly purchase eBay fake art Instead of fine art because they think they are getting a deal. However, the it's too good to be true deal happens all too frequently on eBay and other online auctions like Auctionata.

Many buyers purchase worthless fakes
Many art buyers find out the purchased eBay lot is not authentic, when it is too late, and they are unable to obtain a refund from eBay, PayPal or the seller. Although eBay brings buyers and sellers together, eBay has NOT implemented an automatic fraud protection system to eliminate counterfeit art. Most disturbing, eBay believes it has no obligation to investigate counterfeit claims unless the complaint originates from the "rights owner", the party holding the trademark and/or copyright.
Fake Andy Warhol sold by Auctionata for €2,200
Auctionata erroneously
stipulates this fake Warhol is signed

'Andy Warhol' in black pen.
Auctionata sold Fake Andy Warhol created on catalogue cover with forged signature for €2,200.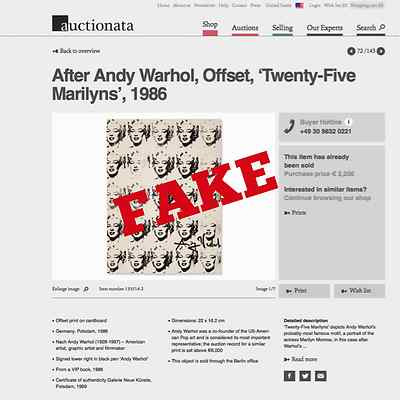 No authenticity assurances from eBay
Determining whether any art seller is offering authentic art is not simple nor easy. Unlike most websites, eBay does not have a blanket warranty and/or seller guarantee regarding any lot offered on its site. eBay takes zero responsibility regarding quality, authenticity, accuracy and/or condition of any lot offered or sold.
Read that again for clarity on just what eBay offers and does not offer.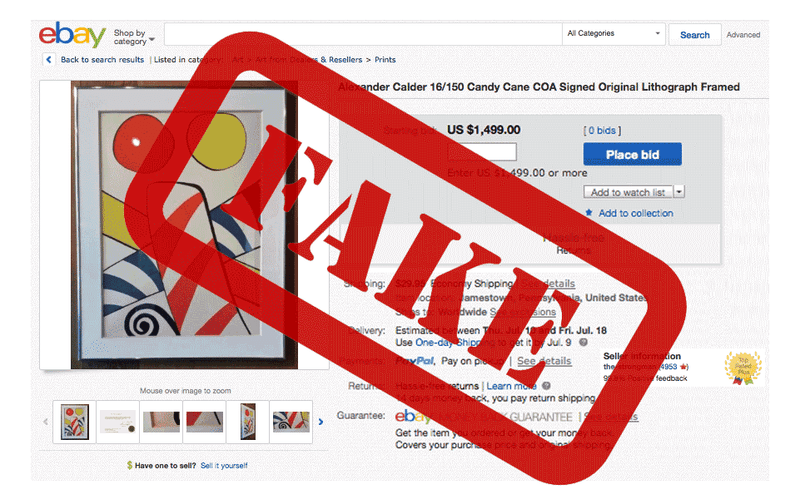 Deceptive sellers prefer eBay hands off policy
The absence of a solid counterfeit vetting system makes eBay ripe for deceptive sellers who promote counterfeits with "famous" brand names. Whether it be counterfeit Tiffany jewelry or counterfeit Andy Warhol art, the same principles apply. As a result, eBay continues to attract thousands of deceptive collectible sellers who convince unsuspecting buyers who seek "great deals". Plus, the secretive eBay feedback system helps promote more fraud as those bad sellers can simply take another NAME and deceptively screw more buyers.

Does eBay guarantees all purchases?
eBay proclaims buyers are protected against counterfeits. However, in the case of art, the eBay buyer protection program requires an expert opinion to obtain the refund. In other words, eBay requires the buyer to obtain an expert opinion to prove authenticity.

Getting expert opinions are never quick
Try to obtain a documented "expert authenticity opinion" in one week from any major artist, estate and/or foundation, and you will immediately realize it is impossible.

Only purchase art from professional art sellers
Too many eBay art buyers end up learning the hard way there are benefits of buying art from sellers who are professional. We encourage all art buyers to do their own due diligence, and ALWAYS be certain the art you purchase is accurately described by legitimate, professional art sellers who have a "reasonable" return policy in the event the purchased art is not authentic and/or not described properly.


Joseph K. Levene Fine Art, Ltd. guarantees authenticity of all fine art offered and sold on eBay.
60% lots sold by Joseph K. Levene Fine Art, Ltd. over $3K
One-third of eBay lots sold by Joseph K. Levene Fine Art, Ltd. sell for over $5,000 and 20% of all eBay lots sold are sold for over $10,000. Check-out our 100% positive eBay Feedback to view descriptions and prices of fine art sold on eBay by Joseph K. Levene Fine Art, Ltd. Other art sellers, many who are eBay power sellers, often sell hundreds of lots on eBay, most under $25. Joseph K. Levene Fine Art, Ltd. may not make as many eBay sales, but that's because our average selling price (ASP) is over 4 figures.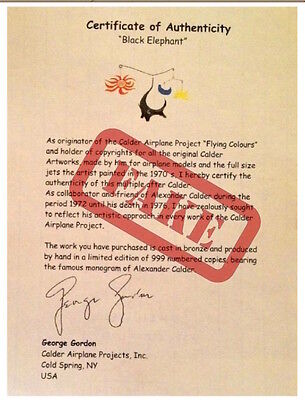 Certificates of Authenticity do not transform counterfeits
Many eBay sellers state that their eBay lot is accompanied with a certificate of authenticity. art buyers should recognize that the inclusion of a meaningless certificate of authenticity does not instantly transform a fake work of art into an authentic work of art. To this point, the inclusion of a certificate of authenticity cannot magically change a counterfeit, reproduction, photo copy, etc., that is worthless; it is impossible.
Read eBay Art Guides by Joseph K. Levene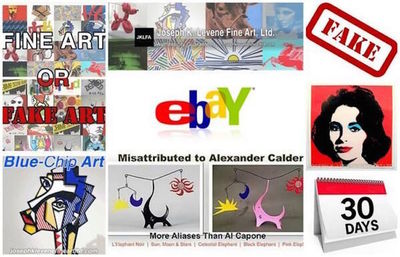 Anyone can sell art, but
Joseph K. Levene Fine Art, Ltd
. recognizes the importance of connoisseurship, scholarship, condition accuracy and authenticity. Careful and considered documentation and assessment of fine art is vital, especially considering the financial implications in today's art market.
33% lots sold by Joseph K. Levene Fine Art, Ltd. over $5K
3 decades multifaceted fine art experience
Joseph K. Levene, a Jasper Johns and Andy Warhol print authority, has 3 decades of multifaceted Fine Art experience, including perspective as art dealer, online gallery, fine art executive and collector. Joseph K. Levene, a Wharton Business School graduate, was previously President/COO, Petersburg Press, Inc., the International fine art publisher; Director e-commerce, artnet; Invited charter member, Sothebys online fine art auctions.

Selling fine art online for over 15 years
Joseph K. Levene Fine Art, Ltd. was invited by Sotheby's to join a select group of professional fine art sellers on Sotheby's online art auctions. Sotheby's required each seller guarantee authenticity and condition of all fine art lots offered on its auction site. Our Sotheby's clients recognized the importance of a guarantee of authenticity, especially for significant online fine art purchases. In addition to selling fine art online on eBay since 1999, Joseph K. Levene Fine Art, Ltd. sells guaranteed authentic fine art online on Artsy, Art Fix Daily, Saatchi, Bonanza.
All Fine Art sold by Joseph K. Levene Fine Art, Ltd. is GUARANTEED for Authenticity.