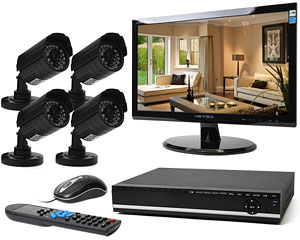 Home video surveillance equipment isn't just for the wealthy anymore. Anyone looking to protect their home, property, and family should consider buying home surveillance equipment. Once pricey equipment has become considerably lower in price, allowing homeowners of all budgets the ability to protect their spouses and children.
Before buying home surveillance equipment, decide on certain factors. Choose between an indoor or outdoor system, decide on a number of cameras, pick out desired features, and choose a storage system. Buying video surveillance equipment doesn't require a lot of technical knowledge but it does require a bit of research. Consumers can find home surveillance equipment in electronic stores and speciality monitoring shops. Online shoppers can turn to Internet retailers and online auction sites like eBay to buy video security systems.
Types of Home Surveillance Systems
First time buyers considering home surveillance equipment can feel a bit overwhelmed. However, once they have learned a few technical terms and device types, consumers can start to feel more confident about their purchase. The first step is to narrow down the type of security system you need. You can choose from either an indoor or outdoor home surveillance system.
Indoor Home Surveillance
Indoor video security is useful for many reasons. Cameras can be used to keep an eye on babysitters, housesitters, construction workers, and anyone else that might be in your home when you are away. Consumers can monitor multiple rooms, or just one area. Indoor cameras generally produce a high quality picture.
Outdoor Home Surveillance
Meant to deter or catch home intruders, outdoor cameras can be very discrete or extremely obvious. Larger cameras can be advantageous because it might prevent criminals from trying to break in. Outdoor home surveillance cameras are built to withstand the elements. They are usually waterproof and might even have wipers to protect the lens. Buyers can monitor one specific area, like the front door, or have multiple cameras to watch the whole property.
Camera Choices
Buyers can choose from single cameras, multi-room cameras, whole house cameras, and hidden cameras. Price and need generally dictate which type of cameras consumers buy. Single cameras are useful for monitoring a front door or a single room. Multi-room and whole house cameras are good for both indoor and outdoor uses. Hidden surveillance is good for nanny cams and discrete filming.
Types of Cameras
Consumers can choose from many different types of home surveillance cameras. You can either buy individual cameras or purchase an entire home surveillance system. Consumers only interested in purchasing one or two security cameras might be better off buying the equipment separately. Some examples of cameras include:
| Brand | Type | Advantages | Disadvantages |
| --- | --- | --- | --- |
| Atrix 36 IR | Dome | Inconspicuous; three axis mounting | Cannot change field of view easily; lens limitations |
| VideoSecu IRX5 | Bullet | Large; good for outside use; swivel function | Needs to be installed high to prevent vandalism |
| 960H Sony Exview | Box | Large range of lenses; inexpensive; dual power | Unattractive; susceptible to vandalism |
| SVAT PI300-SD | Spy / Hidden | Very inconspicuous | Not suitable for outside use |
Some homeowners choose to purchase multiple camera types for various uses. Consumers looking to deter criminals might purchase a larger outdoor camera to intimidate potential intruders. Those who want to keep an eye on nannies and housekeepers might opt for a hidden camera. Many buyers choose to purchase multiple cameras of different types for maximum protection.
Home Surveillance Equipment Features
Once you have determined which type of home surveillance equipment you want, it's time to decide on the different features. Features affect the quality of the camera, as well as the price. Consumers can compromise on certain features depending on their needs and budget. Before buying home surveillance equipment, you need to choose between wired and wireless, color or black and white, resolution, and coverage.
Wired vs. Wireless
Wired and wireless home surveillance equipment both have advantages and disadvantages. The term "wireless" refers to the signal transmitted by the camera. Wireless cameras have more flexibility and are generally more discrete. Consumers have the freedom to install them wherever they are needed. However, interruptions from the wireless Internet can affect the signal. You might lose a few minutes, hours, or even days of recording time if the wireless network isn't properly working.
Wired cameras can be harder to install and are often less discrete. The wires can be cumbersome and unattractive. However, wired cameras often offer users a clearer picture and more reliable service. Wired cameras are also good for new construction where the wires can be built into the walls. They can be installed as part of a complete home security system or structured wiring network.
Color vs. Black and White
In most instances, color is not necessary for home surveillance equipment. Sometimes, businesses and commercial properties use color cameras,, but chances are you won't need that feature in a home video security system. However, buyers should look for a camera that produces a high quality black and white image.. A grainy picture won't be useful when trying to identify an intruder. Those using an outdoor system should definitely look for a camera with night vision capabilities. Surveillance systems with this feature can capture high quality images at night. Outdoor cameras in low light can benefit from infrared LEDttechnology, which can illuminate an area.
Resolution
As with any electronic device, a higher resolution equals increased image quality. A typical home surveillance camera has about 350 to 400 TV lines (TVL) of resolution. High-resolution cameras, with TVL of 480 to 800, offer crystal clear images and superior accuracy. However, most residential users won't need a high-resolution camera.
Coverage
The amount of area a camera lens can cover varies greatly. Some cameras only shoot directly in front of the lens. Wide-angle lenses cover a larger space, while pan-tilt-zoom cameras can videotape a 360-degree view. For outdoor cameras, choose an automatic iris, which automatically adjusts to different levels of light.
Video Surveillance Storage
Consumers need a device to record and store their footage. Gone are the days of VHS tapes. Now, users can digitally record hours of high quality footage on a hard drive. While choosing a DVR recorder is going to be a straightforward decision, the biggest choice home video surveillance buyers will need to make is between an IP or analog camera.
DVR Recording Device
A DVR recorder allows users to store a certain amount of footage on a hard drive. A 750 GB hard drive records for about 45-60 days. Larger storage amounts are available and the amount of storage you will need depends on the number of cameras you have and your camera type. The advantage of a DVR recorder is that you can immediately access any point within the video and monitor the footage remotely. Typically, a DVR offers higher quality video than VHS tapes. For multiple cameras, be certain you have enough DVR outputs.
IP and Analog
IP and analog cameras offer two different types of access to the camera's footage. An IP camera connects to the homeowners' Internet system. You can access the camera via the camera's URL address. While IP relies on your home's Internet bandwidth, it also works well with wireless systems.
Analog surveillance systems,, also known as closed-circuit televisions, are less expensive and can record endless hours of footage. They convert the analog signal into digital before processing the footage. Analog systems are sometimes more appropriate for the home because they don't take up Internet bandwidth. However, IP cameras are generally better for connecting multiple wireless cameras.
Tips for Video Surveillance
Novice buyers might feel a little lost when purchasing their first video surveillance system. Always take your time and do plenty of research beforehand. In order to increase security and effectiveness, follow a few simple tips before and after buying:
Shop around: Connect with many different sellers and ask their opinions about certain equipment. Always be sure to compare prices as well.
Ask your friends: The best recommendations often come from friends and family.
Ask the experts: Consult with surveillance experts to find out more about particular equipment.
Buy what you need: Don't let your emotions cause you to buy necessary equipment.
Put up signs: Security signs letting people know about your surveillance systems help deter intruders.
How to Buy Home Surveillance Equipment on eBay
eBay is a convenient place for all your home surveillance equipment needs. eBay allows users from around the world to buy and sell new and used goods. You can find amazing deals on video systems, cameras, recording devices, and more.
Searching on eBay
Users can find the products they need by either using a category search or a keyword search. To perform a keyword search, simply type the items you are looking for into the search box on any eBay page. The results will populate based on your specified search terms. Alternatively, you can select the Consumer Electronics portal, and then browse the entire Home Surveillance..
Leaving Feedback
Potential buyers can review the reputation of a various sellers by reading through their past user feedback.. eBay allows buyers to rate their experience with each seller. After you have paid for and received your item, head to the seller's feedback page and rate your experience as positive, negative, or neutral. You can leave comments and rate specific aspects of the seller's performance.
Conclusion
Purchasing home surveillance equipment is an excellent way to keep your family and property safe. Video surveillance helps prevent intruders from entering your home and indoor cameras keeps an eye on people when you aren't home. Consumers can choose from a single camera, multi-room cameras, whole house systems, or hidden "spy" cameras. Buyers need to pick between wired or wireless systems and color or monochrome. You must also choose a camera resolution and coverage amount.
Don't forget to buy a storage system, unless you plan to monitor your video surveillance 24/7. Most buyers use a DVR recording device and either an IP or analog system. IP uses more recent technology, but analog systems are less expensive. Before buying, shop around, ask expert opinions, and compare prices. Putting up signs advertising your security system helps prevent unwanted guests. Consumers can find all the home surveillance equipment they need, from cameras to DVRs, on eBay.