There's so many Endless Summer posters for sale in galleries, poster stores, the internet and eBay how can a collector tell what's what?
Bruce Brown's The Endless Summer was first shown in 1964 with a 16mm film projector at local venues, high schools, halls and small theatres. Bruce Brown narrated and a musical soundtrack was provided by a reel-to-reel tape machine.
These personally narrated shows were prior to the nationwide theatre release in 1966 - 67.
Posters and hand bills were placed in surf shops, tacked on walls & telephone poles, sometimes by Bruce Brown himself a few weeks or days before the movie came to town. Surfers grabbed these posters as quickly as they were put up. Few survived. These were the first posters to advertise The Endless Summer movie and are the most sought after. They are considered one of the "Holy Grails of surf collecting".

"On any day of the year it's summer somewhere in the world". This poster features the timeless artwork of John Van Hamersveld, the artist known for album covers such as Rolling Stones "Exile On Main Street", the Beatles "Magical Mystery Tour" and posters for Jimi Hendrix and more. Surfer Bruce Brown, Mike Hynson and Robert August hold their classic mid 60's jacobs and hobie surfboards silhouetted by the dominant summer sun.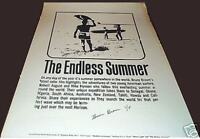 The earliest large posters were actually screenprinted by Bruce Brown Himself in 1963. These 25" x 35" posters are the rarest and most difficult to obtain. 5 black and white versions are known to exist due to printing errors (Bruce Brown signed and numbered them himself). A few were sold on eBay years ago fetching top dollar.

First screening posters and hand bills were photo lithographs on thin paper.

National screening posters were photo lithograph on poster paper, lobby cards were photo litho on card stock, Promo photos on photo paper.
Poster, Handbill, Lobby Card, Promo Photo, Program and Pressbooks
The Endless Summer First Screening 1964: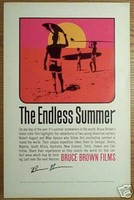 First Screening Poster: 11" x 14"

First Screening Hand Bill: 8.5" x 11"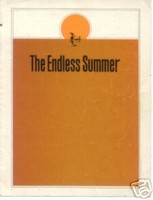 First Screening Original program given to viewers of the original 16mm version of the film "The Endless Summer." Published by Bruce Brown films, 8.25" x 10.75" 20 pages including covers.
National Theatre Screening 1966:
ALMOST ALL movie posters were shipped folded by National Screen Service before 1990. National Screen Service did not start printing double sided posters until 1990.

One Sheet Theatre Poster: 27" x 40"

1/2 Sheet Theatre Poster: 22" x 28"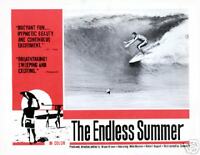 Lobby Cards: 11" x 14"

Promo Photographs: 8" x 10"

Press Book: 11" x 17"
Foriegn Theatre Screening:
Canada
South America/Spain
England
Australia
Japan

Note: Foriegn theatres reproduced their own posters for theatre use. Canada used the same image as US except adding the Censor stamp of approval. Many variations and sizes exist For the complete Endless Summer Movie Poster collection see surfclassics.com
First domestic reprints appear:
1967 28.75" x 40" Personality Posters, New York City. Copyright Bruce Brown Films.
Dear Surfcrazy in 1986 I purchased an authorized licensee c1966 Bruce Brown Films/ 1986 reprinting of the Endless Summer poster, printed by Posterink Los Angeles 213 272 1701. This information is located on the bottom of this 20th Anniversary edition. I know this because I bought it from Bruce Brown via an ad in one of the first Surfers Journals. Thought you should know of this Authorized edition which preceded the 35th. Best Ham - artsybrown
If you see an item listed elsewhere as a new reproduction, if it is anything other than the new limited edition "The Endless Summer - The 35th Anniversary Commemorative Serigraph", then it is most likely a fake item that was never authorized by Bruce Brown. At this time they are no other legally produced Endless Summer memorabilia. (Nov 11, 2002)

Hello,
Was reading your info.(well done!) on end.summer stuff, and heres a poster you forgot...in 1984(?) there was a 20th aniv.Big Screen showing of the movie at the State St. Theater in Santa Barbara; they used the original first screening poster, with the Santa Barbara info. on the bottom. Looks like an original: if you've never seem one, let me know and i'll send a pict.; I believe Bruce Brown was even there to watch the fun. I was going to school in S.B.; the show was a real hoot! bunches of these little groms making fun of the "old school days"...! jilliniabythesea




After this the water gets muddy, full of bootlegs, fakes, digital reproductions on digital photo paper or worse, and my favorite. The Glicee. A french word meaning to spray paint. In English? To inkjet another fake! Endless Summer Tin posters? What next?

Bruce Brown, Endless Summer and Karl Strauss Brewing Co?

2006 saw Karl Strauss Brewing Co of San Diego roll out Endless Summer Light Beer. "A light refreshing wave of crisp hops and radiant malts". Great packaging including the timeless 3 surfer line shot, Pics and signatures of Bruce "Master Filmmaker" and Karl Strauss "Master Brewer" on the carry case. Copy and pics on the bottom about Brown and Strauss plus original photo of the three surfer shot. Bottles have 3 surfer line shot on label. How cool is that? "Endless Summer marks used in cooporation with Bruce Brown Films" Too bad you can't sell beer on eBay!
For more vintage surf posters and other cool info go to surfcrazy.com

surfcrazy