TALKING ABOUT DOROTHY C. THORPE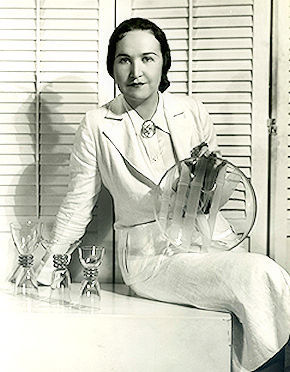 June 2015 - Today seems like a good day for this long overdue update. Especially since I am listing a large amount of my own collection. My interest is educating the public to know what they are getting and what is and is not Dorothy C. Thorpe.
The photo to the left is a young, very beautiful and talented artist whose name is Dorothy Carpenter Thorpe. Dorothy Thorpe began as a music student at The University of Utah.
During the depression, Dorothy's husband's career suffered many setbacks leaving Dorothy to find ways to make ends meet.
One day, Dorothy chanced upon a broken wine bottle in the street and as she examined it, an idea came to mind. That idea turned in to a vision and that vision became Dorothy C. Thorpe, Inc., starting with "Dorothy Thorpe Originals".
---
The painstaking work involved with producing fine etched glass to create magnificent floral images involves tape (or wax, but mostly a whole lot of tape!) in multiple pieces and sizes, a sand blaster and patience. And it is that patience and talent that sets set Thorpe apart from contemporaries such as Franz Grosz and others.
A word about Franz Grosz. Franz Grosz was a New York artist who decorated sand-etched glass, mostly for Tiffin. While he did some crystal (clear) pieces, he also added color. Franz Grosz pieces, not designed for a specific company, bear his signature on the side of the piece. Franz Grosz' signature appears below. A piece bearing his signature was not made *for* another company, it was decorated by Mr. Grosz for the Company. Pieces signed by Mr. Grosz were decorated by Mr. Grosz for his own use or sale. Pieces not signed by Mr. Grosz were done for the company who commissioned his work and that design was proprietary. This was true of most companies hiring artists for their work and design.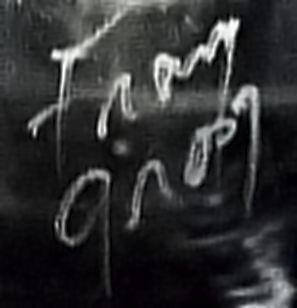 Work that Mr. Grosz did for companies like Heisey and Imperial would not have his signature; but his work is very easy to see and differentiate from other art glass sand etch artists.
---
As far as I know, Dorothy Thorpe was the first artist to use sand-blasting as an art medium. Starting out as a designer for firms such as Heisey and Tiffin, Dorothy Thorpe, Inc., morphed in to it's own company creating works so magnificent, they were very much in demand. Clark Gable ordered several sets of her "Originals" pieces and as her works were seen, orders came in from notable
Hollywood Studios and stars as well as non-celebrity people including Princess Grace of Monaco and Shah Reza Pahlavi among others.
Clearly, she was incredibly talented and created flowers on glass more lifelike than anyone had ever seen. Thorpe had had no formal training in art.
Dorothy Thorpe started the beginning of her very successful career designing and working for companies such as Heisey, Tiffin and Imperial leading up opening the doors to her own glass decorating company.
---
Dorothy Thorpe was born January 5, 1901 and died August 4, 1989. While Dorothy Thorpe is better known for her glass designs, she also designed dinnerware for a New Zealand company and designed linens. She did all work in house and even employed her own weavers! Dorothy's work is seen on many types of media and brands of elegant glass including Heisey, Tiffin and more. Unfortunately, only her top buyers, and trade magazines featured her available pieces and new lines. Her company's catalogs went only to the buyer's of high end department stores and previous purchasers. Any catalogs, and as far as I am aware, I know of none owned by any collector or other, are elusive and highly sought after. But, like most glass companies, Thorpe advertised in trade magazines and then-new designs can often be seen in the older publications.
The term "Dorothy Thorpe Originals" applied to Thorpe's incredible floral decorated, sand etched pieces be they drink ware, tableware or other decorative items. Dorothy Thorpe did not manufacture glass.. She purchased blanks from companies like Princess House and others. Thorpe's work, like other artists to follow, used many layers and widths of tape to set apart areas to be sand blasted and areas to remain untouched. That work was very time-consuming; imagine creating hundreds of the same design, using the same method over and over again.
---
SETTING THE RECORD STRAIGHT
While many of her pieces are referred to by their design, the lines actually have names. "The Silver Band" line was named "Allegro". Oft mistaken for Allegro, the 'Silver Band' line that has a mirror finish and
does not tarnish
is named "Old Gold" and used Platinum instead of Silver. (See images directly below) Silver Band was re-released a time or two.
To the left is Old Gold, it's like a mirror. To the right, Allegro. It's always best to polish Allegro, it looks much better that way :) Use a soft creme or liquid silver polish and rag. It polishes up beautifully!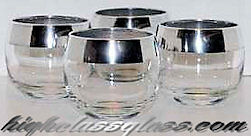 ---
In the recent years, glass has shown up with Thorpe tags done in gold foil. Tracking down who's owned the company called "Dorothy C. Thorpe" or who owns it right now is more work than it's worth, the tags below may or may not be owned by the Thorpe company, but are in no way related to "Dorothy C. Thorpe Originals" or any of her other designs.
This label is showing up more frequently; stenciled pattern on shaped glass. The labels are unlike typical Thorpe labels and/or marks. The designs themselves are nice, typical and relatively unremarkable. They are probably from the last company that had license to use the company name.

---
Thorpe "Wanna Be's".
Looking for Thorpe on eBay or elsewhere? The list of pieces NOT made by Thorpe or her predecessors is longer than the list of items Thorpe did manufacture. Below are a couple examples of what is NOT Thorpe: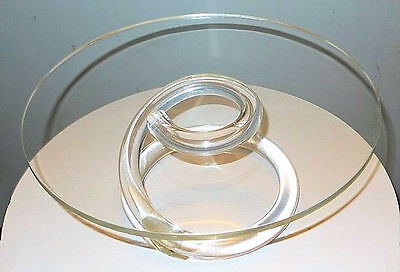 The cake plate to the right is
NOT
a Dorothy Thorpe item. It showed up in the early 2000s in stores like Tuesday Morning, Ross and Marshalls. It had an average retail cost of $22.
There are two things to remember when determining Thorpe or not Thorpe? Thorpe did not use Lucite as a base for non-decorated glass, and did not work with plain glass. Thorpe did not manufacture glass, she got it from other makers such as Princess House.
This plain glass cake plate - often listed as having been made by Thorpe, did not exist before 2000, maybe even a few years before. Thorpe did use lucite but only as embellishments such as handles for her remarkable trays, handles for her coffee pots or the thicker, wider twisted lucite bars for her "Pretzel" candle holders.
I've seen Allegro decorated cake stands before. Thorpe's Allegro cake stand has the standard 1" border in metal trim on the plate and base on on a cake plate.
The easiest way to identify Allegro is to simply look at it. Thorpe's Allegro/Silver Band has silver ON BOTH SIDES of the rim
. As many times as I see this blank, undecorated cake stand on eBay, I wonder how many people fall for it as Thorpe and buy it?
There's a great way to not only see things from DTC that you've never seen and learn things about DTC that you never knew. Get a copy of "
Dorothy C. Thorpe: Designer Monograph 119"
from the
West Virginia Museum of Glass
. Even though Thorpe was a California artist, this is the most comprehensive work I've ever found and contains more ads than anywhere else. We may not be able to get our hands on the catalogs, but in my opinion,this is much better :)
---
DOROTHY C. THORPE INC. - MEXICO?
RESIN PIECES
I am very skeptical regarding the labels found on resin pieces manufactured in Mexico. They were produced in the late 60's to early 70's period. I don't know who owned "Dorothy C. Thorpe" at the time. What is known is that Dorothy Thorpe herself had nothing to do with their design or manufacture. Why use a label specifically designed to be used exclusively on Allegro and Old Gold on resin pieces made in Mexico? The whole point of the label is the silver metal color band around the edge complimented thee Allegro and Old Gold pieces.
Some of the resin items were sculpture type pieces, some were busts, some were animals. These resin pieces were manufactured over the period of a few years after which the company was sold again to another company; possibly the company producing the gold label wares above. The image to the right is the standard Allegro label. It is found with and without the Sterling Silver tag. Why tags used for Allegro were used on Resin and made in Mexco is perplexing. These labels were made to be used on Allegro or Old Gold only. Also, though it doesn't need saying, the resins never appeared in any catalog, magazine or other publication for Thorpe, which only furthers my belief that whoever made these, either temporarily owned the license, or had a ton of resins made and ordered some labels. Lacking any ® or ™ anywhere. That doesn't mean just anyone can use it, but it does mean that whoever uses it, probably wouldn't get sued if they made it in Mexico.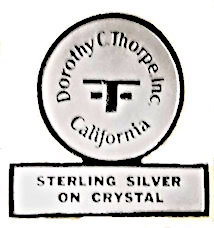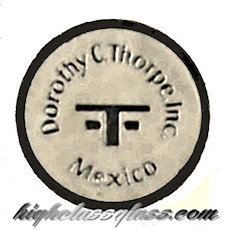 ---
SILVER FADE?
Another mystery to me is the adoption and wide acceptance of the term "Silver Fade" for pieces NOT made or decorated by Dorothy Thorpe. I saw one listing for a set of sherbets showing the side of the box the sherbets were found in indicating the dishes were dishwasher safe and would not tarnish. It's what the box didn't say that said the most. The words "Dorothy C. Thorpe" were nowhere to be found. In fact, before 2000, "Silver Fade" did not appear to exist in any great quantity.
This term came to being around 2000 when it started showing up. That it hadn't really been seen before 2000 should be a red flag. That nobody has ever produced a "Silver Fade" piece with a label is another big red flag.
Common shapes that are used include these OTR glasses often called "Roly Poly".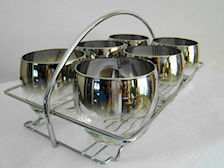 <- This is "Silver Fade".
Another mystery to me is the adoption of the term "Silver Fade" for pieces NOT made or decorated by Dorothy Thorpe. I saw one listing for a set of sherbets showing the side of the box the sherbets were found in indicating the dishes were dishwasher safe and would not tarnish. It's what the box didn't say that said the most. The words "Dorothy C. Thorpe" were nowhere to be found. In fact, before 2000, "Silver Fade" did not appear to exist in any great quantity.
IMHO, this was not designed by Dorothy C. Thorpe. Silver Fade, to the best of my knowledge, never appeared in any advertisement in any magazine ad, catalog or buyer's guide - ever. Every company in that era and then some made these "On The Rocks" glasses (OTR)s.
Once someone glommed on to the idea that these OTR glasses were reminiscent of Thorpe, it wasn't much of a stretch to decide they
were
made by Thorpe despite the lack of any proof to the contrary. ALL of Thrope's Allegro and Old Gold came with labels such as you see above. None of the "Silver Fade" has any kind of label. Nuff said.
---
SELLING HER BUSINESS
Thorpe sold her interest in her company in 1953 following the passing of her husband. I have not followed the ownership of Dorothy C. Thorpe of California, Inc., but must allow for the possibility that the most recent company to purchase Dorothy C. Thorpe, Inc., is now manufacturing glassware and ceramic pieces and using the gold foil label. So, while these new pieces and the pieces manufactured after Thorpe sold the company in 1953, are not "DOROTHY THORPE ORIGINALS" they are still, by definition, Dorothy C. Thorpe, Inc., pieces.
Obvious fakes are not so easy to spot once the label has been removed. The example below is very close to one of Thorpes more popular pieces; Eucalyptus Cladocalyx..
I found this piece in a local Goodwill. I left the label on so everybody can keep an eye out. While the label may not be on it when you happen upon it, this is very similar to Thorpe's Eucalyptus. But, this is Eucalyptus Globulus. I've seen this piece on eBay a few times, label removed listed as "Thorpe".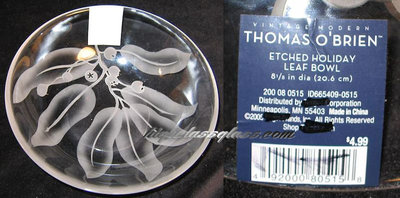 There's something about Dorothy Thorpe's label that makes it very hard to fake. For example, if you look at the gold foil label above, you can see it's very cheaply and poorly done. What was misssed was the label itself. The font is not very stylized and the TH actually meet as one quasi-letter when Thorpe never did it that way. Every Dorothy Thorpe Originals piece is signed with a sand blast through a stencil. On seconds (Yes, even Thorpe had seconds), the signature is adulterated to indicate the piece was not a high end piece but it's there. Acid etched marks = not Thorpe. Poorly done through a stencil = Not Thorpe unless it's a second. Thorpe's seconds aren't hard to spot. The signature mark will have elements of the original mark, but not in order. And it's a second, even if it looks perfect, if a major component of the design or decoration went outside of the piece instead of inside. The mark above left is a good example of a DTC (Dorothy Carpenter Thorpe) mark (this mark is drawn). When you find this mark on a simply beautiful piece, or a piece not so beautiful, it's Thorpe. But...
Not even the famous DTC mark is safe.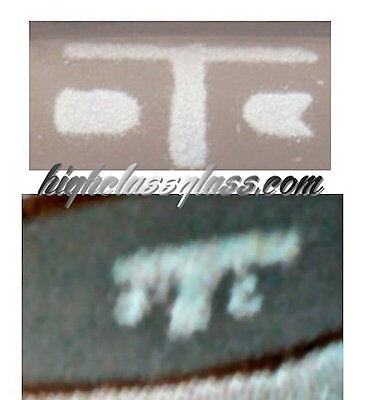 LEGIT ->
We used to be able to rely on the sand etched mark through stencil for Thorpe's "Originals".

NOT LEGIT ->
But now we're seeing clear fake marks using Diamond pens or acid. No one used diamond pens or acid to mark a Thorpe piece. The mark on the top right is the correct mark for any Dorothy Thorpe Originals. The mark on the lower bottom right image is a fake.
---
Before I continue, I will show you some super-rare pieces that demonstrate how Thorpe expressed her feelings. Clearly Thorpe sought out beauty and reproduced the beauty she found in glass. But not all of nature's flora is beautiful or pretty. And some of it is not only downright ugly, but it can be painful too! Below is are four glasses that I have in this pattern. She must have come across one of these on a trail or somewhere. This is not typical of the time she takes in recreating what she has seen; it is a piece that shows how she feels about this particular plant.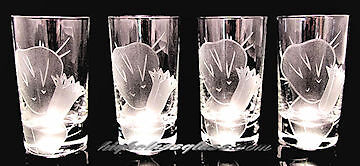 If you guessed prickly pear cactus with the long, painful needles, you are correct. All signed despite her disdain for this particularly painful plant.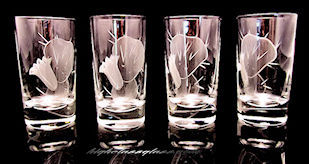 Clearly she had no great love for them. They are crude, they have almost no detail but, they are absolutely hers. Even when something is not beautiful, it reflects her feelings, her experience, her pain.
---
NOT THORPE
Another way people are selling stuff is by association. For example, there are two DTC marks above, one is made by Dorothy C. Thorpe, Inc., the legal owner of this mark. The other mark is an attempt at the DTC mark using what appears either a diamond pen or an engraving pen. The seller indicated that it was "acid etched". Acid etching leaves a smooth surface and light grey mark in the glass.
One seller, in her description, said "and the glass blanks themselves
suggest these were done by Dorothy Thorpe,
a California glass decorator active in the middle of the last century" . Since when did speculation become fact? Thorpe did not manufacture Glass. Period! Another intriguing point, the glass used in some of the "Silver Fade" glassware was used by Frank Oda and other companies for their decorations. So many pieces that could not possibly be Thorpe are now attributed to her. Below are examples of Allegro, Old Gold and this "Silver Fade".
What troubles me is how many people find a piece of decorated glass, with some applied metal stencil or some decoration and decide to list it as Thorpe. Thorpe did make and regularly circulate a catalogue of it's wares, but those catalogs were only provided to it's best customers; the department stores that sold high end items. Nobody I know of has ever found one of these catalogues. But putting up something from a thrift store as Thorpe is next to criminal! If you don't know it's Thorpe, and you sell it as Thorpe, hope your buyer doesn't know Thorpe either.
There's nothing worse than having your buyer contact you about a "fake". If you don't know, ask. There are plenty of people who know or who can find out for you.
Another issue I have is with Dorothy Thorpe's travels and travails. Many people say Thorpe travelled a lot to Hawaii and recreated the tropical foliage on her pieces. I have yet to find any Thorpe that has exclusively Hawaiian or like-tropical flowers on any Thorpe piece.. Bamboo grows here too. I've got closets and rooms filled with Thorpe; not a one of them has a Hawaiian flower. I'm open to it, I've just never seen it..
---
IN MEMORY OF DOROTHY C. THORPE
Dorothy Carpenter Thorpe passed away September 4, 1989 in Carlsbad, California. Although she is gone, she paved the way for artists to decorate glass using sand and tape. Her beautiful pieces will continue to inspire and amaze. They are largely calming, thought provoking and beautiful.
Dorothy Thorpe only ever did floral and similar decorations which include the etched pieces such as coffee pots and trays that have lucite handles and bear the DTC logo. The company that purchased Dorothy C. Thorpe of California Inc., went on to produce Silver Band and other known pieces with the same attention to detail and quality as was the rule when Dorothy owned the studio herself. All of the floral and etched decorations are referenced as "Dorothy Thorpe Originals" and by the time of her retirement, she was famous for her floral decorated glassware that was owned and displayed by celebrities, galleries and museums.
It has been suggested to me that these pieces and that label may have been experimental. I think that rather, they are the products and labels of the company that now owns the rights to the company name and corporation known as Dorothy C. Thorpe, Inc. As the San Fernando Valley, California site closed some time ago, it is unknown whether the company who purchased DTC in 1953 later sold the company or how many times the company was rolled over and sold.
I really hope this guide has been helpful. My goal is to educate new collectors, revise information when it becomes available, and provide information for those seeking it.