Did you know that not all listings showing a PayPal logo are eligible for PayPal's Buyer Protection program? How do you tell if an item is
not

covered?


Before you bid on or buy an item on eBay, check whether it is not covered by PayPal Buyer Protection. What is the easiest way to do this? Very simple - and so easily overlooked, I and other users I know often forget to check. If the listing does not show show the PayPal logo followed by the words "Free PayPal Buyer Protection," it is not covered:

Where is this logo/info on the page? In the blue/lavender-bordered area to the right of the price:



But here is the tricky part - if you see this, the item is
NOT

covered:


in that same space you might see ANOTHER PayPal "blurb" such as this one: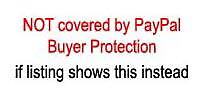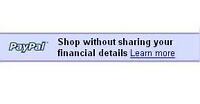 Even though the language is talking about PayPal generally, it does
NOT say the listing is covered by PayPal Buyer Protection.




Bottom line - look for
these exact words

in listings - if they are not there, the item is not eligible for PayPal Buyer Protection:
"Free PayPal Buyer Protection"



Why aren't some listings eligible for PayPal Buyer Protection?
Seller Requirements*

the seller must have an eBay feedback score of 50 or more
the seller's eBay positive feedback percentage must be at least 98% (please go to the PayPal url below to see how this percentage is calculated)
the seller must be a Verified PayPal member
the seller must use a Premier or Business PayPal account to accept payments for the listing
the seller's account must be in good standing

Opt-out
some sellers who meet the requirements above simply opt out of participating in the protection program

*info is from https://www.paypal.com/us/cgi-bin/webscr?cmd=xpt/general/ProtectionsSeller
For other requirements for PayPal Buyer Protection coverage, click
here
and
here
.