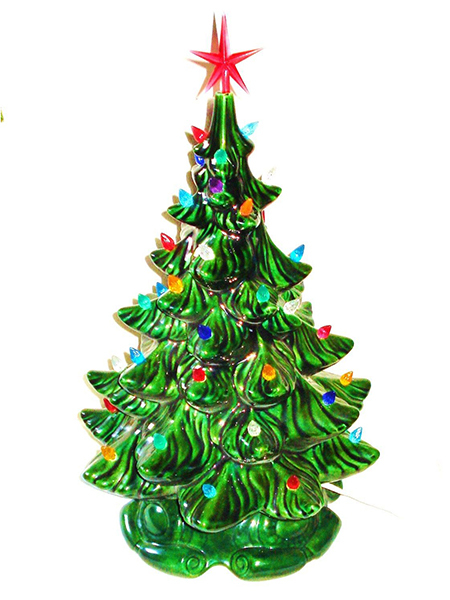 Christmas is a special holiday that brings joy to the lives of many. One way to stay festive is by collecting ceramic Christmas trees. Whether the collector decides to keep them on display all year long, or display their collection during the Christmas season, these trees are one way to get in the holiday spirit. Whether a novice collector, or one with years of experience, buying and collecting ceramic Christmas trees is not a difficult hobby to enjoy because there is a wide variety available for purchase.

Types of Ceramic Christmas Trees
With the many types of ceramic Christmas trees available to collect, it helps to understand the most common sizes that the trees come in. Depending on the size, special features are added that a collector may or may not want to have.

Size

7-inches

16-inches

Special Features

Comes with or without lights

White and green trees available

Comes with or without lights

Some include a music box

Several colors available

Comes with or without lights

Several colors available

Some include a music box

Comes with lights

Several colors available

Some include a music box

Some decorated with snow

Most people collect various sizes of ceramic trees to add a variety to their collection. There is no right or wrong way to collect these festive trees. The trees are available in smaller and larger sizes, but certain sizes are more popular than others are.
Ceramic Trees with Lights
Most collectors have numerous ceramic Christmas trees with lights. These are a lot of fun to collect and come in several sizes and colors. Collectors have the ability to customize this type of tree with their own color preferences for the lights. Most of them come with multi-colored lights, but the lights are removable for easy swapping. These look beautiful displayed in a dimly lit room when they are lit up.
Ceramic Trees without Lights
Not every collector wants all ceramic Christmas trees with lights. There are numerous size and color options available without lights. These are very convenient to have, because not everyone has many available power outlets to plug in many lighted trees. These look beautiful on shelves, in display cases, or anywhere lacking the Christmas spirit.
Vintage Ceramic Trees
Most vintage ceramic Christmas trees were handmade many years ago. A lot of them have lights, while some do not. It is important when collecting vintage trees to make sure they are truly vintage. There are many ceramic trees for sale manufactured to look vintage. To know if it is truly vintage or not, true vintage pieces will have special markings on them.
Paint Your Own Ceramic Trees
Any collector who is also into crafts may want to paint their own ceramic Christmas tree. This gives the collector the ability to paint it the way they want, whether they stick to traditional green trees, or choose something more unusual like hot pink. When painting a ceramic Christmas tree, it is important to use kiln firing glazes or underglazes only to produce the best results.

Parts and Accessories
The collector that wants to customize their trees to their liking can purchase accessories to do so. This includes different colored bulbs, or Christmas tree toppers. Bulbs come in numerous styles and sizes and having extra ones on hand is a good idea for collectors. Occasionally one or several bulbs will go out. To ensure the tree stays lit all season long, having spare bulbs is important. The more popular ceramic Christmas tree toppers are stars that stick right in the top, but angels are another available option.

Caring for Ceramic Christmas Trees
Keeping a collection of ceramic trees in good condition is important. To do so, collectors should make sure they are properly stored when not displayed. When displayed, they should be in a location where they are not at risk of breaking. A feather duster works for light cleaning, while a soft cloth with warm water works to remove dust or dirt. It is important to avoid excess moisture, because too much can potentially cause damage. It is also important not to immerse lighted Christmas trees in water because doing so may damage the lights.

How to Buy Ceramic Christmas Trees on eBay
eBay
makes it simple to buy ceramic Christmas trees for your collection. Simply type in the search bar "Ceramic Christmas Trees" for results based on your search. If you want something more specific, you can narrow your search down by typing in "Lighted Christmas Trees" or "Vintage Christmas Trees." Always make sure to buy from a trusted eBay seller. You can find out how reputable the seller is by looking at their feedback. A seller with 100 percent positive feedback is a good choice.