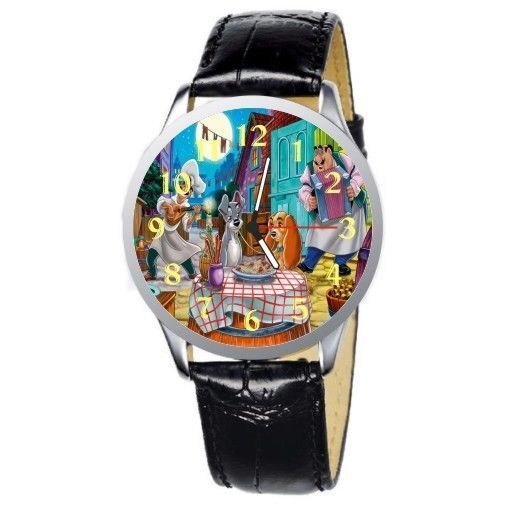 Disney is a household name not only for children but also for adults. During a period from 1933 until around the 1990s, many watch brands produced Disney character watches. These watches are now considered collectibles because they are no longer produced.
Ingersoll was a watch brand that manufactured the first Mickey Mouse watches in various forms from 1933 until the 1960s. Ingersoll changed the company name to U.S. Time and continued to manufacture the Disney character watches until 1968. In 1968, Timex started manufacturing Disney character watches until they were taken over by Bradley in 1972. In 1985, Lorus and Seiko started manufacturing the Disney character watches until the 1990s, when production ceased completely.

Ingersoll Disney Character Watches
The only Disney Character to be on an Ingersoll watch is Mickey Mouse. This is in large part due to Mickey Mouse being the most popular Disney character during the 1930s and 1940s. He is depicted in many different ways, often in keeping with his character design during the period in which the watch was produced.
The original watch is iconic in its design. From the watch dial, on either side, are two chromium die-cut Mickey Mouse images (one on each side), which then turn into the watch links. The original box was orange cardboard and the outside top was decorated with black and white images of Mickey Mouse, Minnie Mouse, Pluto, Horace Horsecollar, and Clarabelle Cow.
Typically, Mickey is on the watch face, and his hands are used as the hour and minute counter. This gave the watch an animated effect that was reminiscent of this popular cartoon's adventures on the silver screen.
There were three versions of the watch: a popular round shape, the "deluxe" model with a leather band or as a metal bracelet with charms, and the "lapel" model, which was similar to a pocket watch, though smaller. It is said that by 1957, over 25 million Mickey Mouse watches had been sold.

U.S. Time Disney Character Watches
In 1957, Ingersoll changed their name to U.S. Time. They still continued producing Disney character watches, but began to include other characters besides Mickey in their lineup. It is now fairly easy for buyers to find a watch that features their favorite Disney character, whether it is one of the gang from the cartoon shorts or a character from one of the many popular Disney animated films that have been produced.
Character Options
Snow White and/or the Seven Dwarfs
Goofy
Pluto
Cinderella
Pinocchio
Dumbo
Bambi
As more Disney characters were introduced through the animated films, more characters were released. Finding them is fairly easy, since most are searchable by name.
One of the more popular Disney characters added to this lineup of iconic timepieces was Winnie the Pooh. There were many variations of the lovable, honey-eating bear, including one depicting the bear with a bumblebee on his nose and one using his head as the watch face.

Bradley Disney Character Watches
Bradley took over the Disney Character watch manufacturing from 1972 to about 1985. During this time, they also produced Mickey Mouse watches, along with Minnie Mouse, Goofy, Cinderella, Snow White, Donald Duck, Mary Poppins, and Alice in Wonderland, among others.
There seems to be some confusion with some characters. Many believe that Bradley manufactured the "first" Cinderella and Mickey Mouse watch, though they actually did not. It is true that they did, in fact, manufacture these characters on their watches, but they are not the first set. Those were created by Timex and Ingersoll; however, there are still many vintage Cinderella watches made by Bradley that are considered to be very collectible.

Popular Watch Options

Mickey Mouse "jump hour" watches

Men's diver watches with any Disney character

Mickey and Goofy on sports' watches

Disco Mickey Watch (comes with a record as well)

Nodding Head Mickey/Minnie watches

There was also a line of Mickey Mouse timepieces from Bradley that were made for men and women, with varying case shapes and bands. Cases include boxed, rectangular, circular, and hexagonal as well as stainless steel and gold-tone cases. Bands include specialty unique bands made of metal or premium leather. These adult watches are worth more than the children's watches, especially when they run and are in their original boxes.
There was also a battery operated watch model that was manufactured in the early 1980s. These watches had the same cases, bands, and characters, though they are worth significantly less in the collectible world.

What to Notice in a Collectible Disney Character Watch
Because of the many timeframes involved with Disney character watches, it is important to read each eBay result carefully in its entirety. This will mean more work on your part, but you want to be certain you have the right year of watch for your collection.
View all the photographs that come with the ad. You should look for scratches on the dial, wear and tear on the band, and be sure the buckle and the eye closure are in working order. Also consider looking through the description to guarantee the watch works and that both hands are visible on the watch. Working condition should mean the watch keeps accurate time. The watch should have been tested for accuracy, though manually wound watches will lose a few minutes each day, which is normal. Just because the watch "ticks" does not mean it is in working condition.
Consider also new watches and NOS. These are two different descriptions. New watches could be a display model and never been worn. NOS (new old stock) watches were purchased when they were first manufactured and were never opened, used, or tampered with in any way. This is more difficult to find and is considered more valuable because they are rare. You might also consider the condition of the new or NOS watch. Just because it was never worn does not mean there will not be cracking on the leather band or spots on the dial. Pictures can help, but if you are unsure, ask the seller.

How to Find Collectible Disney Character Watches on eBay
With just a little searching, it is possible to find even the rarest of these iconic timepieces to add to your collection; however, you must be patient, and you must have knowledge about the watch you are considering. Ingersoll, U.S. Time, and Timex are extremely hard to find. You will need to search specifically for Ingersoll Disney character watches to find these. You may also need to include a date, such as 1933 (the first ever Disney watch was manufactured during this year), or include a year that you are collecting. Also consider using the word "vintage" when entering specific keywords into the eBay search bar.
If you are interested in Bradley Disney watches, you will, again, want to search for the specific term "Bradley Disney watches" or "Bradley watches." Searching for vintage Disney watches will generally not show Bradley watches, as eBay does not consider anything made after 1968 to be vintage.

Conclusion
Whether you are interested in owning a part of history or enjoy collecting Disney character watches, it is important to understand when each character started appearing on the watches. This will help you determine its age. However, it is also important to realize that a Disney character on a 1933 watch could also be on a later model, since the manufacturers continued using those characters because they were so popular.
One of the most popular Disney characters is Mickey Mouse. He was the first character created by Disney to find himself on a watch face, and he is still the most favorite of many. This is why Mickey Mouse watches are still extremely popular, vintage or not. For the sake of collecting, the earliest Mickey Mouse watches are always the most sought-after, and sometimes the rarest to find.