Many of us are faced with the task of buying a Christmas tree. It can be a daunting task, but with a little know-how, it's not so hard. I would like to share some tips with you on buying a Christmas tree.
Live or Artificial?
I recommend buying an artificial tree. Once you've bought an artificial tree, you never have to go through the trouble of locating a tree and dragging it home. An artificial tree can last for years, if properly taken care of, and in the long run, it will save you money. For example, a live seven foot tree costs fifty dollars, an artificial tree of the same height will cost one-hundred and fifty dollars. The artificial tree is more costly up front, but if you use it, say for ten years, you will save nearly five hundred dollars on Christmas trees. Artificial trees can last forever, if properly taken care of. For example, I have my Grandfather's old Christmas Tree. It was purchased back in 1974 and is still going strong more than fortyyears later.
GRANDPA'S TREE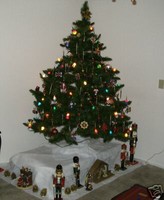 Where can I buy a tree?
You can buy an artificial tree at any large store, department store or online. I find that some of the best trees out there can be bought on the Internet. And of course, you can bid on the tree of your choice on eBay.
Should I get a pre-lit tree?
The answer is an emphatic no. I would never recommend buying a pre-lit tree. Pre-lit trees are just not what they are cracked up to be. For example, they never have enough lights, so you have to add more lights to them, which defeats the whole purpose of a pre-lit tree. Also, they are far more expensive than trees that are not pre-lit. A pre-lit tree will often cost two or three times as much as a not pre-lit tree that is the same size. For example, a pre-lit seven foot tree will cost three or four hundred dollars. That same tree would cost less than two hundred dollars if it were not pre-lit. The cost of the lights on the tree is probably no more than fifty dollars, so you can see that pre-lit trees are not much more than a money-maker for stores and tree-manufacturers. Also, the lights on pre-lit trees burn out or short out very quickly; you lose your entire investment. You either have a dark tree or you have to buy another pre-lit tree.
I remember seeing a used pre-lit tree at a Christmas fair and the sign on it said 'Lights may not work.' That pretty much describes a pre-lit tree. The average life of a pre-lit tree is two years, so you every couple of years, you have to go out and spend several hundred dollars on a pre-lit tree. That can cost thousands of dollars over ten years or so.
Buying a tree that is not pre-lit will save you money up front, and it will save you money in the long run as you can keep using your non pre-lit tree for many, many years as you can still be using it for twenty or thirty years.
What should I look for in a tree?
Generally, a tree should be about the height of the ceilings in the room where it will be located. For example, a seven-foot tree should be appropriate in a room with eight-foot-high ceilings. Before you go out and buy your tree, make sure you know how high the ceilings in your house are. You don't want to buy a tree that is too tall to fit in your house!
By the same token, if you have a short tree, you can add height to it by placing it on a sturdy wood box. That way, the tree will seem taller than it really is and if you happen to move into a house with higher ceilings than your old house, you need not throw out your tree.
In addition to making sure that your tree is the right height, make sure that it is not too skinny. Though skinny trees are popular, they often look mangy and just don't fill a room the way a Christmas tree should. I often call very skinny trees 'Christmas Pencils.'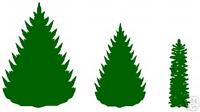 If a tree's width is less than half its height, it will probably look like a Christmas Pencil. Generally, the wider the tree, the better.
My Grandfather's tree is unusually wide and I always say that it looks like a Hershey's Kiss.
Grandpa's Tree. Shaped like a Hershey's Kiss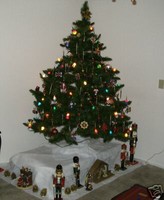 Hinge or hook-on construction?
Most Christmas trees come with either hook-on construction or hinge construction. I shall describe both and highlight the pros and cons of each type. None is really better than the other; it all depends on the consumer.
Hinged Construction
Hinged construction trees come in two or three pieces. The branches are already attached to the pole. All you have to do is put the pieces of the pole together and you've got your tree up. With hinged-construction, assembling the tree takes little time and the branches will fall into place by themselves, though you will still need to fluff them out and make sure there are no gaps. However, the hinged-construction trees can be extremely heavy, particularly if the tree is very large. Additionally, hinged-construction trees are rather expensive.
Hook-on Construction
Hook-on construction trees have a pole with hooks on it, but you have to hook the branches to the pole, one by one. Putting the branches on one by one can be very time-consuming, but you can fluff out each branch as you put it on the tree. The individual branches, the pole and the base are all relatively light. Additionally, hook-on construction trees are relatively inexpensive.
Buying a Christmas tree need not be a tiresome chore. With the information that I have provided, you should have little trouble finding the perfect tree. And then you can look forward to many, many Christmases with your tree.
Happy tree buying.