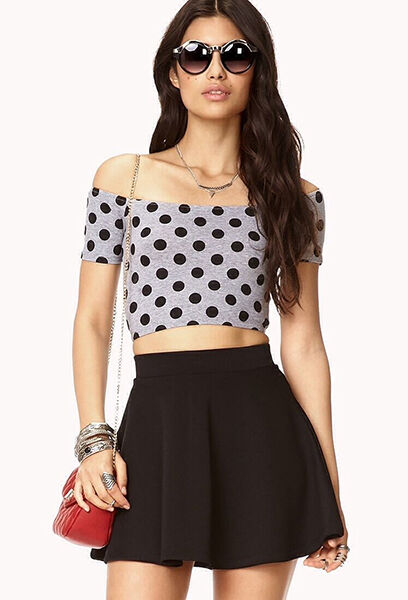 Affording a trendy, fashion-forward wardrobe is not something most people, especially young people, can hope to achieve without mountains of debt. That is why lines like Forever 21 do so well. The company offers inexpensive, fashionable clothing for those whose tastes change with the seasons. However, anyone who has looked at Forever 21 clothing quickly finds out that fitting into it is a different story altogether. Although Forever 21 caters to a variety of women in terms of age and size, its sizing system is unique and requires a little bit of research before purchase.

Forever 21's Core Sizes
Core Forever 21 shoppers have always been young women. The quality of its clothing, along with its ever-changing trends speaks directly to high school and college girls looking to update their wardrobe on a continual basis, but lacking the financial means to do so in other stores. The core line closely parallels "junior" sizes in most other clothing brands. This is because Forever 21 clothing is slimmer in the bust and hip areas, designed to accommodate the smaller curves of a pre-pubescent or a woman who has yet to bear children.
Forever 21 Tops
The brand uses XS to L designations common in all women's tops. The cuts of Forever 21 tops are narrower, however, than is typical in other women's lines. Forever 21 defines its sizes according to the bust measurements in the following table.

| | | | | |
| --- | --- | --- | --- | --- |
| Forever 21 Size | XS | S | M | L |
| Bust in Inches | 32.5 | 33.5 to 34.5 | 35.5 to 36.5 | 38 |

Women with larger busts may want to consider the cut of the shirt rather than just these measurements. It is also important to note that these numbers also apply to any Forever 21 dress.
Forever 21 Bottoms
Rather than using the even numbers 0 to 14 typical of most misses' lines or the odd numbers 00 to 13 typical of most juniors' lines, Forever 21 bottoms use S to XL designation described below.

| | | | | |
| --- | --- | --- | --- | --- |
| Forever 21 Size | S | M | L | XL |
| Junior Size | 1 | 3/5 | 7/9 | 11/13 |
| Misses Size | 2 | 4/6 | 8/10 | 12/14 |
| Waist in Inches | 24 to 25 | 26 to 27 | 28 to 29 | 30 to 31 |
| Hips in Inches | 33 to 34 | 35 to 36 | 37 to 38 | 39 to 40 |

This sizing chart is a good start for understanding where a particular woman falls in the Forever 21 sizing scheme. However, it is important to remember that, like the top sizes above, the narrower cut of the core Forever 21 line may not fit everybody.
Additional Forever 21 Sizes
Throughout most of its history, Forever 21 maintained its focus small-sized young female customers. However, beginning in 2009, the company decided to branch out in order to appeal to, and properly fit, a variety of women. These lines, Love 21 and Forever 21 Plus, each have their own special sizing system.
Love 21
Although the price of Forever 21 clothing appeals to everyone, the line's focus on young women meant that many of its styles were inappropriate once a woman reached a certain age. Not only were the narrower cuts no longer a fit for an older woman's figure, but the changing demands of her life. The introduction of careers and motherhood, for example, meant that some of the more revealing cuts and low hemlines would no longer work.
The Love 21 line seeks to appeal to women aged 25 to 45, by offering them the same fashion-forward clothing at affordable prices. However, the cuts of Love 21 clothes are a bit more generous, on average, half a size larger than the S/M/L counterparts in the core Forever 21 line. Clothing items in the Love 21 line also tend to be of slightly higher quality and price.
Forever 21 Plus
The conspicuous absence of sizes over 13/14 in the core Forever 21 line left a huge portion of the female population out of Forever 21 stores. Indeed, according to PRWeb.com, as of 2013, nearly 2/3 of American women wore a clothing size larger than 11/12. That is why Forever 21 introduced a plus size clothing line in 2009.
Initially called "extended sizes" and "Faith 21," since 2010, this line uses the more descriptive name Forever 21 Plus, often stylized Forever 21+. The Forever 21 Plus line offers the same fashion-forward styles in sizes XL to 3X, equivalent to U.S. misses' sizes 12 to 20.

How to Buy Forever 21 Clothing on eBay
Once you understand their unique sizing system, using eBay to buy Forever 21 clothing saves time and money. It is easy to find great new options from this season as well as previously owned Forever 21 fashions for a nice throwback look. eBay sellers usually provide several convenient shipping options that allow you the freedom to get all you need without leaving home. Though it seems a bit weird at first, there are many different sizing options from Forever 21 designed to fit a variety of women.