Asahi Pentax K1000 Outstanding SLR from the Japanese Good Guys Company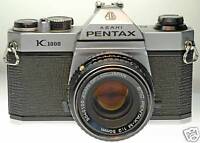 The Guide's purpose is to give you information on Pentax Single Lens Reflex 35mm film cameras introduced in 1952, so you are a better buyer who is well informed about 35mm SLR cameras and lenses, and most importantly to help you to have a more pleasant experience owning, and creating photos with 35mm SLR cameras.
Asahi Optical Company was established in 1919. The Asahiflex 35mm Single Lens Reflex was introduced in 1952, and in 1957 Asahi Optical introduced the Pentax 35mm SLR, with a Pentaprisim mounted on top of the camera giving a straight through viewfinder with an erected unreversed image. Pentax is also a lens manufacturer, who started crafting 35mm SLR lenses in 1952.
In 1957 Asahi Pentax put together in one superbly designed Single Lens Reflex Camera, the instant-return mirror, the pentaprism, the rapid film wind lever, along with the universal screw mount for the interchangeable lenses, the system (the Spotmatic camera, and Takumar lenses) was an instant sucess.
It went without saying that the Pentax Spotmatic SLR camera, with the Takumar lenses was perfect for professional, amateur, and beginner photographers alike, truly the best of the best in the world of SLR cameras.
The Pentax K1000 inherited the rich deep tradition of the Pentax Spotmatic, like the Spotmatic the K1000 has all the features you need, yet is perfectly simple in operation, and elegantly designed. The K1000 is well sized, so well you won't think about it, because it handles extremely well, and is so incredibly convenient to use. Remove the lens cap, and the Through-The-Lens (TTL) meter turns on, look through the viewfinder, center the exposure needle by turning the aperture dial, and the large knurled shutter speed dial, and press the perfectly positioned, and sized shutter release, and you have your photo, that is what makes the K1000 a highly satisfying camera-photo experience. The K1000 helped introduce the Pentax K bayonet mount, which like the Pentax screwmount became a universal mount used by other camera and lens manufacturers, making the K1000 even more versatile. The K bayonet mount is simple to use, and highly ergonomic, simply press the well situated lens release button, twist the lens about a quarter of a turn, and its that easy. You can mount any Pentax K bayonet from 17mm fisheye to 1000mm super-telephoto on the K1000.