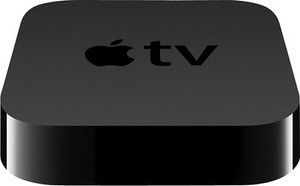 Created by Apple Inc., Apple TV is a digital media receiver. It is a form factor network designed to play digital content from the users personal iTunes account, the iTunes Store, Netflix, YouTube, iCloud, and several other applications. In March of 2007, the company offered their new product to the public with 40 GB of hard disk space, with a 160 GB version to follow two months later. Just three years later, Apple offered a second iteration of the Apple TV that could stream rented iTunes content and video from personal computers via software known as AirPlay. In March of 2012, the third generation was introduced to the public that features high definition 1080p capabilities and new user interfaces. This guide focuses on buying an Apple TV. Since the first and second generations are obsolete, the third generation unit is the focus.
What Is Apple TV?
A digital cable television, Apple TV allows users to stream all of their personal movies and TV shows located on their Apple device with Apple software. Further, it lets the user rent or purchase television shows and movies from the iTunes store directly. Weighing just 0.6 lb, the unit measures 0.9 inches tall, 3.9 inches wide, and 3.9 inches deep. It is meant to integrate seamlessly within an existing entertainment unit, or moved from unit to unit without being too conspicuous.
Construction
Designed to be simple and unobtrusive, the Apple TV has one small white light that illuminates when the product is in use. The rear of the box has several connections for optical audio output, Micro-USB, and Ethernet ports. The built-in 802.11n Wi-Fi connects to home wireless networks. The HDMI cable connection does not permit the user to connect older TVs that do not have a matching input.
Most streaming boxes on the market have power supplies attached to bulky adapters. The Apple TV has a built-in power supply that is light enough to be pulled by the weight of an attached cable.
Navigation
A simple remote comes with the Apple TV. A single navigation circle at the top of the remote with a Menu button that doubles as a Back button sits below. Fast-forwarding or rewinding a show is done via the navigation circle, similar to the original iPods and their tracks. Although the remote can pause, play, and stop the show, it cannot turn the television on and off, so the original remote ought to be kept close.
Interface
With automatic software updates, the Apple TV is able to stream video with AirPlay Mirroring with Mountain Lion and a dedicated Hulu Plus app. Wirelessly accessing personal content gives the Apple TV a larger reach than DVR or traditional cable boxes.
Device Connections
As with most Apple products, the Apple TV can be operated and controlled via an iPad or iPhone using Apple's Remote app. If a user happens to be controlling his music collection using the Remote app and the Apple TV is attached to a separate audio amplifier, the user does not need to put the TV on since the connectivity is wireless.
AirPlay
Although Apple TV cannot interface with apps like Pandora or Hulu, it does have AirPlay to make up for whatever it may lack. If the Apple TV owner also has other iOS devices, AirPlay allows him to access all of his personal photos, music, apps and videos directly on the Apple TV. Although sites like Pandora do not play directly through Apple TV, connecting an iPad that has Pandora installed to the Apple TV gives the user access to this content.
AirPlay Mirroring enables users to stream any Web video from a laptop directly to a TV wirelessly. If the user is watching Flash video on their Mac while running the Mountain Lion version of OS X, anything seen on the computer screen is mirrored on the television, including Hulu, HBO Go, and other major TV networks.
Pros and Cons
As with most technology on the market, there are pros and cons of each device. In order to make an informed decision it is best to have a visual comparison of what the Apple TV can and cannot do.
| Pros | Cons |
| --- | --- |
| Small in size and inconspicuous | Cannot directly connect to Hulu, Pandora, and several other apps |
| Easily connects to Wi-Fi and home-based Apple products | Geared for those with multiple iOS devices |
| Streams personal content in an audio and video format | No USB connection for normal use, only for service |
| Built-in power | Smaller hard drive can equate to streaming failure |
| Relatively inexpensive as compared to other digital TVs | Only Apple apps can be used on the device |
Although the list above is not exhaustive, it is an easy way to digest the above information regarding Apple TVs. Consumer-review websites, and even eBay forums, provide user-based information that can better help buyers make informed decisions.
How to Buy on eBay
Apple TVs are available for sale on eBay from a variety of national and international sellers. Visiting eBay's main webpage, you see a search bar that welcomes any search query. Typing in Apple TV returns dozens of results. If there are too many results for your liking, you can filter and refine the search to include certain price ranges, product conditions, and buying formats. If you are still undecided on where to buy your Apple TV, you can review feedback left regarding each seller. While those with ribbons are regarded for their exceptional service, those without a ribbon can be just as informational and courteous. Each seller designs their own page for a product, and includes or omits information as he sees fit. However, if you have additional questions you can ask the seller directly. Serious sellers provide answers in a timely manner.
Conclusion
Apple TV has become smaller and more efficient with each generation. Removing the old hard drive in favor of a hidden drive akin to a USB, streaming is even quicker and close to real-time. Accessing personal Apple products with Apple TV is simple when AirPlay is used appropriately. With Wi-Fi and AirPlay, users can watch personal video or scan through photos while their iTunes play in the background. This all happens wirelessly so the already small Apple TV does not become spidered with cords and adapters.
Used Apple TV units can vary in integrity, so always be sure to ask the seller explicit questions. If you are unsure about a seller, there are dozens more from which to choose. Since shopping on eBay is a cyber transaction, you should be sure about the purchase in every way before purchasing anything.