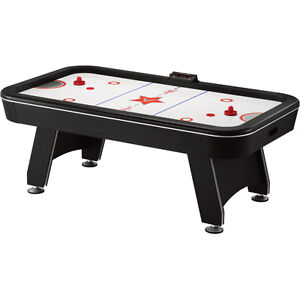 Air hockey tables are a popular choice of game room equipment in many homes, arcades, bars, and clubs. Air hockey is a game that is enjoyed by people of all ages. It is a fast-paced game that is exciting to play and takes practice and skill in order to win. There are a few main types of air hockey tables available. These include the traditional arcade-style tables that feature electronic effects, simpler tables made for home recreational purposes, tabletop variations, as well as multi-game tables. Before purchasing an air hockey table of any kind, buyers should know which type of table best suits their needs, how to spot a quality table, and where to buy the table. With a little research, shoppers will be playing air hockey in no time.
Different Types of Air Hockey Tables
There are few different types of air hockey tables available to buy. These include the electronic arcade-style table, the basic table for recreational play at home, the portable tabletop versions, as well as multi-game tables.
Arcade-Style Air Hockey Tables
Arcade-style air hockey tables are generally the most expensive type of table. They are solidly constructed, measure the full regulation size of eight feet in length, feature powerful blower motors, and have electronic extras that include electronic scoring, music, and other sound effects.
These types of tables are very popular as they are the hardest wearing and will provide many years of enjoyment. They are well constructed, featuring a commercial blowing motor for a smooth puck glide, strong rink walls for excellent deflection, and a completely smooth playing surface for the ultimate air hockey experience.
Arcade-style tables are an excellent choice for those who want to get maximum use from their table over a long period of time or who want to place the table in a business, restaurant, or arcade where it can be used by the general public. These tables are durable, able to handle extensive amounts of playing hours; however, buyers should note that arcade-style air hockey tables are not used in professional air hockey leagues. For someone wanting a top-quality air hockey table for professional league play, an arcade-style table will not suit.
Basic Design Air Hockey Tables
A basic design air hockey table is usually a less expensive version of the arcade-style table without the bells and whistles. These tables do not feature electronic scoring, music, or flashing lights like the arcade-style tables. This type of table can vary greatly in quality and in price. A basic table suitable for young children is much less expensive than a table suitable for an avid teenager or adult who wants to hone air hockey skills with hours of practice. These tables also vary greatly in size.
Tabletop Air Hockey Tables
Tabletop air hockey tables are a great option for those who want the table to be portable or easily stored away. It is also suited for rooms that do not have the space for a permanent full-size table. This type of table is designed with rubber feet that can be placed onto any tabletop, such as a kitchen table, game room table, or floor surface.
Tabletop versions are usually smaller and an economical way to buy an air hockey table for family fun. They are ideal for smaller children who are not tall enough to play on standard size tables, as portable tables can be placed on a table at the desired height.
Multi-Game Air Hockey Tables
Multi-game air hockey tables allow buyers to acquire several different games with the one purchase. Buying a multi-game table means that there is a varied selection of different games incorporated into the table, air hockey included. Traditionally, multi-game tables include shuffleboard, foosball, table tennis, bowling, as well as board games such as chess, checkers, and backgammon.
Air Hockey Tables for Different Skill Levels
Before heading out to buy a new air hockey table, it is important to identify the skill level of those who will be using the table most frequently. Tables of varying price ranges are designed with different players in mind.
Beginner Player Skill
When buying a table for a beginner, such as a child, it is not necessary to purchase the most expensive table available. An air hockey table for under $100 will be sufficient for young children to play with occasionally or to learn the game and develop basic air hockey skills. It is important for buyers to note that these inexpensive tables tend to be made from less durable particleboard. They will not stand up to repeated and active use. These types of tables are less durable and are likely to become wobbly or warped over time.
Intermediate Player Skill
A table that is designed for intermediate players will be sturdy and larger than those for beginners. If space is an issue, a 7- foot table is a good compromise. Buyers looking to purchase a table in this category may choose a larger table with fewer features or a smaller table with more features in order to stay in budget. The playing surface is more durable, less likely to scratch or dent, which can lead to inconsistent and frustrating play.
Advanced Player Skill
Advanced players will benefit from either the arcade-style table or from top-quality full-size professional air hockey tables. Both of these options are strong and durable tables with very flat and smooth playing surfaces and thick rink walls for accurate deflection.
If buying an air hockey table that will get a great deal of use over a long period of time, these top-quality tables are durable and long-lasting. Although the initial cost will be greater, the table will be an investment that family and friends can benefit from for years to come.
What to Look For When Buying an Air Hockey Table
When heading out to buy an air hockey table, a buyer should consider the quality of the components that comprise the table, such as the exterior, walls, and motor. Air hockey tables vary greatly in price, so buyers should understand what they want from their air hockey table and ensure they are getting the best quality for their dollar.
Air Hockey Table Size
The size of the table is determined by how much space is available for the table. Buyers should factor in the additional space that is needed at each end of the table for players to move about. It is generally considered that a few feet at each end is sufficient for play. Full-size tables are usually 90 inches in length and 50 inches in width. In order to fit a full-size air hockey table, the room needs to have at least a 10-foot by 7-foot area of open space. Understandably, the larger the table size, the more expensive the table will be.
Air Hockey Table Construction
Ideally, an air hockey table should be constructed of solid wood and have sturdy legs able to take the weight of the tabletop as well as players leaning on the sides of the table during a game. Joints should be strong and secured by solid screws. Tables that feature levellers on the base of each leg are a great help, as this means the table can easily be levelled correctly even if placed on an uneven floor.
Rink Walls
The rink walls should be made from either very strong nylon or solid aluminum. These give the best deflection and rebound of the puck. They are also the most durable and less likely to dent or scratch. If looking to buy a quality table, be sure to get one that features these solid side walls. Those who are simply looking to purchase an inexpensive table for occasional use can get one with rink walls made of thin laminate aluminum, but be aware that they will dent over time and give little rebound and inaccurate puck deflection.
Air Hockey Table Motor
The game of air hockey requires a motor in order to supply the air that is pumped across the surface of the table. A high output motor will ensure an even flow of constant air across the entire surface of the table. A quality motor will also run quietly, not overheat, and provide constant play for extended periods of time. In order to get an even flow of air across the entire playing field, many motors feature a Plenum chamber, which uses pressure to force air evenly across the entire table top.
Where to Buy an Air Hockey Table
If a buyer is looking to purchase a new air hockey table, there are a number of different places they can try. Brick-and-mortar sporting goods stores or large department stores often feature a limited range of air hockey tables, usually for beginners or intermediate players. For top-quality air hockey tables with excellent construction and durability, a buyer should visit a specialized air hockey table manufacturer. These manufacturers make tables in various sizes, including the full professional table size. If budget is an issue, and buyers are prepared to do a bit of research, there are secondhand stores that sell air hockey tables at reasonable prices. Alternatively, a buyer may choose to purchase a new or used table online.
Shopping online for air hockey tables provides buyers with an easy way to research all the different types of tables available for sale. There are many online stores that specialize in selling air hockey tables in various price ranges. Auction sites like eBay allow buyers to search for air hockey tables at a competitive prices. eBay's selection of air hockey tables allows buyers to quickly and simply research all the available tables listed for sale.
Buying an Air Hockey Table on eBay
Buying an air hockey table online at eBay is simple. Buyers simply search for air hockey tables by going to the Sporting Goods portal and selecting Indoor Games, then clicking Air Hockey. Alternatively, a buyer can type inair hockey tables into the search bar on eBay's home page, and a wide selection of tables will appear. For those who know exactly what type of air hockey table they wish to buy, such as a DMI air hockey table, eBay users can create a post in the Want it Now section.
When buying an air hockey table on eBay it is important to factor in the delivery costs and research the seller's feedback rating and return policy. Once an eBay buyer finds the right foosball table, payment can be made using a secure method, such as Paypal or via credit card. Any eBay buyer can use the free helpful information in the Buying Basics section under the Help category. And in no time, a new air hockey table will arrive ready to use.
Conclusion
Air hockey is a fun game that is also considered a highly competitive sport. Players of all ages enjoy competing at air hockey, and an air hockey table is a great asset to any game room. There are a variety of different types of air hockey tables available, and it depends on a buyer's specific needs as to which type of table is best. Budget, available space, and player skill level should influence a buyer's decision. A buyer should first consider the size table they can purchase, then consider the quality of construction they require from their table, including the table's rink walls, and its motor. By thinking ahead, shoppers can purchase the right air hockey table that will suit its purpose and last over time.