Halo Halos Angel eye eyes BMW E36 E46 E38 E39 Accord Civic Tahoe F150 Yukon Suburban Camaro S10 Dodge Ram Scion Tc Eclipse GMC Chevy C10 HID Ranger Silverado AUDI A4 DENALI Tacoma SIERRA Cavalier Blazer Astro Maxima JETTA Corner Side Marker LED Euro JDM Altezza Bulbs MOMO APC NRG Megan Tekniq Wilwood
There are a number of aftermarket
Quick Release Adapters, Hubs and Steering Wheels
on the market today. So it can be very confusing on what kind of setup or type of kits you may want on your vehicle. So this Guide was made to clear up some of those confusing aspects when figuring out which products you should purchase for your specific needs.
First and for most, you will need to know what the different parts and what there purposes are before purchasing any particular item. Like I said in the beginning, there are a number of different products and brands out on the market today so this guide
may or may not
pertain to some of the products available on the market.
So please be aware of this fact.
The items I will be writing about are some of the most popular aftermarket items on eBay when pertaining to steering wheels, quick release adapters and hubs. So let Start.
Hub
An example of a Hub, different brand make different looking hubs, but this is just an example of what one looks like.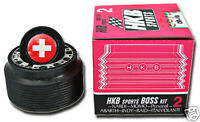 A hub is needed no matter if you want a quick release or not. A hub is the piece that connects directly to your vehicles steering wheel column. There's a number of brands that make hubs, so just make sure what ever brand to decide to purchase makes one for your vehicle specifically. There is no such thing as a "Universal" Hub, so don't be fooled. Some brands may make a hub that will fit on specific car manufactures, like certain Honda's or for certain Ford's. But a hub for a Honda will not fit on a Ford or vise versa. So make sure the hub you purchase is for your specific vehicle.
*Note:
Some Hub brands on the market will only work with certain brand quick release adapters and or steering wheel. Meaning if you purchase a "ACME" brand hub, it may only work with an "ACME" brand quick release and or steering wheel. So please do your research before purchasing.
Aftermarket Steering Wheel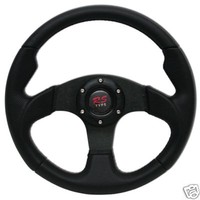 Aftermarket Steering wheels vary as well. Everything from wheel diameter, color, shape and extra gizmos. But the main feature you must consider is the mounting plate/ bolt pattern. They come mainly in 5 or 6 bolt patterns. Again, different brands and models will vary. The bolt pattern on the steering wheel
must match
your Hub or Quick Release adapters.
Quick Release Adapter (*Optional Part)
*Note: A Hub and Steering will work without a quick release adapter.
Depending on the brand and model, design will vary but this is just an example of one.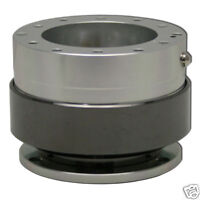 In general terms a quick release adapter is usually what is found in between the hub and steering wheel. Allowing the user to quickly remove his or her Steering wheel directly from its steering column. Nascar Racers use quick release adapters for the simple reason of space, they remove the steering wheel, which allows more room for the driver to get in and out of the car. But for your average car owner, quick release adapters are mainly used for style and looks, because it allows you to use Aftermarket Steering wheels. But it also has a very practical everyday use as well, mainly for security purposes. Instead of using a "club" type security tool, which can easily be bypass. Just take the steering wheel off and nobody will be able to drive off in your car. So these are the type of things to consider when deciding if a quick release adapter is right for you.
The bolt pattern is also important when considering purchase.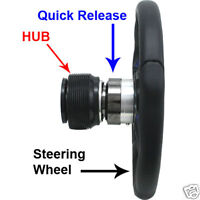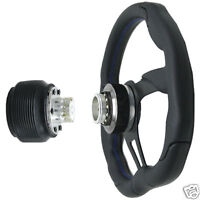 We hope you find this guide helpful.
MOTORBLVD