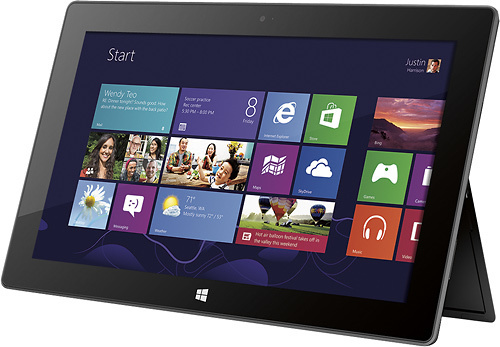 The Microsoft Surface features a broad range of accessories. These include covers, screen protectors, stylus pens, and more. Buyers can choose from first- and third-party products to find items that match their budget and needs. Many accessories are available in a variety of colors and designs, allowing owners to personalize their tablet. Accessories sell from electronics retailers, department stores, and online sellers like those on eBay. Buyers should consider the different products available to find the best options for their Microsoft Surface tablet.
Covers
Covers are among the most popular accessories for the Microsoft Surface. Covers clip to the edge of the tablet and provide protection for the screen against scuffs, scratches, and impact. There are two basic types of tablet covers: protective units and keyboards. A screen protector offers additional protection, and owners can even decorate their cover with a skin.
Protective Covers
Protective covers attach to the top edge of the Surface and flip over the back to stay out of the way while the tablet is in use. Protective covers are available in a wide variety of colors, allowing buyers to personalize their Surface.
Keyboard Covers
Keyboard covers provide the same protection as a basic cover, but double as a typing surface. Two types of keyboard covers are available for the Surface: touch keyboards and type keyboards. Touch keyboards are lighter and less expensive, while type keyboards are thicker and cost a bit more. Type covers offer a more natural and responsive typing experience than touch covers.
Skins
Skins add a decorative touch to the back of a cover and help owners personalize their tablet. Manufacturers create skins with all types of patterns and designs, including landscapes, wood paneling, flowers, and logos associated with bands and television shows. You can also purchase solid-color skins.
Screen Protectors
Although covers offer protection for the Surface when not in use, owners can guard their tablet's screen with screen protectors, as well. These items use a thin film to prevent nicks and scratches. Some manufacturers also create specialized screen protectors, such as privacy screen protectors . These allow the user to view the screen directly, but prevent off-angle viewing with a filter.
Wedge Touch Mouse
The Wedge Touch Mouse Surface Edition visually matches the look of the tablet. It is completely wireless and offers a sleek and easy way to use a mouse with the tablet. Several third-party mice are also available.
Sleeves and Carrying Cases
Owners who commute or travel with their Surface need a solid carrying case. Several sleeves are available for the tablet, ranging from thin and light sleeves for basic scratch protection to well-padded products that guard against damage from falls and impact. Products include the Incipio Sleeve for Surface and Rebecca Minkoff Surface sleeves.
OEM vs. Third-party Products
Accessories for the Microsoft Surface include products from the original equipment manufacturer (OEM) and third-party manufacturers. In general, third-party items are less expensive, but also less reliable. However, several third-party products provide features and options not found on OEM items, making them a better choice for personal customization.
Third-party manufacturers also produce accessory bundles. For example, a bundle may include a keyboard cover, a wraparound case that allows the table to stand upright when not in use, a screen protector, and a stylus pen.
Item Condition
Buyers can choose products in a variety of conditions. The table offers a brief overview of common adjectives used to describe the state of a tablet accessory.
Item Condition

Description

An unopened item

Contains all components and printed materials

An opened product in excellent condition

Possibly used as a display item or returned by a previous buyer

Shows no signs of wear or use

A previously owned item

Normally shows signs of wear

An item restored using new components

May be nearly as good as a factory-new item
When shopping for items listed as anything other than new, perform a visual inspection of the item. Read the seller's full written description and ask questions, as well.
How to Buy Accessories for the Microsoft Surface on eBay
You can purchase all types of accessories for the Microsoft Surface on eBay. Locate items on the site by entering keywords into the search field on any eBay Web page or by clicking on category links. Once you locate a desirable item, click on the seller's name to see a full profile. Check the user's positive feedback rating and number of completed transactions.
The range of accessories for the Microsoft Surface allows you to enhance your experience and customize the device to your preferences. Shop from the sellers on eBay to find a full selection of new and used items and begin enjoying new ways of using the tablet.