An AED is a device for non-medical personnel to save lives -mainly people of over 50. All the new biphasic home units are easy and SAFE to use.
These units are transportable, though the home is the most likely location to need an AED.
Which is the best AED Automated External Defibrillator for your Home, Office or Church? The one with lowest cost both initial and ten year maintenance? The one with the spare battery? The one recommended by EMS personnel?
The HeartSine Samaritan is the recommended model for you to buy.The Samaritan comes standard with an extra battery and extra set of pads, so it is always ready. One expiration date to remember (since these are a pack) and if you forget to wipe the chest before placing the electrodes, you have a spare. Customer friendly.
What is sudden cardiac arrest?
The heart has chaotic rhythm. Can happen to anyone and without prior symptoms, though there are people in a higher risk group. It is an electrical problem. The only resolution is to restore the electric. What is a heart attack?. This is a plumbing problem, that can trigger suddent cardiac arrest.

An AED is used to detect and shock unstable cardiac rhythms..VF -Ventricular fibrillation or VT -Ventricular tachycardia. AEDs used at home are generally very good at this according to a published study.
How much time do I have to defibrillate?
Only minutes. Within three minutes, the change of survival is 70 percent. Aftern ten minutes this is down to only a small percent. How far is the nearest EMS? Remember, though ALWAYS call 911 first, turn on outside light, unlock the door.. then use the AED.
How does an AED work?
Two pads are placed on the patient. The AED determines if the heart rhythm needs a shock. If so, the machine's computer voice guides you through the steps to save a life.
Can Anyone buy an AED?
Anyone can buy an AED. The FDA MAY require a physicians prescription before some units can be delivered. Many distributors have an arrangement to secure a prescription through StatPad or a local MD, if needed.
If worried you will make a mistake....AEDs perform self tests and they analyze whether or not a patient needs to be shocked. So you cannot usually make a mistake...Phew!
Exception would be if the person is in unsafe place (pool of water) or has an implant device. Or when used on a spontaneous breathing person with a pulse.

Training in CPR and AED is available and VERY highly recommended..for all teenagers and adults. Within the next decade, most people will know how to use AEDs.
Three AEDs and their ten year estimated parts maintenance costs:
HeartSine PAD (Samaritan PAD),
$540 (Three sets of two battery and pad pack combos - $180 years 3, 6, and 9)
$678 (Five sets of 2 years pads@ $76 each set, and two five year batteries $149 years 5 & 10)
Philips Heart Start OnSite
$819 (Five sets of two year pads $100 each set and two four year batteries $135 years 4 & 8 )
A five and seven year Lithium battery is available for the Defibtech. It has child pads for sale for children under eight for some of its software.
The Phllips also has child pads available which are sold only under the order of a physician.
By year two, the Lifeline and Phillips require spare parts already. And evey other year.
If weight is a consideration.. Heartsine is the lightest.
HeartSine Pad 2 pounds
Voice and Graphical interface. Only 7 by 8 inches. Escalating energy. Preferred.
Defibtech Lifeline 4.2 pounds (4.4 with other battery pack).

Phillips Heart Start 3.3 pounds

Other factors to consider:
If escalating energy is a consideration,. the Heartsine pad has it. It adjusts based on patient need. Experts tell me that is superior and preferred and is one reason why they like the HeartSine Samaritan.
Don't want to shell out all that dough at once? Phillips may have a lease program for $99 down and $99 for 24 months. That comes to a whopping $2,500, though.
Any of the units could save a life.
Important Considerations when purchasing an AED:
Ease of use. Plain marking where to place electrodes. One button operation.
Five year battery preferred or two batteries of at least two years life -without charging.
Incremental energy levels. Higher priced Zoll - 200, 300 360 joules.
Non polarized pre attached electrodes are a postive feature. -Higher priced CardioVive AT.
Warranty..who will do, how fast and where located? Ease of intiation? Think about it, ask before you buy!
There is one unit that is available over the counter for home use. That unit may be available without a doctors prescription. It is a Philips HeartStart Home Defibrillator.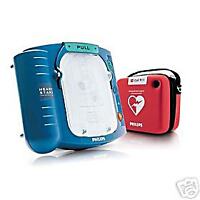 The HeartSine Pad is the unit recommended unit by one critical care professional we asked. It is complete, light weight, with only one expiration date. It has a bracket that can be used in the car or a private airplane.
Bottom line:
1) if needed, AEDs save lives.
2) usually most often needed in the home ( with someone over age 50).
3) the unit will let you know IF it is needed or not. Step by step instructions as you go. YOU STILL NEED TRAINED, BUT DONT HAVE TO REMEMBER. Works for me!
The American Journal of Cardiology, 2004:94:378-380; tested two defibrillators, the Heartstream XL (14 pound unit used in hospitals) and HeartSine Samaritan. By the third shock, the HeartSine Samaritan had significantly better performance...Wow.
Everyone that sells AEDs recommends training. Courses are readily available as a part of CPR training.
Please let me know if this need updated. THANKS.
This guide is a public service courtesy... Please vote our guide as helpful. Thanks.