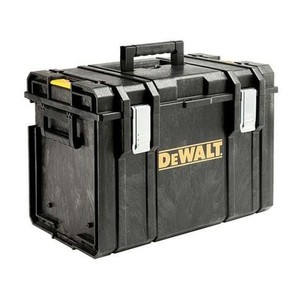 Whether one is just starting in the field or hobby of carpentry or an old pro, it is quite obvious that being a good carpenter is as much about having the right tools as it is about skill. Over time, many carpenters build up toolboxes or workshops that overflow with the just-right tool for the job, making the completion of any task a breeze. However, those just starting out still need to make an investment in the essential, basic tools that are required to finish beginner's jobs feeling like a pro.

There are 10 tools that every carpenter should own. Some of these tools may come with recommended accessories, all of which you can find on eBay. Though a brief explanation of each tool and its utility to carpenters, buyers can feel confident that they know what it takes to get into carpentry.

A Brief Note on Types of Tools
Anyone who knows a little about carpentry knows that the skill of constructing everything from furniture to homes involves two main types of tools: hand tools and power tools. Traditionally, carpenters used their hands and their brute strength to construct buildings and carve tables. However, the proliferation of electricity and battery power in the 20th century turned the tables on the amount of pure strength each carpentry process took, especially when it came to cutting and drilling. As such, many carpentry functions have been mechanized, allowing carpenters to focus their efforts on the smaller details, like carving and edging, which still need a human touch. These tools are for the carpenter who prefers to do things the old-fashioned way.

The 10 woodworking tools every carpenter should own range from simple options, like measuring implements, to more complex and expensive pieces, like circular saws, which make carpentry an investment, but one that varies widely. Therefore, individuals who are ready to get started in this ancient and beloved tradition need to spend some time and money at the outset, but they reap remarkable benefits by doing so.

1. A Storage Space
Whether a carpenter intends to dabble in carpentry as a hobby or pursue a serious career in construction, having a safe space to store tools and projects is essential. For those looking to earn money on larger-scale carpentry projects, such as home building, this storage unit must be relatively mobile. Storage tends to be trickier as you take on more projects, so keeping your storage space organized ensures you maximize use of the space and can find tools quickly. Wherever you choose to store your tools, make sure it remains free of moisture in all seasons. The last thing you want to find is your most expensive tools rusted beyond repair after a long winter. However, those looking to work on smaller projects or confine their carpentry projects to their home can design a less mobile work and storage space. Personal storage compartments come in two major forms: toolboxes and tool belts.

Toolboxes
Depending on the level of carpentry that is practiced, there are several sizes of toolboxes that an individual may want to consider. Smaller units, similar to a tackle box in shape, are great for carrying items, like hammers, nails, and marking tools, whereas larger, standing boxes or tool cabinets can store all that and even small power tools, like a drill or electric screwdriver. Ideally, large toolboxes should be placed in, or near, a designated area for carpentry work. This way, tools are easily accessible for projects, and other elements of the home, such as kids' toys or car parts, do not get mixed into them.

Tool Belts
For projects big and small, a high-quality tool belt can save a carpenter a lot of hassle. Professional carpenters rely on their tool belts when on a job site. Home carpenters enjoy the ease of access provided by a tool belt when working in other areas of the house or even in their designated workspace, especially if their toolbox is located farther away than is ideal. Well-designed tool belts feature a holster, pocket, or pouch for most commonly used tools.

2. Hammers
Even people who have no history with carpentry associate this craft with its most famous tool: the hammer. The hammer is one of the most versatile hand tools in the carpenter's cache. However, unlike home tool kits, carpenters' hammers seldom function in a one-size-fits-all capacity. At the very minimum, beginning carpenters should start with a 16 oz. claw hammer for removing nails, and a 20 oz. framing hammer for larger projects.

3. Tape Measure
Another no-brainer addition to any carpenter's tool set is a good tape measure. Carpentry projects rely on precise measurements, which means that a good, retractable, metal tape measure is an invaluable and inexpensive must-have tool. The best tape measures should come with a belt clip for easy access, and have calibrations in both the imperial (inches and feet) and metric systems.

4. Squares
Squares are another staple tool for every type of woodworking job, whether it is laying out stairs or constructing a table. Squares make sure that the lines drawn are straight and that the angles cut are accurate. There are two basic types of squares that every carpenter should have handy: a larger, L-shaped carpenter square and a smaller, triangle-shaped speed square. Beginners especially may want to look for a product that comes with a quick reference guide.

5. Bubble Levels
As squares are to angles, levels are to, well, leveling. Every carpentry project, from putting up fences to framing a home, relies on horizontal level lines and plumb vertical ones. There are several sizes of levels that one may want to consider. A traditional 2-foot bubble level accomplishes most in-home tasks, whereas the larger 4-foot model is
customary for framing. Many modern carpenters also opt for laser levels or a combination of bubble and laser levels instead.

6. Utility Knife
Like the hammer, the purpose of a utility knife when completing a carpentry project is multi-faceted. Also called a Stanley knife after the company that originally manufactured them, utility knives can do everything from score a project to open a bag of nails to trim the corners on a finished piece. A good utility knife should have a belt clip and a strong handle with a locking mechanism. In addition to the knife itself, make sure to have one or two replacement blades in the toolbox for when the original one gets too blunt to work properly.

7. Marking Tools
Only the very best and most talented woodworkers can cut a straight line without a guide, especially when using power tools. That is why, for centuries, carpenters have been using marking tools to indicate distances and outline cuts in their projects as a means to make sure that all of their work is accurate. For short measurement indications, a carpenter's pencil works just fine. For longer lines and cuts, consider using carpenter's chalk instead. No matter what, never use a pen on a carpentry project, as it bleeds through the paint once the project is complete.
8. Screwdrivers
Carpentry purists shudder at the notion of using screws in wood. However, in the modern form of carpentry, the right screw placed at the right point in the project can make the difference between success and failure. True, the use of screws and screwdrivers in carpentry is sparse, so a high-quality electric screwdriver is not necessarily called for, but at the very least, a small set of both flathead and Phillips-head screws and screwdrivers is an essential addition to any carpenter's toolbox.

9. Circular Saw
The first of the two necessary woodworking tools in carpentry is the circular saw. Yes, this process can be replicated with hand saws and many wood purists prefer to do it. However, circular saw technology is highly advanced, and there are a great range of models and price points to choose from if carpenters are on the frugal side. The versatility of a circular saw is what makes it so keen. A circular saw can do everything from straight cuts to notching, ripping, and dados. Every handyman should have a saw like this in his toolbox for woodworking projects.

10. Power Drill
A power drill is another power tool that is essential if a carpenter wants to save time and frustration. True, hand drilling has worked for hundreds of years, but at this point, power drills are so abundant, easy-to-use, and reasonably priced that it makes little sense not to buy one. Power drills these days can do everything from traditional drilling to sanding, and operate as a power screwdriver. It all depends on the model purchased and the drill bits and accessory kits that go with it. Though it is not necessary to get all the bells and whistles at once, getting a basic power drill from a trusted name like Black & Decker or Craftsman sets a carpenter up for fantastic and easy upgrades as his or her skills increase.

Buying Carpenter's Tools
Clearly, the basic tools needed by any carpenter range in price from fairly inexpensive (tape measures) to a large investment of power tools (circular saws). That is why where one purchases carpentry tools is important. The choice of retailer can mean the difference of hundreds of dollars over the long run, as carpentry tools are widely available everywhere from small-town hardware stores to big-box retailers to online. Those new to carpentry may even want to consider purchasing used tools from places like flea markets, yard sales, and online marketplaces as a way to save additional money. Thankfully, the option to buy affordable new carpentry tools and quality used ones is available all in one place: eBay.

Shopping for Carpentry Tools on eBay
Carpenters of all kinds find shopping with eBay is a simple and straightforward process. Users can sign up for an account in a matter of minutes and get right to browsing for all the best carpentry tools. Beginning on either the eBay homepage or inside the Home & Garden Shop, eBay users can conduct both simple and advanced keyword searches for the products they need.

In addition, the Home & Garden Shop has a section dedicated to tools that is perfect for general browsing. Users can further limit results to hand tools, like hammers, or power tools, like drills, for a more refined experience. Users can also limit their search to new items or even to used or refurbished options for additional cost savings. You can find helpful user reviews on each product page as well as information from the seller.

Conclusion
The craft of carpentry is an old one with roots in the earliest of human civilizations. For centuries, humans have been able to build great structures and intricate furniture from wood in the most remarkable of ways. For those interested in becoming involved in this ancient trade, the 10 tools every carpenter should own provide a great start. From a place to store all of these tools to the hand tools and power tools themselves, the basics of carpentry are easy to learn with the right foundation. Whatever your woodworking plans, especially if you plan on a DIY home improvement project, it is a good idea to make sure you have quality tools in storage that are able to take care of most major projects around the home without bringing in a contractor.

However, like anything, carpentry is an investment, and potential carpenters may get overwhelmed by all the purchases they may need to make. That is why smart shopping through websites like eBay represents a great way to find the carpenter's tools one needs without worrying about overpaying. Combining the quest for the essential tools every carpenter should own and eBay is a winning decision that gets buyers on their first projects more quickly.