We recommend using Internet Explorer 9 (or other standard browsers) to get the best experience on this site.
Cheapo plastic play sets and toys 60's - 80's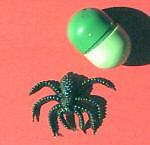 totommyto
My earliest memories of cheap plastic play sets were of the ones found in the Ben Franklin's store, once upon a time in East Haven, Connecticut. My Grandfather was the biggest culprit when it came to spending money on these classics. Despite my Grandmother's verbal lashings, accusing him of buying us toys made out of spit, he continued to purchase them to our pleasure and sometimes to our frustration. I remember in particular a 'Cop & Robber' play set with a really cool hard rubber night stick. It broke and no amount of tape or glue could get it right. My Grandfather took great pleasure in cheap toy repair, spending hours trying to fix what we broke. That night stick was never right again however. For the most part, the play sets worked out great, and we spent hours at play.
List of items in this collection

Loading more items...