Show Off Vintage '70s Style With adidas SL 72s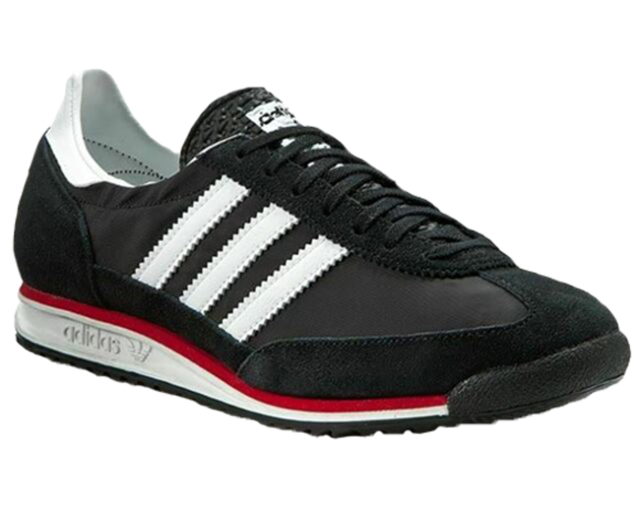 adidas SL 72 vintage shoes give you a cool, 1970s look and great performance. These vintage-fit adidas shoes can be worn pounding 5 miles of pavement, as well as for trips to the grocery store.
What are the most notable stylistic elements of '70s men's sneakers?

The three stripes on the sides of these shoes make them instantly recognizable as a pair of 1970 adidas shoes. They also have multicolored soles with rubber bottoms, and the lace-up closure stays true to the running shoe design while providing a secure but comfortable fit you can adjust.

The heel curves higher than the rest of the low-top ankle to provide a secure fit, and the shoe is narrow at the toe to remain true to the era. The uppers are made with nylon and synthetic suede. These material choices are one of the things that make these shoes good for both fashion and running purposes.

There are many color combinations available. For instance, blue retro adidas shoes with white stripes are popular, but there are many other color combinations available. If you're looking for a pair of '70s men's sneakers that will hide stains well, you could get a brown, olive, and gray pair. Some other color combinations include black and white, gray and white, green and yellow, and white with black and orange.
Are the SL 72s good for running?
These 70s men's sneakers are good for both fashion and running. They feature the same traction system that was used on these shoes in the 1970s. They also feature an EVA midsole, which is a flexible material that adds cushion underneath your foot every time you step.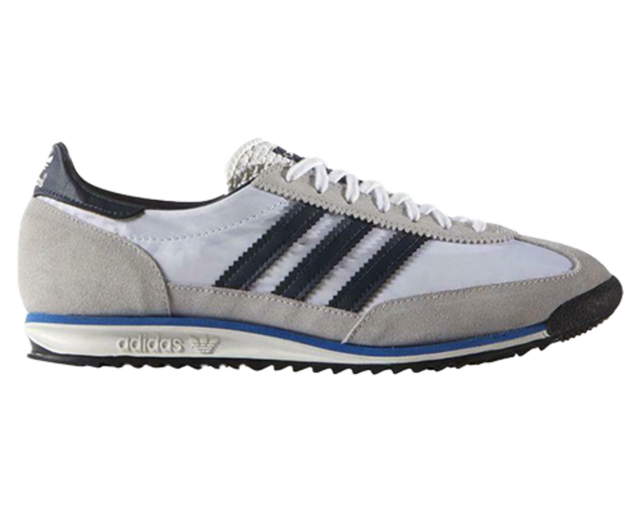 What else should you know when buying a pair of SL 72s?

Since these shoes were originally made in the 70s, it's possible to find pairs that aren't new and several decades old. Materials can degrade over time, so you should know when the shoe was manufactured. Shoes original to the 1970s should only be worn occasionally for fashion or should be used as collectibles only.

You might also be interested to know that the SL 72s was the first adidas shoe to have the adidas logo of the trefoil on the shoe, and the new version is an aesthetically faithful reproduction of the original, so it's also great as a collector's item. On SL 72s manufactured today, the trefoil is placed on the outward-facing part of the heel and on the insole.
What is the fit on the SL 72s like?
Historically, running shoes have been made with a narrow design, and the SL 72s continue this tradition. They also come in both men's and women's sizes. Men's are available in sizes 4 to 14. Like most adidas shoes, the SL 72s run true to size.
Content provided for informational purposes only. eBay is not affiliated with or endorsed by adidas.