Introduction to Yeezy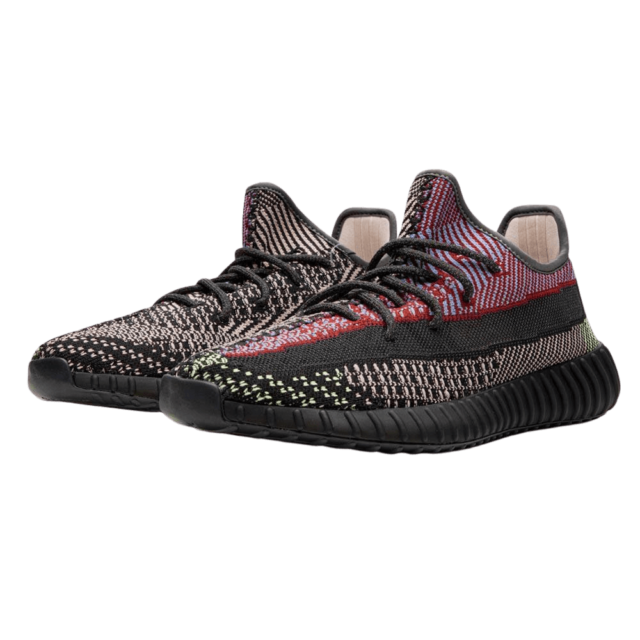 Like Michael Jordan's legendary Air Jordans, Kanye West's Yeezy sneaker line has become one of the most sought-after shoe collections in history, with prices skyrocketing after limited quantity drops are snapped up in minutes. Since partnering with Kanye in 2013, adidas has quickly climbed the ranks in the sneaker category.
And while the Air Jordan has become a venerable pop culture driver off the basketball court, there's one place where Yeezys rule the roost-the runway. West has always yearned to be one of the fashion industry's most respected designers, and his annual Yeezy debuts are some of the hottest tickets during Fashion Week in New York, Paris and Milan. Early shows garnered a few critical reviews, but West didn't dwell on them, instead pushing the boundaries of creativity and design in his work. "I think bad taste is vulgar, it's like cursing," West told Forbes in 2015.
History of the Yeezy

Ironically, Jordan and West were once on the same team. West initially brought his Yeezy concept to Nike after a chance meeting with Nike's then-CEO Mark Parker in 2008. Parker paired West with the Air Jordan team, and West wore a prototype Air Yeezy 1 high-top onstage, with the real thing arriving in 2009. Hip-hop has been intertwined with footwear for nearly 40 years, from Run-D.M.C.'s adidas shell toes in the mid-1980s to Reeboks from Jay-Z and 50 Cent two decades later, but West was the one who got the Jordan Brand to really take notice.

After a dispute with Nike over royalties, West moved to adidas in 2013. They were thrilled at the chance to work with a musical artist who had become a superstar-and whose antics blew him up in the pop culture universe.

In 2015, West and adidas launched their partnership with the Boost 750, a high-top boot inspired by desert boots from companies like the Australian footwear brand, Blundstone. The first Yeezy sneaker, the $200 Boost 350, came soon after, igniting a frenzy that hasn't let up. With the energy-returning adidas Boost sole technology as a base, the aggressively designed Boost 350 embodied speed. Its forward-leaning shape and minimalist design also happened to be one of the most comfortable shoes ever made.
Yeezy Lines: Plenty to Choose From
West is fond of releasing the same shoe with slight design tweaks and additional colorways, one of the reasons why there are so many versions of the Boost 350. A year after the 350 release, Kanye began teasing a new model, which would eventually become the genre-defining Boost 700. Sneakerheads initially panned the new model, dubbing it "dad shoes" due to its chunky midsole. But after Chance the Rapper rocked the initial blue and gray Wave Runner model on a 2017 Saturday Night Live appearance, the Boost 700 spread like wildfire. It's now the most popular shoe in the Yeezy line, helping drive the brand to more than $1.5 billion in revenue in 2019. That's Jordan money. Other lines include the Yeezy 500, the only Yeezy without Boost technology, and 2019's surprise drop of the Boost 380.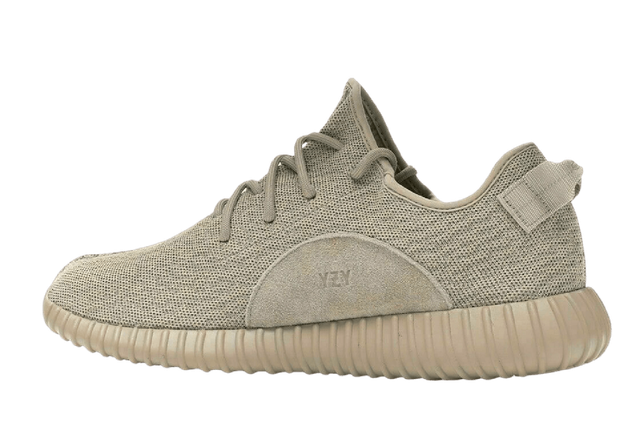 The Most Popular Yeezy Sneakers

Boost 350 V2 Butter
500 Blush
Boost 700 Wave Runner
Boost 350 V2 Sesame
Boost 350 V2 Clay
500 Bone White

Boost 350 V2 Cream Triple White

Boost 350 V2 Static

Boost 700 Geode

Boost 350 V2 Zebra
Collectability and Resale Value of Yeezy Shoes

Today, Yeezy models typically retail for $200-$300 (packs and certain limited releases can run higher), but rare versions can significantly rise in value.

The original Turtle Dove Boost 350 retailed for $199 but costs upwards of $1,500 today. Many releases in the 350 and 700 model lines can be scooped up for under $500.

The most expensive Yeezys are the ones Kanye produced with Nike, the Air Yeezy 1 and Air Yeezy 2, with the Red October version of the Yeezy 2 seeing an average resale value of $7,000.
| | | |
| --- | --- | --- |
| Yeezy Boost 750 | Grey-White | 2/14/2015 |
| Yeezy Boost 350 | Turtle Dove | 6/27/2015 |
| Yeezy Boost 350 | Pirate Black | 8/22/2015 |
| Yeezy Boost 350 | Moonrock | 11/14/2015 |
| Yeezy Boost 750 | Black | 12/19/2015 |
| Yeezy Boost 350 | Oxford Tan | 12/29/2015 |
| Yeezy Boost 750 | Light Brown | 6/15/2016 |
| Yeezy Boost 350 V2 | Beluga | 9/25/2016 |
| Yeezy Boost 350 V2 | Black Friday - Red Core | 11/23/2016 |
| Yeezy Boost 350 V2 | Black Friday - Black Green | 11/23/2016 |
| Yeezy Boost 350 V2 | Black Friday - Black Copper | 11/23/2016 |
| Yeezy Boost 350 V2 | Black/White - "Oreo" | 12/13/2016 |
| Yeezy Boost 350 V2 | Black/Red - "Bred" | 2/11/2017 |
| Yeezy Boost 350 V2 | Black/White/Red - "Zebra" | 2/25/2017 |
| Yeezy Boost 350 V2 | Triple White/Cream | 4/29/2017 |
| Yeezy Boost 700 | Wave Runner | 11/01/2017 |
| Yeezy Boost 350 V2 | Semi Frozen Yellow - "Yebra" | 11/18/2017 |
| Yeezy Boost 350 V2 | Beluga 2.0 | 11/25/2017 |
| Yeezy Boost 350 V2 | Blue Tint | 12/16/2017 |
| Yeezy 500 | Blush | 2/16/2018 |
| Yeezy 500 | Super Moon Yellow | 6/9/2018 |
| Yeezy Boost 350 V2 | "Butter" | 6/30/2018 |
| Yeezy 500 | Utility Black | 7/7/2018 |
| Yeezy Boost 700 | Mauve | 10/27/2018 |
| Yeezy Boost 350 V2 | Black/White/Red - "Zebra" 2.0 | 11/16/2018 |
| Yeezy Boost 350 V2 | Sesame | 11/23/2018 |
| Yeezy 500 | Salt | 11/30/2018 |
| Yeezy Boost 350 V2 | Static | 12/27/2018 |
| Yeezy Boost 700 V2 | Static | 12/29/2018 |
| Yeezy Boost 700 | Inertia | 3/9/2019 |
| Yeezy Boost 350 V2 | Hyperspace | 3/16/2019 |
| Yeezy Boost 350 V2 | Trfrm | 3/16/2019 |
| Yeezy Boost 700 V2 | Geode | 3/23/2019 |
| Yeezy Boost 350 V2 | Clay | 3/30/2019 |
| Yeezy Boost 700 | Analog | 4/27/2019 |
| Yeezy Boost 350 V2 | Glow | 5/25/2019 |
| Yeezy Boost 700 V2 | Vanta | 6/6/2019 |
| Yeezy Boost 350 V2 | Black | 6/17/2019 |
| Yeezy Boost 700 V2 | Tephra | 6/16/2019 |
| Yeezy Boost 350 V2 | Antlia | 6/22/2019 |
| Yeezy Boost 350 V2 | Synth | 6/22/2019 |
| Yeezy Boost 700 | Utility Black | 6/29/2019 |
| Yeezy Boost 350 V2 | Lundmark | 7/13/2019 |
| Yeezy 500 | Bone White | 8/24/2019 |
| Yeezy Boost 700 V2 | Inertia | 9/7/2019 |
| Yeezy Boost 350 V2 | Cloud White | 9/21/2019 |
| Yeezy Boost 350 V2 | Citrin | 9/26/2019 |
| Yeezy Boost 350 V3 | Black | 12/11/2019 |
| Yeezy Boost 350 V2 | Yeshaya | 1/24/2020 |
| Yeezy Boost 350 V2 | Marsh | 1/31/2020 |
| Yeezy Boost 350 V2 | Earth | 2/21/2020 |
| Yeezy Boost 350 V2 | Flax | 2/21/2020 |
| Yeezy Boost 350 V2 | Tail Light | 2/21/2020 |
| Yeezy Boost 700 | MNVN | 2/27/2020 |
| Yeezy Boost 350 V2 | Desert Sage | 3/13/2020 |
| Yeezy Boost 350 V2 | Cinder | 3/20/2020 |
| Yeezy Boost 380 | Mist | 3/24/2020 |
| Yeezy Boost 700 V3 | Alvah | 4/10/2020 |
| Yeezy Boost 350 V2 | Linen | 4/17/2020 |
| Yeezy Boost 700 | MNVN | 4/23/2020 |
| Yeezy 500 | High Slate | 5/4/2020 |
| Yeezy Boost 350 V2 | Sulphur | 5/8/2020 |
| Yeezy Boost | Quantum BSKTBL | 5/14/2020 |
| Yeezy 500 | High Tyrian | 5/15/2020 |
| Yeezy Boost | Quantum Barium | 6/24/2020 |
| Yeezy Boost 700 | MNVN | 7/10/2020 |
| Yeezy Boost 350 V2 | Zyon | 7/17/2020 |
| Yeezy Boost 380 | Blue Oat RF | 7/23/2020 |
| Yeezy Boost 380 | Blue Oat | 7/24/2020 |