About Sony PlayStation Vita
Showing slide {CURRENT_SLIDE} of {TOTAL_SLIDES}
Dual Analog Sticks.

Uncompromised portable gaming is here. Enjoy a fully immersive experience with intuitive dual analog sticks that give you the ultimate in gaming control.

Motion Sensor.

Touch, tilt, and steer your way through adventures, plus enjoy endless ways to manipulate your environment, interact with characters, and utilize in-game tools.

Touchscreen.

Enjoy a revolutionary way to control actions and complete challenges with a touch of your finger on the stunning five-inch screen.

Rear Touch Pad.

Enjoy greater hand control and interact with games with revolutionary three-dimensional motions that enable you to grab, trace, squeeze, push, and pull too.
eBay has provided more information about this product above and is not affiliated with or endorsed by Sony.
Price Trends
Sony PlayStation Vita - Price New and Used
New Price*
from $155 to $281
Used Price*
from $128 to $148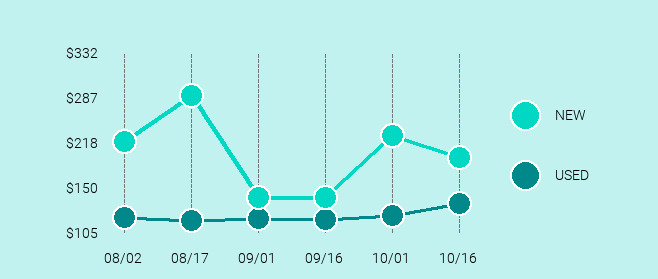 *The average sold price is calculated based on "Buy It Now" items sold within the 90 day period described above (excluding shipping and handling). Each interval represents a 15 day period. There is no guarantee that items will always be listed at a price within the provided range.
Compare Similar Models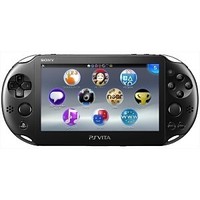 Sony PlayStation Vita
Internal Storage
1 GB Expandable
Showing slide {CURRENT_SLIDE} of {TOTAL_SLIDES}
Top 5 High ratings
Top 3 Low ratings
Is the PS Vita still worth buying today (Posted as of October 10th, 2018)

So, is the PS Vita worth the purchase, at the last months of it's life cycle? It really depends on how you game., , Provided that you have PSN games or PSVita game cards available in your area, you're likely to find a few gems around, and at good prices (in many cases). For me, I have a variety of games, and some are imports. I recommend buying (ASIA Region), as many of those games are with an English Option (some Japanese Region aren't in English)., , What would make me apprehensive, is the PS Vita Memory Card format: It's cost prohibitive, and is only likely to jump in costs. While you can seek out a Henkaku "jail broken/rooted" PS Vita, the market price is almost double the usual cost of these devices. Where as current market price for a used PS Vita presently goes for $120-$150 (and new devices going for around $190-240), the Henkaku PS Vitas (used) are going for about $200-280, depending on condition and version of hardware., , Another thing to consider: Unlike the Nintendo Switch? The PS Vita only allows for one PSN account. So far, I have not found a way to use multiple accounts on the same PS Vita, whereas I can store multiple accounts on my Nintendo Switch. That's a bummer, as I now have THREE DIFFERENT PS VITAS for different purposes; one is a Wifi-3G "Phat" 1100 (which I use for Japanese region gaming), one is a PS-2000 (Piano Black - That's my Henkaku PS Vita... Amazing with an SD2Vita card and 400GB MicroSD Card), and now this Electric Blue PS Vita, which can't (currently) be "rooted", so it shall be used for Asian Region games (again, because they also have games in English, that I can't normally find in US Market)., , The game quality is somewhat like playing on a PS3. Now, in this day, where the PS4 is reaching the latter end of it's lifecycle, you might think that is antiquated. Well, remember that this is a portable reaching it's last months of lifecycle, and that the game quality for many titles, are excellent. The portability of the PS Vita is much more convenient than the Nintendo Switch, and the some games, in my opinion, ported better to the PS Vita, than the Nintendo Switch, particularly with the JRPGs (which shine on the Vita). The fighting games work well (I'm still playing Street Fighter x Tekken regularly, among others), and unlike 3DS games, the hours of play per title seem closest to console games., , A feature that some might not know is that you can even link your PS Vita to the PS4, and game that way too! (Remote Play) allows you to play your PS4 on the PS Vita without wires, on most PS4 games (look for the 'remote play' feature on the game boxes and PSN listings)., , So, is the PS Vita worth the purchase, at the last months of it's life cycle? Considering that you can remote play, and that there are many great titles available, I'd have to say YES, THIS IS STILL WORTH BUYING TODAY. Of course, remember that the memory cards are overpriced, and that you should check listings for decent bargains before purchasing. This is one of the rare instances, where the portable gaming system is starting to cost more, as the brand is nearing it's end of it's lifecycle, but when you consider the quality of the games, and are prepared to use the PS Vita for the style and method of gameplay, it's a hard bargain to walk away from; for classic and dedicated portable gamers alike., , Oh, and one more thing... The original 1000-series PS Vitas have brighter and bolder screens, but the tend to get some odd odd splotches and spots with time, when the screen is off. It's not noticable while it's on, but it's worth noting. The 2000s use a cheaper, LED screen, but the screen quality is still pretty good, and doesn't splotch. They are ever so slightly dimmer, but again, you won't notice this while playing (unless you're used to playing on the PS Vita 1000-series handhelds).

Verified purchase: Yes

SONY PS PLAYER 4 LIFE

Great invention that honestly is still better than any other hand held on the market. It is still a good buy in 2018, & in Japan it is. PlayStation has said 2 years ago that it would stop making games for it, but they still are releasing new games today. If you have a SONY PS account you get free games every month, & if you had a PS account for years hopefully you were saving those games to the cloud & now can download them to a memory card & play them anytime. One of my favorite things about the Sony PlayStation Vita is the Remote Play feature. If you're playing a game on the PlayStation 3 or the PlayStation 4 and have to go outside or use the bathroom you don't have to stop playing your game. All you have to do is pause the game, turn on the PlayStation Vita, go to either connect to PS3 or PS4, & connect to it by remote play. Now you can continue playing your game on the PS VITA wherever you left off playing at on your PS3 or PS4 console. That's how powerful and fast this little gadget is. If Sony knew how to market this handheld correctly, it would still be one of the top electronic gadgets out there on the market, but they sure don't know how to, & they never did (they did the same thing to the PSP). I guarantee you that if you get one, you will fall in love with it!!

Verified purchase: Yes

Best handheld on market

I am biased.. i love the PSVita and have been in love with it from day one. I actually own several units because i always want one available where ever i am. (I dont sit still very well if I am waiting somewhere like a doctors office. :-) ), , The PSVita is for me the perfect shape for my hands. I am an adult female with average size female hands (medium) but have carpal in both hands. The square units such as the Nintendo DS cause my hands to fall asleep (yes I still own one for all the mario games. :-) ) But I spend far more time with the PSVita. There is a huge assortment of games. yes the Nintendo handhelds have a larger spread of games, but who can really play them all? There comes a point of 'how many games available' is not really an issue. When a unit has enough selection, you are good to go., , I am very disappointed by Sony's decision to axe the Vita. The Vita will still be relevant for some time so no worries in buying one and having some fun. One of the biggest issues is that on all of Sony's products use propriertaty memory. And Sony upcharges the cost to crazy amounts. And the PSVita has its on lititle memory line. No swapping with your Sony camera memory. So if you are considering purchasing a PSVita, go ahead and bite the bullet and purchase a 64GB memory card and you will be set. Amazon runs about $104 currently. I purchase the 64GB when i purchase any of my Vita's and have yet to run out of download room. You can purchase smaller gigabite sizes but just be prepared to constantly have to swap out memory cards when you go play a game that happens to be on the memory card not in your Vita. To me that is a hassle so i just suck it up and get the 64gb card. Consider how much games can cost and then it doesnt seem that much of a price., , Also i highly recommend getting the Playstation Plus annual subscription especially if you own another Playstation console like PS3 or PS4. You will have access to free games every month on all of your units and can play them as long as you keep your membership going. Its a win win. It runs about $50 a year; well worth it., , If you are on the line, I think you will be pleasantly surprised with the PSVita. One feature i like are the video channel apps you can download free and watch game play. Great help if you are stuck in a game., , As you can see.. I absolutely love the PSVita., , And last, dont worry about purchasing one from Japan. You can change the language easily to English. I have purchased two units from Ebay seller nyankichi2009. Highly recommend! Fast shipping and just overall wonderful Ebay seller.

Verified purchase: Yes

Buy it refurbished for a great value

Yeah, so this is the older style of vita, no longer sold in stores. It has an OLED screen, which is supposed to be better than the second generation's LCD screen. Having never seen a vita 2 in person, I can only tell you that the screen picture on this one looks great. Also, it is supposed to feel more solid and substantial to hold in your hands than the vita 2. I have heard that the WIFI reception is better in this model than in the vita 2, not sure if that's true. Now onto some disadvantages: The OLED screen will supposedly burn out after a while, needing to be replaced. The USB IN port, where you plug in the charger or connect it to a PS3, PS4 or PC is a weird proprietary SONY port that will not take any kind of standard USB cable. Finally, battery life on the first generation is about an hour less than the vita 2. Oh, and accessories may be harder to get and/or more expensive than the vita 2's. These systems are not the same thickness, and some of the buttons and the speakers are a different shape. That being said, I have almost all of the top rated games and this system is fun. I also love being able to go on the PS store from the vita and browse games, themes, APPS, etc. If you get one, Know that this first generation requires a memory card to save any game data. No big deal, right? Well, the memory cards are proprietary as well- has to be a SONY vita memory card, and they aren't cheap. I was lucky and found one on closeout, brand new in a big box store. Suggest you try that or maybe a pawn shop or thrift store. To sum up, I recommend this system- contact me to find out what seller I bought from.

Verified purchase: Yes

PS Vita

I am a disabled Veteran, and spend a lot of time in the VA hospital seeing doctors and such., I decided to get a portable system so waiting would not seem so long. I looked at all of the options out there., A lot of people say the Vita has stagnated and will never go far, but the majority of, the owners wrote that they loved their systems., I have played on the PSP before, and I have seen all of the problems with UMD drives and overheating., I went with the Vita because it has games cartridges similar to an SD memory card, less moving parts equals less friction/heat and longer life span., Once it had a full first charge, I started it up and found it extremely easy to configure., It recognized my wifi WPA and connected without problems., After a system update, I installed a game into the slot and have played it every day since., I have 12 games, and all play flawlessly with great graphics., The latency is unnoticeable if it is even there, and streaming with my PS3 is just as fast wirelessly as with a usb cable. Playing a graphic intensive game will give about 3 1/2 hours of battery life non stop, and will continue playing while charging., There are surprisingly quite a few PS3 games they will give you a free Vita download with through the PSN Store., Get one yourself if you want a new portable system, you wont regret it.

Verified purchase: Yes
Tell us what you think

- opens in new window or tab