Showing slide {CURRENT_SLIDE} of {TOTAL_SLIDES} - Shop by Price
Showing slide {CURRENT_SLIDE} of {TOTAL_SLIDES} - You May Also Like
About Samsung Galaxy Tab S2
Showing slide {CURRENT_SLIDE} of {TOTAL_SLIDES}
Watch the world come to life.

Take your entertainment to the next level on your tablet's vibrant screen. From games to emails and presentations, everything looks its best thanks to the rich colors and crisp details only a Samsung Super AMOLED display can bring.

The power to do it all.

Seamlessly stream movies and your favorite TV shows. Switch between your favorite apps quickly and easily. The improved octa-core processor gives you the power and speed you need.

Keep it all with you.

Expand your tablet's memory from 32 GB to up to an additional 128 GB and enjoy more of your favorite music, photos, movies and games on the go with a microSD card.

Share across screens.

With Quick Connect, send videos and photos from your Galaxy Tab S2 screen to your Samsung Smart TV to share with everyone in the room. Start a show on your TV and, with the touch of a button, take it with you by moving it to your tablet.
eBay has provided more information about this product above and is not affiliated with or endorsed by Samsung.
Compare Similar Models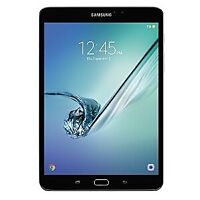 Samsung Galaxy Tab S2
Processor
1.3 GHz octa-core
Operating System
Android 5.0.2/Android 6.0.1
Showing slide {CURRENT_SLIDE} of {TOTAL_SLIDES}
Top 5 High ratings
Top 5 Low ratings
Why did I wait so long?

Had a nook HD+ and downsized the screen just slightly, but the screen and display are totally out of the park with this tablet. It has just as much onboard memory, as my previous had, however has the new extra additional choice of where to store your items either onboard or off on a micro sd card. So Aweseome for this ability!, , Going from the Nook HD + I was also able to keep all of my apps from barnes and noble, and still use them. However, I hadn't purchased anything for some time and didn't know that they had also stopped selling them back in 2016. As what I had, already had been sufficient., , The response time, and the reading experience is so much more enhanced! Now the total best part is although I downsized slightly, I reduced the amount of weight overall by quite a lot, Ease of transportation, is just wonderful., , My other nook was a Nook Tablet, and we had a Nook Color as well. This has topped all of what we were looking for, and has been one of the best purchases of an update I could have done for my older models., , Downside-, , I had made one of the diagram pass codes, and it refused to acknowledge it. Making me reset the item by searching google for instructions. This seems to be across the board of the item not being able to remember passwords, pins, or diagrams. Best option is back your stuff up if you have made a recent purchase, or just flow with the few errors it has., , Now, I am an iPhone user, however for the cost, and the BN Branding is why I bought it for the nook functions, it works beautiful, and didn't cost of as much as one of the ipads., , I'd buy another one if necessary, just for the added need in our home. Great little item, and from what others have told me that have android smilar tablets, sync perfect to them as well.

Verified purchase: Yes

Fantastic, but not quite perfect

For such a snappy tablet with a beautiful screen, It's amazing they cheaped out on the speakers. They sound like tin cans connected with string. It's also a shame they decided to go against the current standard and put the speakers on the bottom, which becomes the side when used in Landscape mode. It ruins the whole experience unless you just use head phones., , Battery life is extremely impressive, and I bought mine used. Bluetooth, wireless and 4G/LTE are amazingly quick. I carry this tablet around in a Logitech keyboard + case with a mini-USB to USB adapter so I can use an external mouse. It completely replaces my laptop, as there isn't much this little guy can't do. VPN, SSH, RDP, there are apps for almost everything. Now if they would only come up with a Windows emulator for Android..., , Google could learn a lesson from Samsung here. I replaced my Nexus 7 with the S2 and I'm not sorry. (Except for the crappy speakers.), , The only other complaint has to do with the carrier locking the boot loader, making it dangerous to root Android. I also had to pay a visit to the Samsung Experience at Best Buy just to get it updated to 6.0.1. I use Google Fi and it refuses to update unless you are a customer of the original Phone Carrier. Pffft. For the $695 original price tag, you should be able to do whatever the h*** you want with it. LOVE ME! WHY WON'T YOU LOVE ME, CUSTOMER!?! IF WE CAN'T HAVE YOU, NOBODY ELSE CAN EITHER!!

Verified purchase: Yes

The Last Great Note

There are endless reviews of the Note series that define in detail the individual attributes, the following broad view of the Note line that I have used and offering that the Note-4 was and remains at this time the preferable version for anyone that relies on the Note series functionality and readability professionally may choose to consider., , The Note series started out not so impressive but the Note-2 was a solid leader that improved with the Note-3 and peaked with the Note-4. I have used them all and each year there were noticeable improvements in extended battery life, management, utility. Some improvements such as upgrading the USB-2 port to a USB-3 in the Note-3 that saw little benefit on the data transfer side, required a little more finesse to get the USB-3 connector inserted. Few users were aware that the issue went away by just using a standard USB-2 cable., , The Note-4 reverted to the basic USB-2 port while adding the ability to run apps for direct interface to some brands of hearing aid's as the iPhone-4 had included. Other improvements in design such as bringing in function contacts from outside the pen sensitive main screen into the main screen greatly improved the use of the pen. Another, separating the stacked SIMM & SD ports for much easier SD swapping, all the while the battery life slightly improves, minor bells and whistles oriented towards attracting those that look for a reason to upgrade every year are numerous, some even prove useful., , Then the Note-5 sputtered the Note series to a stop offering no real enhancements and taking away two of the most important features that make the Note series a hybrid between top end cell phones to tablets & laptops. The ability to swap the battery on extended use away from a charging source and the loss of the SD port thereby limiting the total memory to just the bare bone GB's. Upgrading to 128 GB would have dampened the negative effect for some users, Samsung fumbled the ball. Having dropped the USB-3 capability with the Note-4, this made having to load large files into the main memory by USB-2 a time consuming chore and a considerable loss of control of proprietary data by professional occupations that need to occasionally change databases for projects that require separation, simply by removing or swapping the SD. Some travelers prefer to store hundreds of movies on SD's, educational matter or reference materials. Given those regressive limitations, I chose to forgo the Note-5 that no doubt is other wise is the equal of the Note-4., , The ill fated Note-7 is at this point a non-issue be it the source suppliers battery design or the charging profile of Note-7 in either case the mismatch proved to be a fatal attraction., , Given these issues, the Note-4 stands out as the best of all worlds for user flexibility and performance for this hybrid class between any top notch cell phone and a high end tablet such as the Galaxy S2 series.

Verified purchase: Yes

Wow, it's truly great tablet!

Let me start this review by letting you know why I gave this tablet only 4 of 5 star, if I though it was a great tablet., , Well, I've done plenty of reading on the internet an I really thought I knew exactly what I was getting before the purchase. I was proven wrong. I purchase this tablet to actually upgrade and pair down from two devices (smart phone and a tablet). I figure with the LTE model, I can get the SIM card from my carrier and use this tablet for cell phone as well as fantastic new tablet. Wrong., , Despite all the readings, in USA this LTE models are not allow to make / receive calls. I found that out after I made the purchase an fell in love with it. It's truly the best of the best., , Only in US, because of our very greedy carrier companies. I've found that everywhere else in the world you can use this as phone as regular tablet. It's equipped with all the hardware for it. Exact models around the world eliminate the need of having a cell phone to make regular calls., , Some might argue, why would you even want to make / receive call using this gigantic device??? It'll look ridiculous. Well, there is simple solution to that: it's called BLUETOOTH headset. I already use it everyday., , Anyway, just to make clear of the subject, LTE capability is only use for mobile data. That means you can use internet. That's it!!! It sounds really silly to me. Because I have been using my smart phone's hotspot feature to link with tablet to use internet for years now. Using hotspot feature for free is easy process if you are tech savvy, if not you are going to have to pay extra to our greedy US carrier companies. Talk about greedy! It make me angry that they make public pay for a feature that 's already built in the smart phone by disabling it., , Sorry, I got side tracked., , Anyway, this tablet is better than I expected on every aspect in design s well as functionality. If you're looking to purchase a really nice tablet, this is the one. Much better than Apple's comparable model. Trust me, I've been using Mac for 20 years now over PC, but after Steve gone, products are real downers., , Good luck and may the force be with you., , Eddie from Tucson

Verified purchase: Yes

Good ... but still room for improvement

This is a very nice tablet. Thin and easy to hold as it is also very light in weight. It is very quick, too. While setting it up, downloading all my e-books was done in a surprisingly short time. It's so nice to have a tablet that responds immediately when you tap something and not have to wait and wait for it to process everything. The display is bright and sharp. I use it mostly to play games and read, but I have watched a couple of tv shows, and they looked great too. Since I use this tablet to read and reply to email, I really appreciate the little improvements to the keyboard, such as the addition of the delete key, and the forward and back cursor keys. Makes it work more like the computer keyboard, and saves time with some of the keys having a second function with the shift key. I also like the swype option. Samsung as usual offers lots of apps with the product, but I was pleasantly surprised to find that the free apps included Microsoft Office. Makes it much easier to go back and forth between the tablet and computer, or between people, when working on a document, spreadsheet or whatever. I do wish they would have found a way to have the speakers on the front rather than on the edge. I also wish that it had some sort of charging indicator light, so you could tell when it's charging and/or when it's done without having to turn it on to see. Overall I am quite happy with my new tablet and would definitely recommend it.

Verified purchase: Yes
Tell us what you think

- opens in new window or tab