Showing slide {CURRENT_SLIDE} of {TOTAL_SLIDES} - Shop by Network
About Samsung Galaxy Tab E
Showing slide {CURRENT_SLIDE} of {TOTAL_SLIDES}
Everyone will love it.

Perfectly portable, the compact Galaxy Tab E Lite moves effortlessly from room to room. Whether it's for browsing, gaming or reading, the bright 7" screen keeps everyone entertained.

Power your day.

The long-lasting battery keeps you powered up to watch, read and game at home or on the go for up to 9 hours of Internet usage.

Learning they'll love

Engaging educational content to kids of every age with Parental control features let you set limits on tablet time, choose apps and monitor progress. You can rest easy while they learn and create with characters they love.

Keep it all with you.

Enjoy more of your favorite music, photos, movies and games with a microSD card that expands your tablet's memory from 8GB to up to an additional 32GB. Everything's in one place and in your hands.
eBay has provided more information about this product above and is not affiliated with or endorsed by Samsung.
Price Trends
Samsung Galaxy Tab E - Price New and Used
New Price*
from $93 to $119
Used Price*
from $63 to $83
*The average sold price is calculated based on "Buy It Now" items sold within the 90 day period described above (excluding shipping and handling). Each interval represents a 15 day period. There is no guarantee that items will always be listed at a price within the provided range.
Compare Similar Models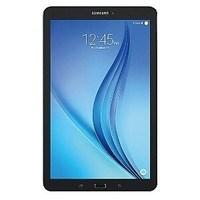 Samsung Galaxy Tab E
Processor
1.3 GHz quad-core
Operating System
Android 4.4
Showing slide {CURRENT_SLIDE} of {TOTAL_SLIDES}
Top 5 High ratings
Top 3 Low ratings
Great Budget Tablet

This is a great beginner tablet for Kids or someone with light read/ just wants to watch Netflix. It's to big for a pocket but small and light enough to carry around. The screen looks crisp and colors bright. The battery life seems to be on par with more expensive models. Android gaming works, all apps seem to load fine and the Micro SD storage holds a 256 card with no problems. The only issue is the last official android version for this is 4.4 which isn't a hug deal but doesn't have a lot of the newer releases features. Again for a budget and cheaper option this is great or to use as a kids tablet since it has Google Play store unlike a Kindle ...

Verified purchase: Yes

Another Great Samsung Tablet

I loved everything about it. I don't have money for data so I went into the system and turned off all the ATT features and just use it as a tablet. I still miss my Galaxy tab 4 but I had to have more memory and I feel that this was a great replacement., , Cons:, -you can't change how the clock looks on the lock screen., -you can't remove the "no sim card" icon if you don't use a sim card., -the camera's standard view is blurry until you tap the screen or take the picture, then it will auto focus. The problem with that is that now I can't do check deposits to my bank from my tablet. Suncoast credit union's app cannot access the AF feature of the camera and since the standard view is blurry the bank won't accept any of your photos. I had the same problem with my Galaxy Tab 2 years ago. After much conversation I was told that they plan on fixing the problem as it is a common one that many have complained about.

Verified purchase: Yes

Best bang for my buck

I searched for a replacement to my Lenovo tablet that barely lasted a year. I combed through reviews and my main focus was screen size and value vs features. I use this at home to surf the internet while relaxing without my glasses. I settled on the Samsung Galaxy Tab E largely because I love my galaxy phone and I felt the price was comparable to the machine. I have only had this one about a month but I absolutely love everything about it. It is easy to use, easy to see, and easy on my wallet. Although I do not use this daily, I have only charged it once since I originally charged it. It seems to charge fast and holds a charge for my sporadic use. I do keep it off when I am not using it. I would recommend purchasing a case for it as it makes it easier to hold when you have arthritic fingers, but extra bonus is you will help protect your device.

Verified purchase: Yes

Great Tablet

Received the tablet in excellent packaging and it shipped really quick ! So I charged the tablet up witch did not take too long and powered it up . I was really impressed on how fast it started up ,ofcourse it did not have all my apps installed , and then set it up . After loading all my apps up I began to play , very nice screen quality as I went thru my apps . I have 32g on the tablet and then added another 32g for more storage space . The only thing I did not like is you can not program the tablet to load up downloaded apps on the memory you added , it will put videos , pictures and music on it by default which will ask you if thats where you want to store it . After putting the tablet to sleep , opening it back up is quick and your back at it . There are a couple of other things you have to get use to as all tablets are different , but after you use it awhile you totally forget about the small quirks it has . Im not a Samsung lover generally , but Im pretty impressed with this one !

Verified purchase: Yes

Good tablet for price

I use this tablet for movies and navigation. I use copilot app as it has standalone GPS function (as long as the tablet has a GPS built in), so it does not require service. It takes getting use to it for coming from a fast tablet to this. It's not the top end, but far from the worst in its price range. In fact I have not found any that can top it in this price range. When I'm browsing the navigation map confirming my routing, it delays a sec or two, but once your use to it, you really forget about it and it's not bothersome. I do have a high end Samsung note 2014 edition and this one does not compare to that one, but it's not far behind. I do recommend if you need something that is solid and great response speed, not excellent response speed, but great. It plays my movies HD movies well, which I use mxplayer with the all in one codec pack. The only thing to get use to that is more annoying is the fact it's on marshmallow, so if your not use to that, that will be the most stubborn thing.

Verified purchase: Yes
Tell us what you think

- opens in new window or tab