About Sega Saturn
Showing slide {CURRENT_SLIDE} of {TOTAL_SLIDES}
Sega's first 32-bit video game console.

Play games on the Sega Saturn and experience 32-bit graphics. Watch gameplay come to life with the combination of the VDP1 and VDP2 video display processors.

One of the best 2D processors for its the time.

Experience one of the best 2D processors available for its time. Add an optional 1 or 4 MB RAM Expansion cartridges for better graphical capabilities.

Powered by two Hitachi SH-2 CPUs running at 28.6 MHz

Lag time is minimized and play time is maximized due to Saturn's two Hitachi SH-2 CPUs running at a clock speed of 28.6 MHz.

Multi-Tap for multiple players.

Connect the Multi-Tap add-on to play games with up to six players. Add two Multi-Taps to play with up to 12 players from a single console.
eBay has provided more information about this product above and is not affiliated with or endorsed by SEGA.
Price Trends
Sega Saturn - Price Used
Used Price*
from $74 to $102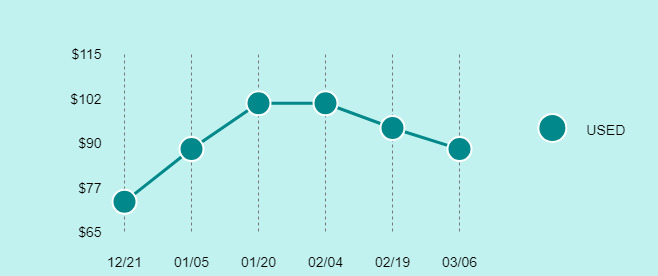 *The average sold price is calculated based on "Buy It Now" items sold within the 90 day period described above (excluding shipping and handling). Each interval represents a 15 day period. There is no guarantee that items will always be listed at a price within the provided range.
Compare Similar Models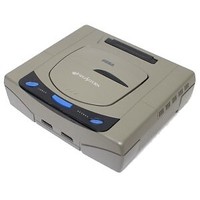 Sega Saturn
Screen Resolution
720 x 576
Game Media
CD-ROM/Cartridge
Showing slide {CURRENT_SLIDE} of {TOTAL_SLIDES}
Top 5 High ratings
Top 1 Low rating
Any Sega Saturn and Clockwork Knight 1 and 2

I have had a few USA Sega Saturn a few times Models 1 and 2.I still kepy my Model 1 Saturn since then. Always had a Action Replay with the PC Commport plugin at the top and 4MB ram cart to play import games., Figured to own an import version as well and always dreamed of owning a White Saturn when I was a kid in the mid 90's. looked through he game magazines back then in the grocery stores and the last few pages always showed the imports of games and prices., Always a great system for plenty of Hidden gems of Games, you will be surprised., Capcom brand related games are always arcade portedand nice, fighting games, shooters etc., Very nice assortments of fun puzzle games as well., Oh yeah CLockwork knight is a fun adventure game worth playing., Defintely worth it to own play and collect for any collector.

Verified purchase: Yes

A system with plenty of fun games!!!

I bought the white Japanese version of the Sega Saturn because it looks cooler & I get to play all the Japanese games without having to use an Action Replay to play imported games. The Sega Saturn was highly underrated here in the U.S., but it was very successful in Japan. Plus Segata Sanshiro would have beat me up if I didn't buy a Sega Saturn. So I bought one. There are great games for this system such as Virtual On, Virtua Fighter, Fighting Vipers, House Of The Dead, Fighters Megamix, Virtua Cop & many many arcade titles such as Darkstalkers & Dead Or Alive. Many of the 2D games looked better on a Sega Saturn than the PS1. So give this console a chance, you'll be glad you did.

Verified purchase: Yes

Sega Saturn - The purchase was worth it!

The Sega Saturn is one of my favorite game consoles (and my favorite Sega system). So many under-appreciated classics on this console, both from the arcade (Virtua Fighter 2, Daytona USA, Virtual-On, Virtua Cop) and exclusive to the system itself (NiGHTS into Dreams, Burning Rangers, the Panzer Dragoon series). Japan-only titles make the console even better, since they have a number of solid exclusives and arcade-perfect ports (plenty of Capcom and SNK fighters to choose from)., , It is getting more expensive to collect for in the US, so I recommend picking one up when you get the chance. Also get an Action Replay Plus cartridge, that's your only way to play imports on a US console.

Verified purchase: Yes

Forgotten Classic

.. Or not as forgotten anymore due to the resurgence of 90s gaming nostalgia and big boost to the community thanks to some recent Saturn development, still a vastly underrated system., , Popular in Japan, its Western presence was stymied by Sega of America due to profitability of the Genesis and pushing the 32X., , Other than SNES Super FX games, earliest of the mainstream console manufacturers to foray into full 3D. On board saveram to soften the move to CD media. VCD support via add-on. Analog control released before the N64 hit the market (after it was shown). RGB support out of the box. Quality hardware, quality software., , Hard to collect for due to availability, but no copy protection means most games can be played, with more and more Japanese titles getting translations by the community.

Verified purchase: Yes

Sega saturn gets shrek's two big fat green sausage thumbs up!!

The saturn was like a sheep without a shepherd., , The GOOD: The saturn's controller has been considered one of the best for 2d gaming. The saturn's hardware was capable of arcade perfect ports, and has one of the best libraries for 2d shmups, rpg's, and arcade fighters. The 3d, while not as good in most cases, are a lot of fun, Virtua fighter 2 which ran at the highest resolution of any game at the time, Panzer Dragoon Saga which makes Final Fantasy 7 on ps1 run for its money., , The BAD: Sega of japan and sega of america were awful at communication. So here in the west, we got no japanese games. The library has high collectibility value due to this. Most 3d games look pretty bland and ugly. To nail the coffin, it cost $400, $622.93 in 2015. Most saturns are so expensive, sometimes it isn't worth it to buy this amazing console., , The UGLY: You will need to empty your bank account to truly experience the Console., , VERDICT: This console gets 4 stars because most saturns today, are still expensive and games are even more expensive. If you can buy a broken console for cheap and fix it by searching online, the actual hardware is very worth it. That is what I did. But games are why consoles exist, and all the great titles that make the console unique like saturn bomberman, panzer dragoon saga, and radiant silvergun are EXTREMELY VERY HIGHLY FREAKIN EXPENSIVE!, ----------------------------------------------------------------------------------------------------------------------------------------, My personal favorite console of all time!

Verified purchase: Yes
Tell us what you think

- opens in new window or tab