Introduction to the Rolex Yacht-Master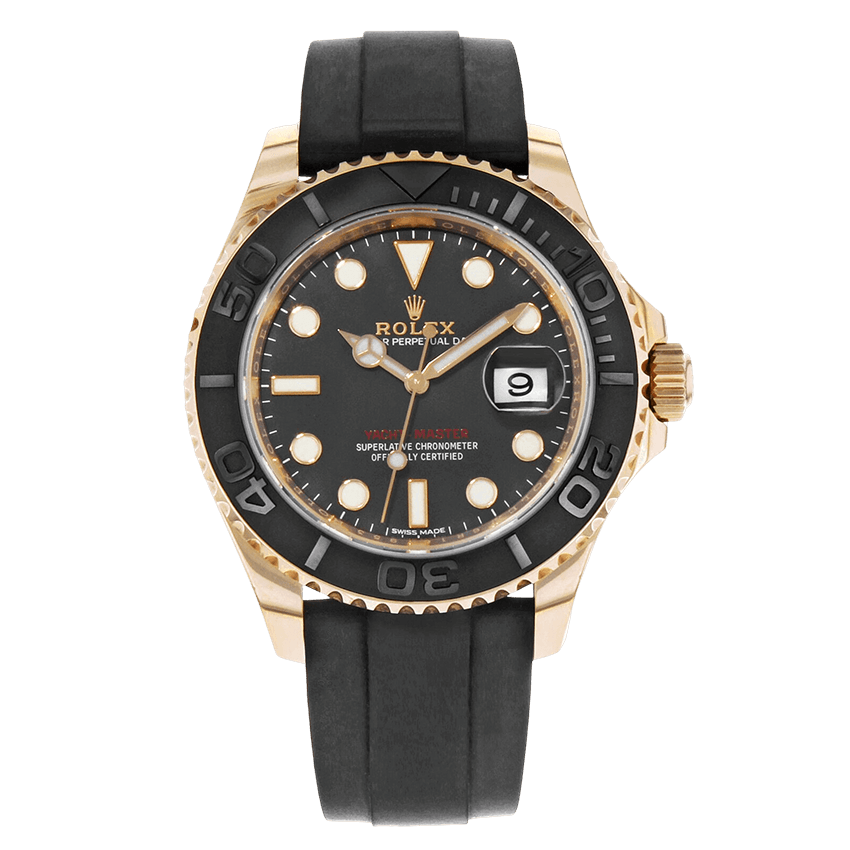 The Yacht-Master debuted in 1992 with a name that had been trialed and prototyped in the late 1960s. It was the first new model introduced by Rolex since the Daytona in 1964 and the nautical-inspired watch has since assumed a position among the world's most luxurious timepieces.
The Yacht-Master frequently adorns the wrists of high-profile celebrities including Brad Pitt, Bruce Willis, Mark Wahlberg, David Beckham, Russell Crowe, Ellen DeGeneres, Sylvester Stallone, Charlie Sheen and golfer Lorena Ochoa.
A Brief History of the Rolex Yacht-Master


Considerable attention was paid to the original Rolex Yacht-Master (ref. 16628) at launch as Rolex enthusiasts debated its similarities to the Submariner. The 40mm Rolex Yacht-Master gold case was outfitted with a gold Oyster bracelet and the line's signature bezel – a brushed, bi-directional rotating ring carrying high-polish numbers and markings. It was water resistant to 100 meters despite the use of the same Triplock crown found on the Submariner.

While the Sub was ideal for underwater exploration at depths of 300 meters, the Yacht-Master was perfectly comfortable enjoying the view from the deck of a luxury yacht. Rolex's automatic calibre 3135 movement powered the Mercedes hands and date. Gold 35mm and 29mm versions, including a blue-dial variant, were introduced in 1994.

In 1999, the 40mm Rolesium model (ref. 16622) combined a steel case with a platinum sandblast bezel, catapulting the Yacht-Master to the top of many Rolex enthusiasts' list of must-have watches. Its monochromatic palate served as a perfect canvas for the varied textures, polishes and lines carried through the bezel, case and Oyster bracelet. It was considered a more versatile design that contrasted well with the flashier yellow gold and two-tone Rolesor versions.

Rolex released several subsequent variations of the Yacht-Master featuring new dial colors and materials. Standouts include:

The 2005 40mm Rolesor (ref. 16623) which complemented the existing 29mm and 35mm versions
A blue dial Rolesium (ref.116622)
Omega Speedmaster Moonwatch

Rolex also reconfigured the Yacht-Master's case sizes, which today include 42mm, 40mm and 37mm options. The current lineup of Yacht-Master sailing watches features a beautiful 42mm white gold version with a black dial and ref. 116655) ( ref.226659) and the dark rhodium dial with subtle blue highlights on the Rolesium (ref.126622). Also included is the 44mm Yacht-Master II, which debuted in 2007 as a professional sailor's tool watch. The YM II features an innovative programmable countdown timer controlled by the Ring Command bezel. While it shares the collection's name, its design and integrated technology differentiate the YM II Chronograph from all other Yacht-Masters.
Rolex Yacht-Master Features



The Oyster Perpetual Yacht-Master exemplifies Rolex luxury. It is the only Professional model available in three sizes. Each model is uniquely crafted through an alchemy of precious metals, Oystersteel and ceramic.

Rolex's signature Cyclops lens

The water-resistant Oyster case is sealed by a Triplock crown and topped by a sapphire crystal with Rolex's signature Cyclops lens over the date window positioned at 3 o'clock.

Oysterlock folding clasp and Easylink extension.

Most versions are equipped for comfort with an Oyster bracelet that secures and expands using the Oysterlock folding clasp and Easylink extension.

Large Luminous Geometric Markers on a Chromalite face

Rolex Yacht-Master dials feature large luminous geometric markers on a Chromalite face for outstanding legibility in all light conditions.

Diamond Paved Dials.

A wide range of display colors, materials and gemstone decorations are available from classic white and blue versions to mother of pearl and diamond paved dials.

Rolex uses in-house automatic movements in all Yacht-Masters. 40mm and 42mm models are powered by the calibre 3235 while the 2236 beats inside the 37mm Yacht-Master. Earlier versions were loaded with calibre 3135 and 2135 movements.
Yacht-Master Value and Collectability

When the Yacht-Master debuted, Rolex enthusiasts endured lengthy wait lists and paid premium prices to acquire the watch. Since its introduction, retail prices for new Rolex Yacht-Masters have more than doubled. The market for pre-owned Yacht-Masters has followed suit as these watches continue to hold their value.

While some collectors prefer the more moderately priced non-precious Subs, the Yacht-Master is an investment-grade timepiece with lasting appeal and a fervent base of enthusiastic collectors. Used Rolex Yacht-Masters to consider include the series hallmark steel/platinum Rolesium, the cobalt blue sunray dial edition (ref.116622), both early- and later-edition two-tone Rolesor versions and the Rolex Yacht Master rose gold variants. The original ref. 16628 Rolex Yacht-Master gold case is rare and highly desirable.

Expect pre-owned Yacht-Masters to show signs of wear on the bezel, case and bracelet; some may carry a desirable patina as well. Yacht-Master prices will vary based on model and materials, but always look for pre-owned watches that include original boxes, papers and bracelets.
Watchmaker's Perspective

Throughout its history, a large number of Rolex Yacht-Master watches used the reliable Caliber 3135 movement. Watchmakers agree that the Caliber 3135 is one of the most successful movements Rolex has ever produced. That success was not just luck—Rolex made many innovations with this movement that led to its widespread popularity.
One of those innovations was the use of screw-nuts on the balance bridge for adjusting endshake of the balance wheel. Endshake is a watchmaking-specific term that relates to the vertical freedom that a wheel has between its jewel bearings. Too little endshake and the wheel will be held too tightly, increasing friction. Too much endshake and the wheel may lose engagement or malfunction in other ways.
Adjusting the endshake of a balance wheel is especially difficult, as the balance wheel is a much more complex component than a simple wheel (gear). This usually involves completely removing the balance wheel from its bridge and using a micrometric tool to make the adjustment—time consuming, to say the least. Getting the perfect amount of endshake will result in better iscochronal performance of the watch, and the screw-nuts in Caliber 3135 make it straightforward to make that adjustment. These screw-nuts on the Caliber 3135 used inside the Rolex Yacht-Master are a welcome improvement for all watchmakers.