Introducing the Nike Dunk: A Slam-Dunk Success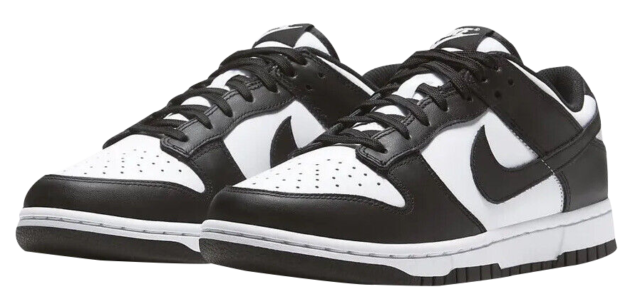 The slam dunk, a term coined by former LA Lakers announcer Chick Hearn, is a crowd-pleasing move now showcased in contests like the NBA Slam Dunk Contest held during the annual NBA All-Star Weekend. Nike saw it only fitting to create its own version of a slam dunk sneaker.
In 1985, to cash in on the growing popularity of the Air Force 1 from three years earlier, Nike released the Nike Dunk with a focus on performance. But it was "lifestyle appeal" that gave the Dunk its staying power. Its strong translation to skateboarding culture spawned a Nike SB Dunk iteration that has become synonymous with the original, even decades later.
Nike already had the immensely popular Air Force 1 and Air Jordan 1 in its arsenal. They positioned the Dunk as a way to tie to basketball teams-focused initially on the NCAA-needing a color-specific model for an entire roster. In August 1985, Nike launched a program that included like-minded colorways for footwear, apparel and bags.
The Nike Dunk Has a Color for Everyone

The initial 1985 release of the Nike Dunk featured a "Be True to Your School" marketing tagline and launched in colorways representing the brand's key schools, including Arizona, Georgetown, Kentucky, Iowa, Georgia, Syracuse, Michigan, St. John's and UNLV.

The Nike Dunk remained a color-focused performance basketball model for the next decade, but by the time the shoe saw its first retro in 1998 (in the original colorways), lifestyle designs had taken over. The style went low-top, giving rise to a more casual culture. You could get these kicks in nearly any color you wanted-from classic white or black to a bold red, blue or green.

With the streetwear and skate cultures embracing the Nike Dunk, collaborations took shape in the most popular colorway releases. Notable collaborations include:

Only 36 pairs of the University of Iowa Goldenrod colorways were created, adorned with "Wu W" to signify hip-hop group Wu-Tang Clan's ties to the color. With the widespread following of the Dunk in Japan, Nike released Japan-specific colorways that are now tough to find.
A low-top collab between Nike Dunk and Virgil Abloh's Off-White brand was a big success.
The iconic all-white Nike Dunk served as a blank canvas for 25 Japanese artists to reinterpret the shoe using their creative vision.
London fashion label Cassette Playa teamed up with Nike for several collabs, including one featuring the Nike Dunk.
Supreme, a skateboarding and apparel brand, partnered with Nike to create a Premium SB Dunk low-top in an iconic elephant print.
Dover Street Market collaborated with Nike on two monochromatic black-and-white colorways for the Nike Dunk Lux High.
Nike Dunk Design: A Mashup of Popular Models
Color was a predominant factor in getting the Nike Dunk recognition-lots of bold color. Designed as a team-centric model intended to sell to entire locker rooms (and Nike hoped, the fans that followed these teams), shoe designer Peter Moore sketched the first concept of the Dunk, initially dubbed the College Color High.
This design incorporated the best features from a variety of models to create a high-top court shoe. The durable rubber outsole was inspired by the Air Jordan 1-the leather upper was a cross between the AJ 1 and the Nike Terminator. The Nike Dunk borrowed from these other successful silhouettes but had its own distinct personality.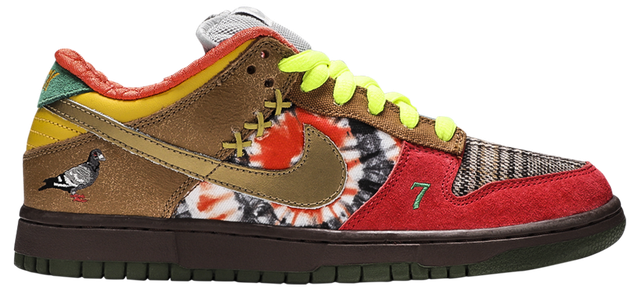 Nike Dunk Collectability and Value

The Nike Dunk and Nike SB Dunk offer different avenues for collectors. Some of the more sought-after-and expensive-models include:

Off-White x Nike Dunk Low (2019)

That can reap $500 to $1,000 on the resale market

Sole Collector x Nike Dunk Low Cowboy (2005)

Multicolor version that can easily reach $2,000

Nike Dunk High Unlucky (2004)

In a limited 1,300-pair release that can draw up to $1,000

Dover Street Market (2015), Doernbecher (2013) and Undefeated (2016)

Can all be found for under $300

School-specific colorways

Have limited availability that can drive certain colorways, like the orange-heavy Syracuse version from 2016, to go for more than $300 on the resale market

If you're willing to pay top dollar for a Dunk, seek out one of these:


Freddy Krueger (2007) - with only 30 pairs believed to have been made, this rare model resales for a scary $6,000 or more
Yellow Lobster SB Dunk Low (2009) - at a resale as high as $15,000, this will pinch your wallet
Paris Nike Dunk SB Low - Ohh la la! On the grail list of serious sneakerheads, this rarity can garner over $25,000

City Series London (2004)

With just 202 pairs made for Foot Locker London, you'll pay a royal price of $7,000

Supreme Black Cement 2002

This truly original design goes for a mammoth $8,000
Cultural Impact of the Nike Dunk

By the mid-1980s, Nike was seeing the crossover between the basketball court and the street. The Nike Dunk was well-positioned to fill those shoes, assisted by a marketing campaign hyping the Dunk as a collectable shoe needed by players and fans alike. The focus on color gave the Nike Dunk a spotlight, but the introduction of bold color blocking opened up a new canvas of colorways and collaborations.

Skateboarding culture's influence can't be ignored-the Nike SB line launched in 2002, with the modified Nike SB Dunk as its flagship model. And the Dunk's introduction of bold color into 1980s basketball and its cultural mix of sports and lifestyle have proven the Nike Dunk to be a lasting legacy in sneaker culture.
Nike Dunk Release Dates, News and Articles
Looking for the latest Nike Dunk releases, news and guides? Look no further than the eBay Sneakers Hub! Whether you're a long-time collector or new to the scene, you'll find everything you need to know to take your sneaker game to the next level.