Experience Supreme Comfort with Nike Air Max 90 Sneakers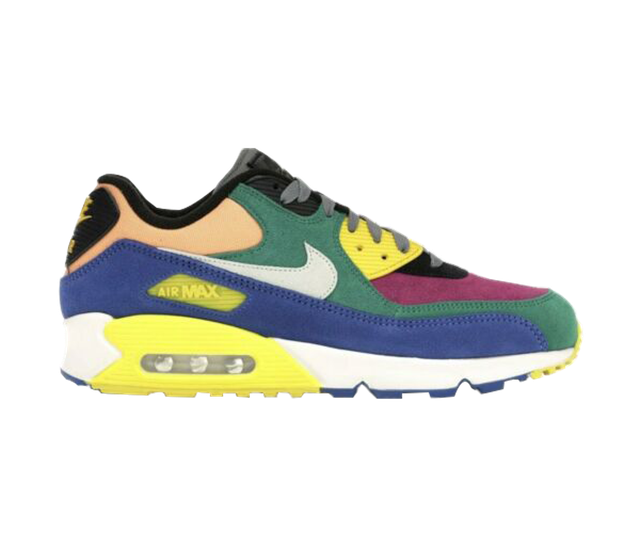 In the early 1990s, Nike decided it wanted to create a running shoe that was lightweight and comfortable. They also wanted something that would be on the cutting edge of style. In 1990, the Air Max 90 was released. Today, enthusiasts of these retro running sneakers can find them in a wide variety of colorways, but all of the shoes retain the original style and functionality.
What colors and styles are Nike Air Max 90 sneakers for men available in?

There have been many different color combinations of Nike Air Max 90 men's sneakers over the years, so sneaker enthusiasts can find these shoes in a range of styles. Most Air Max 90s feature a base color of white, black, or gray with other, brighter colors adding highlights along the top, sole, and heel. Blue, yellow, teal, and pink are all available. Those with an eye for design can also use Nike's tool to create their own personal color combination.

These fashion sneakers were also released as 4th of July sneakers in limited edition red, white, and blue colors with American flags across the tongue.
Are Nike Air Max 90 sneakers for men comfortable
The Air unit of these men's sneakers not only helps with running and other athletic activities but also adds to comfort. The large cushion helps to reduce impact, making the shoes comfortable for long wear. Inside, additional padding also helps with cushioning, and a breathable mesh upper increases airflow.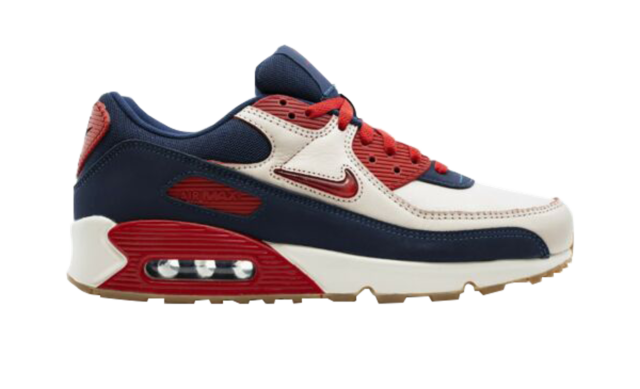 Are Nike Air Max 90 sneakers for men only for running?

Nike Air Max 90 sneakers for men were originally designed as running shoes. All of the shoes feature Nike's Air unit in the heel. This unit is almost like a very sturdy pillow, and it offers support and comfort. It also gives runners a little bit more spring. In addition, these sneakers have thick soles and waffle treads, which help to grip different running surfaces.

These vintage style sneakers aren't only for running. They're suitable for any athletic activity, from running trails to playing basketball. All of the things that make them good athletic shoes also make them fantastic for everyday wear. In addition, they're classy and fashionable enough to wear in a variety of settings.
Do Nike Air Max 90 sneakers for men run true to size?
Nike shoes tend to run true to size, and the Air Max 90 is no exception. Most people can purchase their true size and feel confident that they'll get a shoe that fits right out of the box. However, the ankle and toe box areas of the shoes can be a bit tight. People with wider feet or those who prefer a roomier shoe may need to go up a half size. See the manufacturer's site for details.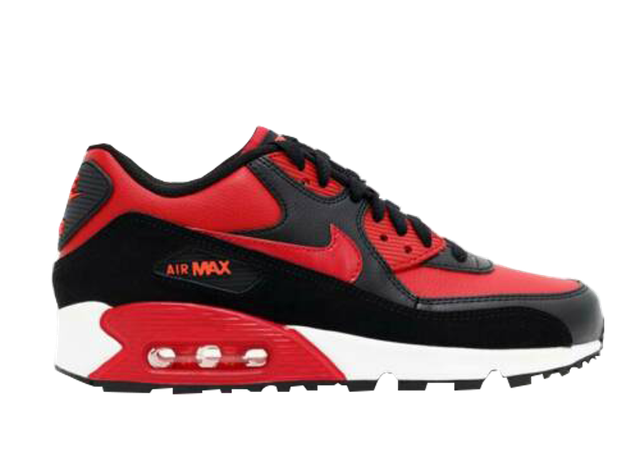 Nike Air Max 90 vs. Nike Air Zoom Alphafly NEXT%:
| | Nike Air Max 90 | Nike Air Zoom Alphafly NEXT% |
| --- | --- | --- |
| Generations | 12 | 1 |
| Closures | Laces | Laces |
| Available Colors | 6 | 2 |
Content provided for informational purposes only. eBay is not affiliated with or endorsed by Nike.
Nike Air Release Dates, News and Articles
If you're a fan of Nike sneakers, you won't want to miss out on the latest Nike Air guides, news and releases that are available on the eBay Sneaker Hub. Read more about classic designs like the Air Max and Air Force 1 to new drops and collaborations.