About Microsoft Surface 3
Showing slide {CURRENT_SLIDE} of {TOTAL_SLIDES}
The best of a tablet.

Every aspect of Surface 3 has a strong, light frame with a 3-position Kickstand to the 10.8 inch high-resolution screen. It is elegant and durable enough to take everywhere.

Thinnest and lightest Surface ever.

The 622g Surface 3 is just the right size to slip under your arm or in your purse and take anywhere.

Work the way you want.

With our signature 3-position Kickstand, Surface 3 lets you binge watch your favorite shows hands-free.

Mighty powerful.

Surface 3 has a Quad Core Intel® Atom™ x7 processor, so it's fast, responsive, and won't slow you down when you're on the go.
eBay has provided more information about this product above and is not affiliated with or endorsed by Microsoft.
Price Trends
Microsoft Surface 3 - Price Used
Used Price*
from $185 to $211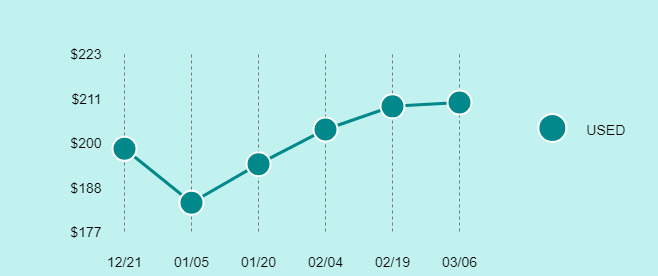 *The average sold price is calculated based on "Buy It Now" items sold within the 90 day period described above (excluding shipping and handling). Each interval represents a 15 day period. There is no guarantee that items will always be listed at a price within the provided range.
Compare Similar Models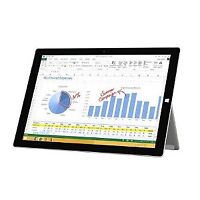 Microsoft Surface 3
Internal Storage
64/128 GB
Processor
1.6 GHz quad-core
Operating System
Windows 10
Showing slide {CURRENT_SLIDE} of {TOTAL_SLIDES}
Microsoft Surface Book 2

Display

13.5-inches/15-inches

Resolution

3000x2000/3240x2160

Internal Storage

256/512 GB

Processor

4.2 GHz quad-core

Operating System

Windows 10 Pro

Microsoft Surface Pro

Processor

2.5 GHz dual-core

Operating System

Windows 10 Pro

Battery Capacity

13.5 hours

Microsoft Surface 2

Processor

1.7 GHz quad-core

Operating System

Windows RT
Top 5 High ratings
Top 1 Low rating
Steep learning curve

Great product. I especially like the ability to connect to any flat screen monitor via HDMI to watch a movie when we're away from home. Can't easily do that with an ipad. Unfortunately, there is a steep learning curve trying to figure out basic tasks. No owner's manual to speak of, had to visit youtube several times. Definitely not as user friendly as an Apple product, but fits my needs perfectly.

Verified purchase: Yes

Such a great laptop!

I've had regular laptops for years and I have to say the Surface Pro 3 is an amazing piece of tech! I'm an artist by trade and this thing is excellent at drawing and painting! It has cool editing software but I installed Photo Shop and I love it!

Verified purchase: Yes

Great device and experience

The Surface 3 is an underrated device. It is complete with flexibility, power, and functionality for the professional on the move. With that said, I am thoroughly happy with my purchase. The screen did not have scratches and came with a 30-day guarantee. A great device and experience overall. What more can I say--I would purchase again!

Verified purchase: Yes

Apple forced my hand...

When I saw the 2016 MacBook "Pro" it made the decision for me. I'm a creative professional who wants tools that offer me options, not limitations. With this computer I can use full apps with touch + pen just like I do at my desk with my Cintiq 27. Win 10 is pretty good as long as you know how to use a computer. I'm curious as to why there aren't more tablet apps (comic books, podcast, books). But I'm really excited about this computer overall.

Verified purchase: Yes

Great Compromise Device

I carry this as a second screen while traveling for work. It does most things well, but nothing fantastically. The LTE connectivity is a must have for me when traveling and the fact that I can run standard Windows programs was a huge driver to move from an Android tablet to a Surface. Again, this won't be sufficient to function as a primary device for most power users, but it is a great tool for email, web surfing, light office productivity and the like., , In terms of the device itself, the screen is of better than average quality, but a far cry from my buddy's Surface Pro. The battery life is great, but the device does take quite a long time to recharge when depleted. The processor is fast enough for most tasks I ask of the system, including light gaming, and the 128GB of storage can be augmented with a flash card, so storage hasn't been a drawback., , Again, I wouldn't recommend this as a primary device for business users, but it is a great compromise as a tablet replacement and a second device.

Verified purchase: Yes
Tell us what you think

- opens in new window or tab