You May Also Like
Slide {current_page} of {total_pages} - You May Also Like
About LeapFrog Epic
Showing slide {CURRENT_SLIDE} of {TOTAL_SLIDES}
Experience LeapFrog Epic!

It's a one-of-a-kind Android-based tablet experience that grows with your child, featuring a customizable and playable homescreen and a safe, out-of-the-box web that expands when they're ready to explore more.

Ever-changing with their interests.

Because no two imaginations are alike, the LeapFrog Epic homescreen lets kids create their own custom tablet. As your child creates their own playable world, they are also building their skills and imagination.

Games that grow as they grow.

These games engage kids, encourage questions, foster curiosity, and support critical thinking. Get access to LeapFrog games and apps, educator-approved apps, no in-app purchases or harmful adds, and parental controls.

Explore more when they're ready.

The kid-safe web browser lets them be independent and become decision makers while guarding their safety. It is web-safe and age-appropriate out of the box, with parental controls for extra security.
eBay has provided more information about this product above and is not affiliated with or endorsed by LeapFrog.
Price Trends
LeapFrog Epic - Price Used
Used Price*
from $45 to $67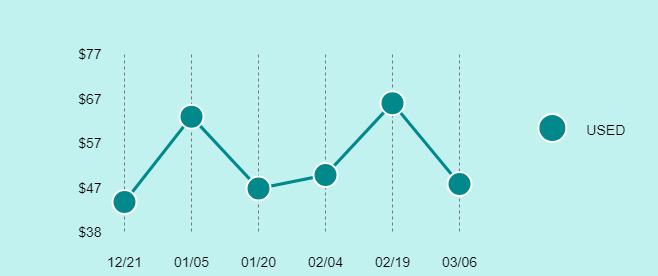 *The average sold price is calculated based on "Buy It Now" items sold within the 90 day period described above (excluding shipping and handling). Each interval represents a 15 day period. There is no guarantee that items will always be listed at a price within the provided range.
Compare Similar Models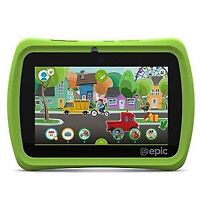 Leapfrog Epic
Processor
1.3 GHz quad-core
Operating System
Android 4.4
Showing slide {CURRENT_SLIDE} of {TOTAL_SLIDES}
Leapfrog Epic Academy Edition

Processor

1.3 GHz quad-core

Operating System

Android 4.4

Leapfrog LeapPad Ultimate
Top 5 High ratings
Top 1 Low rating
Strong and efficient system

Although my daughter destroys the stylus pen in one day, the actual leapfrog system itself can withstand a toddlers touch! Love it and the interactive learning the system encourages!!

Verified purchase: Yes

Great for toddlers

Bought for my 2 year old for Christmas gave it to her early and she is learning very fast on this. And I spend money every month on ABC mouse. Should have bought this first

Verified purchase: Yes

I am happy

With this purchase so far. It was easy to set up and I finished charging it and it is ready to go to give to my son for his birthday.

Verified purchase: Yes

Great purchase, great buy!

This was an excellent purchase. My son loves his new tablet. SO many new features. Just like his big brothers tablet. Love it!

Verified purchase: Yes

My 2 year old loves this!

I thought I'd have to put more than 20 min into setting everything up and all, it took 5 min. All the safe websites I was going to add to the device were already there. Basically you set up your Leap Frog account (I already had one) and put in your child's information then you're done. Love this!! I love that she can play on her favorite websites (like PBSkids. org) all by herself, it gives her a sense of independence and I feel secure in knowing she's safe online. I also like the websites for the games, less you have to buy from the app store. She can watch her favorite shows, set up her own little world and learn all from this one device. You can set time limits as well and that's a BIG perk! I can't rave enough about this! Hands down the best interactive toy I've ever bought for her!

Verified purchase: Yes
Tell us what you think

- opens in new window or tab