Showing slide {CURRENT_SLIDE} of {TOTAL_SLIDES} - Shop by Features
Great prices on popular products
Showing slide {CURRENT_SLIDE} of {TOTAL_SLIDES} - Great prices on popular products
Showing slide {CURRENT_SLIDE} of {TOTAL_SLIDES} - Best Selling
Save on LG V20 Cell Phones & Smartphones
Limited Time Deals
Free Shipping Included
Showing slide {CURRENT_SLIDE} of {TOTAL_SLIDES} - Top Rated
Verizon LG V20 VS995 Grey 64GB Android Smartphone Mint

It's the first phone in the U.S. to support the newest LTE networks (band 66) for faster data. Testedfor key functions, R2 ready for resale. Mint Quality Condition.

Brand: LG

FAST 'N FREE

Color: Gray

Connectivity: USB Type-C

LG V20 - 64GB - Silver (AT&T) Smartphone

<p dir="ltr">LG V20 - 64GB - Silver (AT&T) Smartphone with case. Condition is Used. Excellent working condition.Shipped with USPS First Class Package.</p>

2 bids

Ending Sep 24 at 4:35PM PDT

4d 17h

Brand: LG

Color: Silver

Connectivity: USB Type-C

New Listing

LG V20 - 64GB - Titan (Sprint) Smartphone

<p>LG V20 - 64GB - Titan (Sprint) Smartphone. Condition is New. Shipped with USPS Priority Mail.</p><br><p>Brand new in the box, these have never been used or activated, these are not repackaged phones being sold as new.</p><br><br><p>Compatible with Sprint postpaid, Sprint prepaid, Tello, Flash Wireless, Ting (CDMA), Stream Wireless. Devices are not unlocked, they are Sprint devices.</p>

Brand: LG

Color: Gray

Guaranteed by

Tue, Sep 24

Connectivity: USB Type-C

LG V20 LS997 - 64GB - Titan Black (Sprint) Smartphone 9/10

[View more great items] (https://www.ebay.com/sch/yywirelesss/m.html) Condition: This phone is in like new condition. minor used Phone is fully functional. Clean ESN It works on the Sprint network. Comes with: Phone Battery Battery cover Generic wall charger.

Top Rated Plus

Brand: LG

Guaranteed by

Tue, Sep 24

Color: Black

Connectivity: Bluetooth
About LG V20
Showing slide {CURRENT_SLIDE} of {TOTAL_SLIDES}
Durable frame and construction.

Don't stress if you drop your phone, the frame is made from aluminum with the top and bottom reinforced with silicon polycarbonate. The screen is made from Gorilla Glass 4 to withstand screen damage.

Combo sensor activation.

Use one button located at the back of the phone which combines a fingerprint sensor and power button used to activate the phone.

A large display for easier viewing.

Enjoy clearer photos and videos with 513 pixels per inch creating a 2560x1440 resolution, the 5.7-inch display provides crisper and larger views.

Listen to high-fidelity sounds.

The Hi-Fi mode includes four digital to analog converters making recordings sound richer. The phone records in linear pulse code modulation at 48 kHz using a 24-bit audio format.
eBay has provided more information about this product above and is not affiliated with or endorsed by LG.
Price Trends
LG V20 - Price New and Used
New Price*
from $153 to $228
Used Price*
from $101 to $123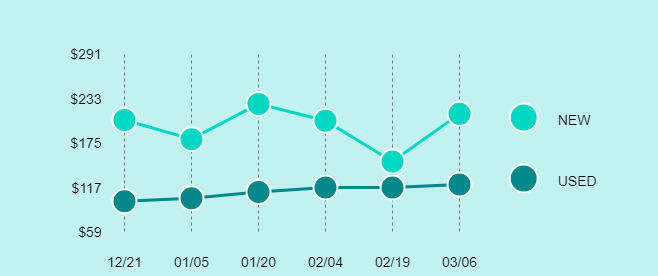 *The average sold price is calculated based on "Buy It Now" items sold within the 90 day period described above (excluding shipping and handling). Each interval represents a 15 day period. There is no guarantee that items will always be listed at a price within the provided range.
Compare Similar Models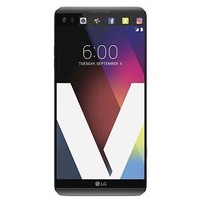 LG V20
Operating System
Android 7.0 Nougat
Screen Resolution
1440x2560 pixels
Rear Camera
16MP / 8MP (Dual)
Battery
3200 mAh - Removable Li-Ion
Showing slide {CURRENT_SLIDE} of {TOTAL_SLIDES}
Top 5 High ratings
Top 5 Low ratings
Liked it so much a friend is buying one from the same seller!

I like this phone, in fact I'm doing the review on it right now. The battery life, it's your typical 32 mAh battery not terrible, not great. The phone itself is in excellent condition, have not had any problems whatsoever with it. It is much larger so if you have smaller hands, you may not like it. For those with big hands, it will fit like a glove. On HD calling, it sounds crystal clear. Front and back cameras work great! Very clear. Multiple options to adjust pictures after taken. Lots of space, 64 gigs worth in this LG v20, I like having the power button and fingerprint scanner on the back right in the middle. Very convenient for me. I like the fact that you can actually remove the battery! That was the biggest seller for me, when I started looking for a new phone, because anymore it is next to impossible to find a phone that you can remove the battery from. The LG v20, you can remove the battery. If I were to compare it with say like a Samsung S7, it's missing a few Minor Details, but what is missing in the details it makes up for in its own right. The sound quality through the speaker, is pretty good, very easy to hear. I would definitely buy again with absolutely no hesitation, a friend of mine lives about six blocks away from me, he literally just ordered the same one through the same seller last night. He was that much more impressed with it. If you are looking for an upgrade but do not want to spend the money for another contract or the $800 Mark of a phone, this is definitely the way to go.

Verified purchase: Yes

Greatest isn't always the latest

I like to stay up-to-date with technology, but sometimes the asking price is just too much. $800-1000 for a 2017/2018 flagship smartphone just doesn't make financial sense to me. So I did my research to determine if it was even worth the investment to track down a flagship from 2016/2017. That's when I ran across the LG V20., What drew me to it was it's huge 5.7" screen and removable battery. Coming from a Galaxy S6 Active that destroyed battery near the end of it's life, I can say that the ability to change out the battery is super handy and greatly extends the life of the phone. I'm also a fan of the second screen. It's a gimmick, sure, but it's there, and I use it, and I've found it to be a nice alternative to the always on screens you find on AMOLED screens., Last, but certainly not least, is that awesome Hi-Fi Quad DAC. If you have nice headphones or use an auxillary cable in your car to listen to audio, you are in for a serious treat. I have never heard audio this good from any device, MP3 player or phone. It's just that good., I picked up a refurbished model of this phone for $160, and outside of a couple of very faint scratches, I can't tell it apart from a new unit. Pro Tip: if you do go refurbished, pay attention to the screen to make sure it isn't ghosting. The V20 unfortunately has a reputation for that, and the first device I ordered did this. I'm happy to say my second works great and I have no complaints., If you can't stand paying huge money for phones, and want a device that's going to see support well into 2019, pick this up. You won't be disappointed.

Verified purchase: Yes

Overlooked Gem Of A Flagship Phone

The LG V20 is an amazing phone that apparently came to market at the wrong time. They seem to be selling dirt cheap, and that's probably because the LG G6 and Samsung 8 series came out the Spring following its release. Now V20s in decent condition can be had for around $200, and that's a major bargain for the amount of phone you get in this 2016 LG flagship!, , Now, I must first point out that I bought two V20s to replace my wife and my 6" ZTE Straight Talk phones. She had a Lever and I had a Max Duo, and while we loved the 6" size (and both said we'd never go smaller), we finally decided we'd go with a 5.7" 16:9 screen to get the newer Android and better specs. Well, the LG V20 is one of the last 5.7" phones that you don't lose screen real estate to the new 18:9 format most phones are going to, and the 0.2" second screen (taskbar like in nature) really gives it the largest active area in a more slender, affordable package (all this in context of being Verizon compatible)., , The phone packs a great set of specs for a $200ish phone. The 820 processor, 4TH of RAM and 64GB of ROM has proven more than enough power and space for our needs, and with expansion of up to 2TB possible (they don't even make that size micro sd yet), this phone should never run out of space. To further futureproof the V20, the removable battery allows us to replace with fresh when battery life starts to take a dive from maxing out the charge cycles and just normal use., , The V20 has a great camera and audio recording too. Even zoomed in, the camera (video too) does great to hold detail and not become too pixelated. The microphones (3 of them) record amazing sound, and give the great option, of directional focusing. I've only had limited chance to push the plethora of manually adjustable setting on the phone, but I can see massive potential for audio visual creativity., , If you're looking for a recent flagship phone (especially on Verizon) without the bank breaking cost, then the V20 fits the bill nicely. Take that as meaning the choices are better for GSM carriers, since that opens up the options of One Plus, Huawei, Asus and a ton of other phone manufacturers. We have to have Verizon for service where we live, and the V20 is the best newer sub-$300 5.7" phone I could find after searching extensively for over a month. The only other contenders were either a year or more older, smaller screen or missing features like expandable storage and headphone jack. The Galaxy Note 5 and Moto X Pure were the two next best options in the V20s price range.

Verified purchase: Yes

Best Phone to Ever Be Made

This is possibly the last flagship phone to feature everything except water resistance. Performance is buttery smooth and the design is ugly, yet beautiful. Battery life isn't the greatest but I've had no problems getting to the end of the day with 30-40% left over. if you manage to get low it does charge fairly quickly so throwing it one the charger for 15-30min is usually all it takes to finish out the day. The secondary display is incredibly useful telling the time, or with quick little toggle and shortcuts that makes using the device more enjoyable. The IR blaster is under-rated. I've pulled many pranks on friends with it and it has replaced most of my remotes. It is truly something that you didn't know you needed until you have it. The cameras are legendary. On auto, there are phones that take better pictures, but full manual controls and a larger 16mp sensor allow it to take the crown of smartphone camera's in my book. Video recording at any resolution with manual controls is only rivaled by the v30(duh). I actually enjoyed using my phone a a camera gain with this phone. Finally, the audio experience is second to only the v30, for obvious reasons. The quad DAC makes using headphones a truly amazing experience and recording audio is just as awesome with it's multi-microphone array. All-in-all, this may be the last phone I own for a long while and it will probably be the best phone I will ever own.

Verified purchase: Yes

Excellent Phone at the Right Price

This is an international model, B&O edition. Great audio sound, lots of trick features. I like the small always on display at the top, clock and date show all the time, nice and subtle at night to see. 64 gig on board and apparently unlimited size SD card capacity. Not the latest processor (820 chip) but it's smooth as butter.No lags anywhere. I'm a heavy user and it's great to have the swappable battery. All batteries eventually wear down so just buy a new battery for $12 on eBay and swap it out in 20 seconds. I keep an extra with me and when the battery runs low all it takes is a few seconds to change it.Buy an LG charging kit for $30 or so (it includes an extra LG battery and a neat charging box for it, plus a little case to keep the charged extra in your pocket if you want). I would go with official LG wall and car chargers instead of off brand versions to be sure you get their quick charging speeds. If you buy this phone new (this one was used) it will of course come with a new LG wall charger and cable. The phone speaker is loud and clear and even sounds good playing music and videos with very good tone. Of course it's almost astoundingly good with good earphones. The standard iPhone earbuds from my wife's 6+ have great sound on this phone so I bought a pair for me. Very good, well defined bass, mid-range, and very nice sounding highs. Not harsh or tinny. Just great sound on this phone. If you buy a new intl. version I think you get B&O earphones with it although I've read varying reviews of them. The fingerprint/power button on the back takes a bit getting used to. It works fine but I would have preferred a separate power button on the right side like most other phones. I haven't taken a lot of pictures yet but they seem clear and sharp so far. All in all a great phone you can get used for $400 or less that works great.

Verified purchase: Yes
Tell us what you think

- opens in new window or tab