Air Jordan 3: One of Sneakerdom's Most Iconic Shoes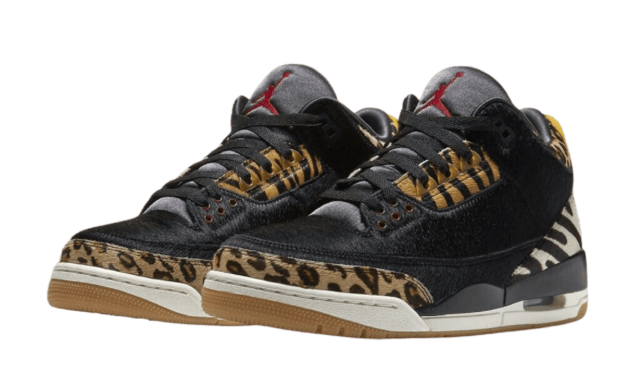 Considered one of the most recognized sneakers of all time, the Air Jordan 3 introduced many firsts for the brand. First and foremost, Michael Jordan's third signature sneaker introduced the now-revered Jumpman logo—a silhouette of His Airness leaping through the air mid-dunk—that replaced the popular Wings logo found on the Jordan 1 and 2. It was a brand he could call his own, and a major selling point in his contract renewal with Nike.
The Air Jordan 3 also enlisted a new designer, Tinker Hatfield, already esteemed in the sneaker world and now considered a legend. Hatfield had designed the Air Max 1 and Air Trainer 1, so the introduction of visible Air technology into the Jordan line was a no-brainer. Hatfield worked closely with MJ to incorporate the superstar's vision into the designs. In addition to the Jumpman logo and visible Air, the Jordan 3 also introduced an eye-catching elephant skin print, softer leather and a mid-cut height—moving away from the then-trendy high-top style. The overall design borrows design elements from its famous predecessors, the Air Jordan 1 and 2.
How the Air Jordan III Almost Didn't Happen

There's the famous story of Michael Jordan almost signing with another brand, and then there's this one—where MJ almost ended his partnership with Nike. Jordan's original five-year deal with Nike yielded $500,000 per year, plus royalties, for a total estimated value of $7M. An early career injury in the Air Jordan 1—a broken foot—caused him to miss much of the '85-86 season and lose trust in Nike's ability to fulfill their promises. Jordan was looking for an out.

The meeting to present the new Air Jordan 3 was a make-or-break situation for the Nike x Jordan deal.

Tinker Hatfield played a significant role in keeping Michael on board, continually advocating for and protecting MJ's input in the design process. At a crucial meeting—the unveiling of the new Air Jordan 3 design—the Nike team reportedly waited four hours for Jordan to show up. It turns out he'd been on the golf course with new prospective partners. When MJ finally arrived, Hatfield knocked his socks off with the Air Jordan 3 prototype and an apparel line. And though it was Hatfield who saved the deal, Jordan's parents also influenced his decision, reportedly telling him that his actions were "embarrassing," recalling the influence they had on their son when he signed with the brand in the first place.
More Collectable-Worthy Releases
Highly coveted Air Jordan 3s with a high price tag include:
Kobe Player Edition pack in a Lakers colorway
Doernbecher,a partnership with a children's hospital to provide patients an opportunity to design their own sneakers, with all proceeds going to charity
SoleFly Friends and Family Lotto
Tinker NRG, a nod to Hatfield's original sketches with the Nike swoosh, which was unveiled in the White Cement colorway at the Super Bowl by Justin Timberlake (a few signed pairs are floating around from Timberlake's surprise visit to the Jordan store in Toronto
Women's exclusive Air Jordan 3 colorways, beginning with two limited-edition pairs in collaboration with Vogue's Anna Wintour
Unite, an all-red colorway that released in two versions, one with "Nike Air" on the back and a limited-edition version that says "Nike CHI" and was only released in Chicago during All-Star Weekend
Air Jordan 3 OG Colorways

The Air Jordan 3 officially released in 1988 in four original colorways, each retailing for $100:

Air Jordan 3 White Cement

True Blue didn't see official court time until Michael re-entered the league in 2001 with the Washington Wizards, wearing retros.

Perhaps the most criticized aspect of the Air Jordan 3 is whether or not it has the original Nike Air stamp on the back heel. Of the four original colorways, only three featured the stamp, with the Jumpman logo replacing it on the True Blue.
Career Accolades for the Air Jordan III

Year for of MJ's NBA career marked the start of his most dominant years, winning his first league MVP award and Defensive Player of the Year. Here are some key highlights featuring the AJ 3:

The Air Jordan 3 in White Cement performed prominently in the 1987-88 season, including the All-Star games in Chicago, where his famous dunk from the foul line awarded him his second consecutive Slam Dunk Contest title. This dunk, reminiscent of his Jumpman logo, was also re-imagined in the 1996 film, Space Jam.
During the All-Star game, Michael wore the AJ 3 in Black Cement for the first and only time, in an impressive performance to win the MVP award with 40 points, eight rebounds, three assists, four steals and four blocks.
Jordan switched to the Fire Red colorway for the 1988 playoffs and the start of the following season.
It's Gotta Be The Shoes: The Air Jordan Mystique
Michael Jordan's brand truly hit its stride with the Air Jordan 3, introducing new marketing efforts that further propelled his popularity. Nike paired MJ with filmmaker Spike Lee for a series of ad campaigns in which Lee played a superfan called Mars Blackmon. The humorous commercials added another dimension to Michael's public persona. These, paired with Tinker Hatfield's masterful designs and Jordan's on-court excellence, created a frenzy for his sneakers.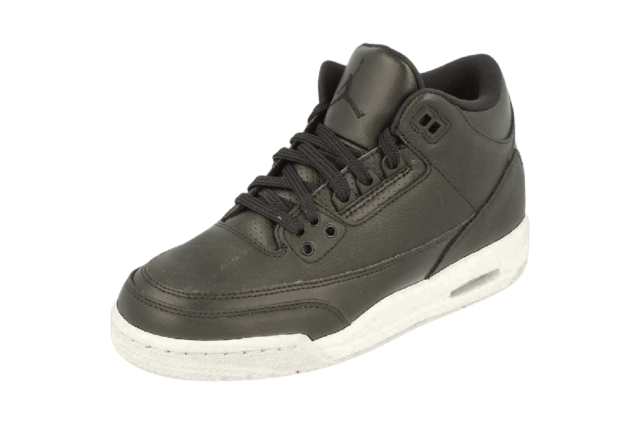 Jordan 3 Returns With a String of Retro Releases

Following Jordan's first retirement in 1993, Nike began to retro the Air Jordan I, II and III. Since 1988, the Air Jordan 3 has returned in many iterations, with the most popular being the OG colors White Cement and Black Cement.

White Cement has retroed five times: in 1994, 2003, 2011, 2013 and 2018. Of these retros, the 2013 pair was the first to reintroduce "Nike Air" on the back. The 2018 version commemorated the 1988 All-Star Dunk Contest, with a clear sole and red stripe across the forefoot where MJ would have stood on the free-throw line—hence the nickname, "Free Throw Line."

Black Cement, a fan favorite, also retroed five times: in 1994, 2001, 2008, 2011 and 2018. The 2008 release was part of the Countdown Pack (CDP), which was paired with a Jordan 20. These packs typically combine pairs to equal the number 23. The 2018 retro was the first to use "Nike Air" since 2001 and was the closest iteration to the original design.

The first series of retros in 1994 didn't perform well and quickly found themselves in the sales racks. A string of retros in 2001 proved to be stronger, introducing a new Air Jordan 3 colorway—the white and brown Mocha. This paved the way for future colorways, such as Pure Money, Black Cat and Do the Right Thing from 2007.
How to Clean, Store and Care for Your AJ III
True sneakerheads want to keep their Jordans looking their best. Here are some helpful tips:
Cleaning your Jordans: Regularly remove surface dirt and stains. For deep cleaning, gently use dishwashing soap and a shoe brush. If you're truly serious, invest in a professional sneaker cleaning kit.
Storing your Jordans: Choose a dry, cool place to store your kicks. Extreme temperatures will damage them, so avoid basements, attics and garages. Never store them in direct sunlight to prevent fading. And don't store them in the original box—a plastic bin will better preserve them (choose clear so you can easily spot them in your collection).
Additional care tips: Maintain your sneakers' shape with shoe trees. Also, driving in your AJs can accelerate wear and tear, so keep an old pair of shoes in the car.
Jordans Release Dates, News and Articles
Attention all sneakerheads and basketball fans! Read all about the oldest and latest Jordan releases on the eBay Sneaker Hub. From iconic retro styles to new collaborations, you'll find everything you need to know to complete your Jordan collection.