Limited Time Deals
Free Shipping Included
About Jaybird X3
Showing slide {CURRENT_SLIDE} of {TOTAL_SLIDES}
Sweat-proof.

With double hydrophobic nano coating and redesigned super-tight seams, you're covered for rain, mud, sun, sweat, and tears; these buds will take a beating, and go wherever you go – and then some!

Universal secure-fit.

The size is reduced, the fit improved. The fins got a remodel and went super-ergo for a solid, secure comfort fit; these buds are sticking with you no matter how crazy active you get.

8-hour play time.

The legendary X-Series battery life gets better. Giving you a solid 8+ hours for a full week of workouts on a single charge. Only 20 min of quick charge gets you a full hour of playtime.

Enhanced signal strength.

The Bluetooth antenna architecture got a makeover from the ground up to ensure skip-free music outdoors – so you never miss a beat.
eBay has provided more information about this product above and is not affiliated with or endorsed by Jaybird.
Compare Similar Models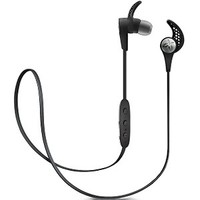 Jaybird X3
Showing slide {CURRENT_SLIDE} of {TOTAL_SLIDES}
Jaybird X4

Jaybird Tarah